Have you always wanted to bake a loaf of bread but felt like you don't have the technical know-how to pull it off?
Do recipes that have yeast or call for "proofing" scare you?
Well today I am sharing a recipe for the absolute easiest and most delicious loaf bread that even a beginner can bake. Update your resume because you are about to become an awesome bread baker!
This easy bread recipe uses ingredients you already have on hand
I designed this recipe to use easy to find items you probably already have in your pantry.
There are only four ingredients.
All purpose flour
Water
Table salt
Instant yeast
Optional- Everything seasoning. ( Trader Joe's has one called "Everything but the Bagel seasoning" and Aldi now carries one called simply " Everything Seasoning")
The best part is how simple the measurements are.
I call it 2×4 bread because of the easy measurements.
2 cups water,2 teaspoons yeast, 2 teaspoons salt.
4 cups flour, 4 teaspoons optional everything seasoning.
Its easy enough that a beginner can make it
As long as you have a mixer, this bread is a breeze to whip up.
Just dump the water into the bowl and add the yeast.
Let that sit for 4 minutes. ( noticing a theme here? Easy numbers. Easy recipe)
Add the flour and mix for…. you guessed it. 4 minutes.
Here's how the recipe works
Now, here's a little trick that the pro bakers do. Its an autolyse. Don't let the fancy term fool you. It basically means leave it alone for a few minutes. You probably thought I was going to say 4 minutes again, but it actually needs 20 minutes to do its thing this time. ( scientifically speaking, the enzymes in the flour are being broken down by the water). Trust me, it will give you a better end result. Don't skip this part.
After your dough has rested you're going to add in the salt and mix for… yup. 4 minutes.
Now, rub some oil or pan spray on your hands and transfer the dough into a bowl.
The dough is going to feel very wet and sticky, but it will firm up a bit as it rests.
You're going to need a dutch oven with a lid for this next part.
After one hour of resting the dough, its time to shape it into a round ball and place it into your oiled dutch oven.
Oil your hands again and gently pick up the dough. Do your best to make a smooth top with rounded sides. Don't be tempted to set the dough on the counter to do this. Just transfer it from hand to hand while tucking under the edges. Place the dough back in the Dutch oven.
Don't worry if its not perfect. Were going to let it rest about 4 minutes and shape it one more time.
Pick the dough up again and round it using both hands. Again, don't set it down. Just keep tucking those edges under. This time, you may notice its a little easier to shape. Try to get a smooth ball. Make sure you oiled that dutch oven. This dough is sticky and needs all the help it can get.
If you're using the optional everything seasoning, now is when we're going to sprinkle that on top of the dough. You can slash the top of the dough if you'd like, although it doesn't really need it. Now place the lid on the dutch oven and let it rest for one hour.
Your kitchen will smell like a bake shop!
Bake the bread in a 400 degree oven with the lid on!
Baking with the lid on helps create steam and gives it a bagely-chewy crust.
after 30 minutes you can remove the lid and brown the loaf for another 10-12 minutes.
Try to let it cool before devouring this loaf of warm bready goodness!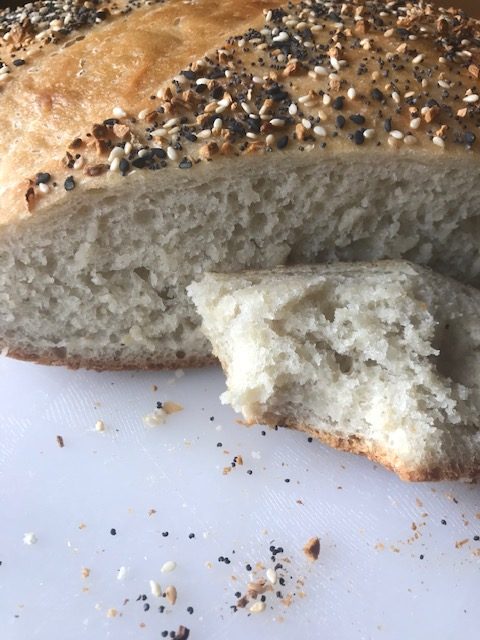 Easy 2 x 4 Bread
Bread so easy, anyone can make it!
Equipment
Mixer with dough hook, Dutch Oven with lid.
Ingredients
4

cups

All purpose flour

4

tsp

Everything seasoning

optional

2

cups

Water

2

tsp

Yeast

2

tsp

Salt
Instructions
In the bowl of a mixer fitted with a hook attachment, pour the 2 cups water and 2 teaspoons yeast. Mix together and let rest for 4 minutes

Add the 4 cups of flour and mix on low speed for 4 minutes. Let the dough rest for 20 minutes.

Add 2 teaspoons salt and mix for 4 minutes.

Cover dough in mixer bowl and let rest for one hour.

With oiled hands lift dough out of bowl and round edges while creating a smooth top. Place into oiled dutch oven.

Wait a few minutes and re-shape dough ball again, trying to round top and sides.

Allow the dough to proof for another hour with the lid on. Sprinkle with everything seeds if desired.

After one hour place the dough into a pre-heated 400 degree oven and bake for 30 minutes with the lid on.

Remove lid and bake for an additional 10 minutes to brown crust.

Allow to cool before slicing.
If you enjoy baking savory treats then click here to check out my recipe for Skillet Cornbread. Its a family favorite that gets made on a monthly basis in my house!