If you're looking to bake the perfect bread at home, then this soft and fluffy homemade focaccia bread recipe is just what you need! Focaccia is a delightful Italian flatbread that's known for its tender texture and aromatic flavors. In this easy-to-follow recipe, I'll guide you through the process of creating a high-hydration dough that results in the softest, most delectable focaccia you've ever tasted. Keep reading to find out how to make your focaccia extra soft and fluffy.
This post contains affiliate links, which means I may earn a small commission if you purchase through my links at no cost to you. See my disclosure. Thank you for your support.
The Secret to Soft and Flavorful Focaccia
The secret to achieving the softest and most flavorful focaccia lies in the preparation process. This homemade focaccia bread recipe requires a little planning ahead but is definitely worth the extra effort.
The sponge method makes extra light and airy dough
To make the dough extra soft and airy, I like to use a starter dough before mixing the focaccia dough itself. This involves creating a mixture of flour, water, and a touch of yeast the day before or at least 4 hours before you plan to bake. Also known as a poolish or a sponge, it's left to ferment overnight, allowing the flavors to develop.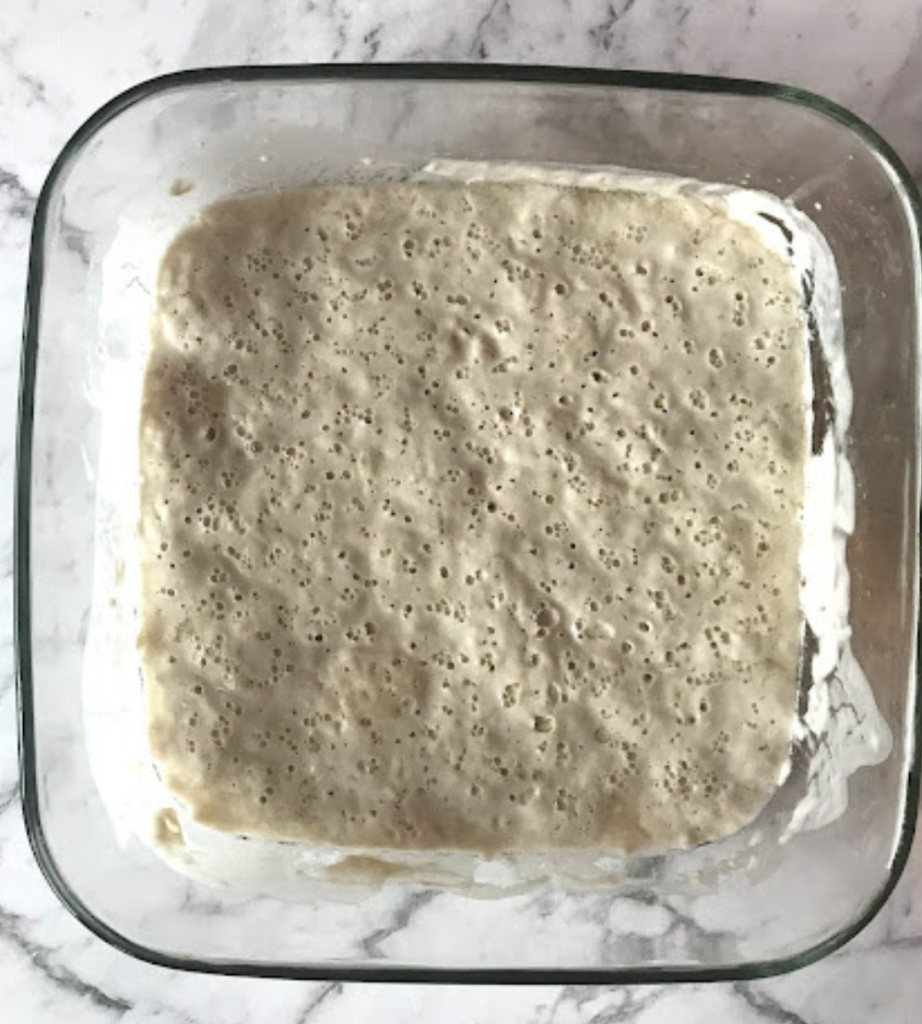 The long, slow rise helps to foster air bubbles, resulting in that sought-after light and fluffy texture. So, while you'll need a bit of patience, the incredible taste and tender crumb of this focaccia will make it all worth it.
A high-hydration dough gives focaccia its signature dimples
High-hydration dough is a type of bread dough with a lot of water compared to the flour used. Usually, it has at least 75% water in relation to the flour.
The high water content makes the dough more liquid and sticky, allowing it to spread easily in the pan and create those signature dimples on the surface. The moisture in the dough also contributes to a soft and airy crumb, giving focaccia its characteristic light and chewy texture.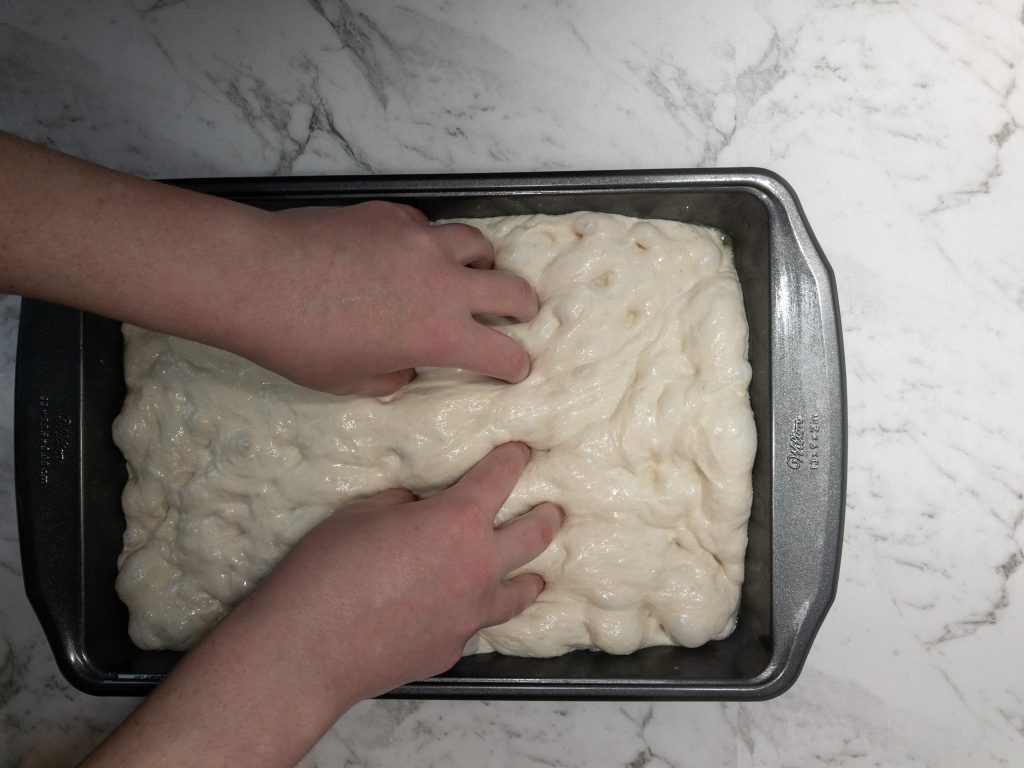 Resist the urge to add more flour when your dough looks too sticky. Instead, follow the mixing directions outlined below and you'll be rewarded with a beautifully crisp and dimpled golden crust, that's perfect for holding pockets of rich olive oil, cherry tomatoes, and fresh herbs.
Using a stand mixer with a dough hook is essential for sticky dough
Using a stand mixer with a dough hook is a game-changer when working with high-hydration sticky dough. The dough's high moisture content can make it challenging to mix and knead by hand, often resulting in a messy and time-consuming process. A stand mixer with a dough hook, however, effortlessly tackles this task, saving both time and effort.
When you start mixing the dough, it's going to look like a sticky mess, but after mixing for about 8-10 minutes, it magically transforms into a smooth and silky dough.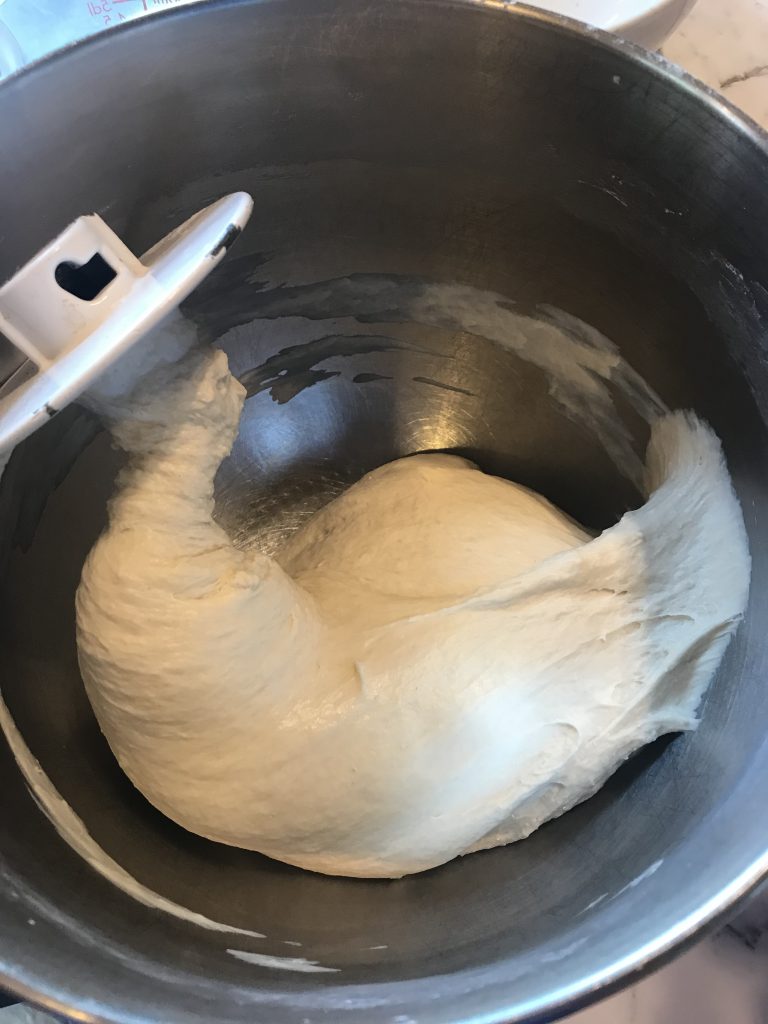 Delicious Focaccia Toppings Help Elevate Your Bread
The toppings are what elevate this homemade focaccia to a whole new level of deliciousness.
A drizzle of balsamic vinegar imparts a beautiful glaze to the bread's surface.

Thinly sliced onions bring a lovely caramelized flavor when baked.

Juicy cherry tomatoes add a burst of freshness to every bite.

A sprinkle of freshly chopped herbs (like thyme, rosemary, or oregano) adds a classic taste.
Endless possibilities with this versatile focaccia recipe
The beauty of this focaccia bread recipe lies in its incredible versatility. you can let your creativity shine by using various baking vessels such as a disposable pizza pan, a 9×13 baking dish, a sheet pan, a cast iron skillet, or even a cake pan – the possibilities are endless!
This adaptability ensures that you can create your own unique versions of this soft and fluffy bread, tailor-made to suit your tastes and available kitchen tools.
Ingredients you need to make soft and fluffy focaccia bread
Before we start creating the perfect focaccia, let's take a closer look at the ingredients we'll be using. To make this mouthwatering focaccia bread, you'll need the following ingredients:
All-purpose flour- You might be surprised to learn that this recipe doesn't call for bread flour. The dough is soft enough that it doesn't need the structure that a high-protein flour, like bread flour, would give it. (you can substitute up to 1 cup of whole wheat flour)
Salt- The best salt for topping focaccia is coarse sea salt. Coarse sea salt adds a delightful crunch and bursts of salty flavor to the surface of the bread
Olive Oil- The best olive oil for focaccia is extra virgin olive oil (EVOO)
Instant yeast-The best yeast for making focaccia is active dry yeast or instant yeast. Both types of yeast work well in focaccia recipes and will yield excellent results.
Whether you prefer a classic version with cherry tomatoes and fresh herbs, or you want to experiment with different toppings like roasted garlic, olives, or cheese, this recipe is perfect for getting creative in the kitchen.
Soft and Fluffy Focaccia Bread Recipe
The perfect recipe for soft and fluffy homemade focaccia bread!
Equipment
Stand Mixer

with hook attachment

Large mixing bowl

Sheet pan or baking dish
Ingredients
Starter
1

cup

Water

cool

1 3/4

cups

All purpose flour

1/8

tsp

Active dry yeast

use a pinch and save remaining packet for the dough.
Focaccia Dough
All

Starter

3/4

cups

Water

cool

2

Cups

All Purpose flour

1

tsp

Salt

2

tsp

Yeast

Remainder of the yeast packet
Instructions
The night before (or at least 4 hours prior to mixing the dough) combine the ingredients for the starter. In a medium bowl, stir together: 1 cup of water, 1 3/4 cups of flour, and a pinch of yeast. Stir everything together until well combined. Cover it with plastic wrap and leave it at room temperature overnight.

The next day, mix the focaccia dough. In the bowl of a stand mixer, pour the water and all of the starter from the day before.

Add the flour, BUT NOT THE SALT or YEAST.

Mix on low speed for 3 minutes to combine the ingredients.

Increase the speed to medium high and beat the mixture for 8-10 minutes. Watch for the dough to transform from a wet batter to a stringy dough. After you begin to see strands, it should pull off the sides of the mixer and come together as a dough. ( roughly 8-10 minutes)

Turn the mixer off and add the yeast and salt. Mix on low to incorporate, then increase the speed to medium and mix for 3 more minutes.

Place the dough in a well oiled container. Cover and let rest for 45 minutes. After 45 minutes stretch and fold the dough in on itself 4 times. ( as if it had 4 sided and you are pulling each side up, and into the center) Flip the dough over so the bottom becomes the top and has a smooth surface.

Allow the dough to rest for and additional 45 minutes.

Preheat your oven to 350°. Spray or oil a 9 by 13 in baking pan.

Pour the dough into the oiled pan and gently push the sides of the dough into the corner of the pan. Use your fingertips to dimple the bread and help to evenly spread it around the pan.

Add the toppings of your choice. (I like to add caramelized onions, a drizzle of olive oil and a little sprinkle of sea salt)

Allow to rest for 30 minutes while the oven preheats.

Bake the bread in the center of the oven for 35-45 minutes. Once the bread is baked and cool enough to touch, remove it from the baking pan and place on a cooling rack to prevent the bottom from getting soggy. Cut into 12 squares.

Enjoy your fresh focaccia! To store the bread place in a sealed container of large zip lock.