Have you ever visited an artisan bread bakery and admired the beautiful, golden brown, crusty loaves of bread?
Imagine baking bread like that at home with little or no previous bread-baking experience!
I will show you how to make great artisan bread at home using a cast iron pot with a lid (or Dutch oven) and a pizza stone. This recipe makes two small round loaves or one large one. You'll be amazed at how simple it is to make homemade authentic crusty French bread with my method that combines a Dutch oven, a starter and a pizza stone.
Jump to Recipe
An overview of how this works
Day one–
Mix the starter- 10 minutes
Day Two-
Mix the dough- 30 minutes
Let the dough rest – 30 minutes
Fold the dough- 5 minutes
Let the dough rest – 30 minutes
Scale and Pre-shape- 15 minutes
Preheat oven( with stone and Dutch oven inside)
Final Shape and Proof- 45 minutes
Bake in Dutch oven-25 minutes
Finish the crust on stone-5 -10 minutes
As you can see, in less than 3 hours you can create a high quality crusty loaf of French Bread.
Supplies you'll need
Here is a list of what I use to get crusty French bread at home. If you're new to artisan bread baking, be sure to check out my article on baking artisan bread at home for a list of supplies, an overview of types of flour, and characteristics of great bread. Check out that article by clicking here.
An explanation of this method
The following recipe uses several techniques to produce a crusty hearth style French bread: a starter, an autolyze, a Dutch oven and a pizza stone.
What is a starter used for in bread baking– a Starter( often called a sponge, biga or a poolish) consists of combining some or all of the flour and water in a bread recipe with a small amount of the total yeast amount. It is allowed to rest and ferment for a period of time. When it is added to the final dough it enhances the flavor and texture of the final loaf.
Why bake bread in a Dutch oven? A Dutch oven is a heavy cooking pot usually made of cast iron and equipped with a pair of handles and a tight-fitting lid. One of the most important elements of baking crusty bread is steam. It's essential to have steam during the beginning of the baking period. By using a covered Dutch oven , the all-important steam is trapped inside, surrounding the loaf.
Can you use a pizza stone to bake bread?- A pizza stone is a round baking stone made of fired clay. It generates high heat and absorbs moisture to create a crispy hearth-style crust. When we remove the bread from the Dutch oven, we use parchment to transfer it onto the stone and brown the loaf.
What happens during autolyze? Autolyze is a process in which the water and flour portion of the bread recipe are mixed and allowed to rest for about 10-20 minutes. During the resting period the flour becomes hydrated and enzyme activity begins. This simple process improves the overall quality of the breads structure, crumb and crust.
Instructions
Mix the starter the day before- In a medium-sized container with a lid, simply pour the measured water and flour. Add the yeast and stir to combine. Put the lid on, and let the container sit at room temperature until the next day when you are ready to mix the dough. Overnight the poolish will ripen and the surface will fill with tiny bubbles. That is your sign that it is ready to use.
Mix the dough- Add the water, starter, and flour into the bowl of the mixer. Combine on low speed for 2 minutes.
Stop the mixer and set a timer for 20 minutes. You're going to let the mixture rest for a bit. This step is called an autolyze.
After 20 minutes, add the salt and yeast and mix on medium speed for 5-8 minutes until the dough is well developed, smooth, and elastic.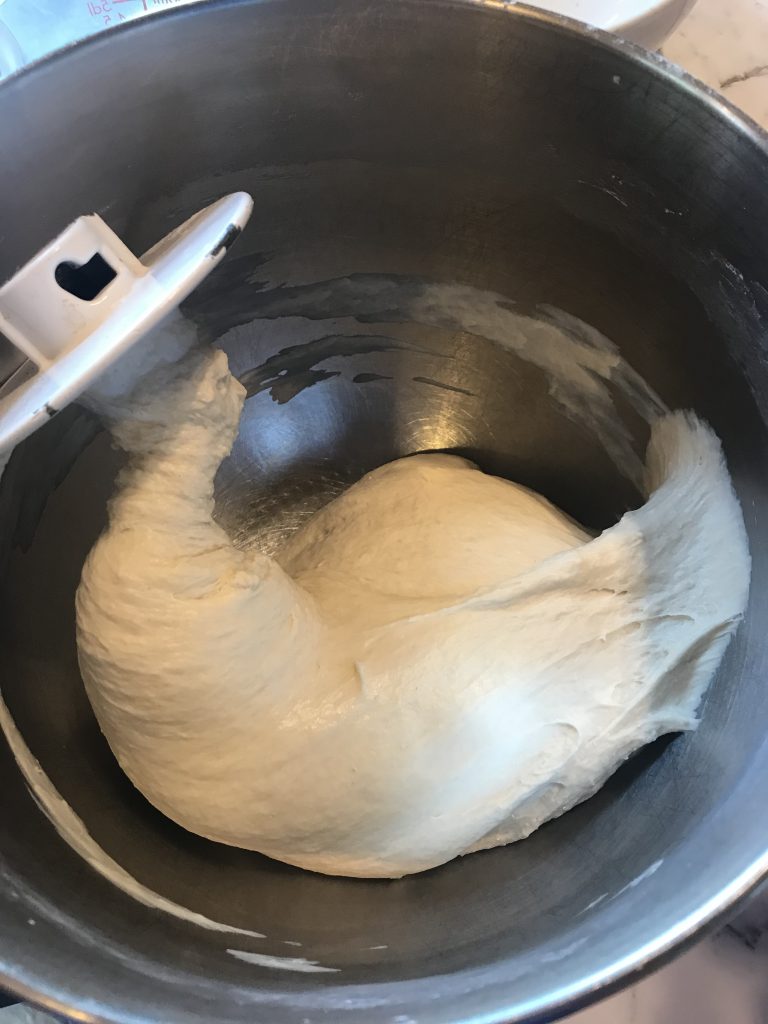 Proof the dough– Place the dough in a lightly oiled container with a lid, or in a bowl covered with a towel. Set a timer for 30 minutes. After 30 minutes, punch the dough down and fold the sides in on itself. Set the timer for another 30 minutes and give your dough one more rise. What you're doing is redistributing the yeast, expelling the carbon dioxide, and strengthening the gluten strands, all of which contributes to a better loaf. More time equals more flavor. Seeing a theme here?
Pre-shaping and final shaping your loaves– Turn your proofed dough out onto the table. Divide it into two equal portions if you're making two round boules. If you want to make one large loaf, just follow the pre-shaping instructions for the entire amount of dough.
To pre-shape the dough- Gently roll the dough into a log shape. You're not going for a tight loaf shape; the log shape just gets it ready to become a round ball when you shape it into its final shape.
Let the dough rest for about 10 minutes so the gluten can relax. Now it's time to shape the dough into its final round shape. The goal is to get a firm, tight loaf without tearing the gluten membrane. The better the shaping, the more spring you'll get when the dough is in the oven.
Final Proof -My favorite way to get that artisanal bread quality at home is to proof my dough in a Banneton or breadbasket. If you think you will be baking bread at home regularly, I highly suggest you get one. If you're just getting started, using a regular bowl is still a great way to proof your bread. You get the rounded loaf, and you give your bread an even rise by letting it sit in a bowl.
After you have shaped the dough, put your bread into a well floured basket or bowl with the seams facing up. Allow it to rise for about 30 -45 minutes.
At the same time, preheat your oven. On the lower rack, place the pizza tone. Position the top rack just above the lower one, leaving enough room for your Dutch oven to fit in. Go ahead and pre-heat the Dutch oven as well.
To check if the dough is fully proofed, gently press a fingertip into the dough. If it leaves a slight indentation then it is ready. You'll want to transfer the dough out of the basket or bowl and onto a sheet of parchment that you have lightly dusted with rice flour or semolina. Now lift the parchment and dough into the Dutch Oven.
Bake your bread -Lift the parchment and dough into the Dutch oven and place the lid on top. Place it in the hot oven and set a timer for 25 minutes.
Take the Dutch oven out of the oven and lift out the parchment and loaf. Adjust the oven racks so that the loaf will fit on the stone. Keeping the loaf on the parchment, lift it on to the stone. Bake the loaf for an additional 10 minutes to get a nice, golden brown color, and to develop the crust a little more.
Slicing and storing your French Bread– Allow the bread to cool fully before slicing! Resist the urge to tear into the warm loaf. You really can taste the flavor profile better when your loaf is cool! Slice using a very sharp knife or serrated bread knife. Notice how crusty this bread is? You'll know it's a crusty loaf when you go to slice your bread and your cutting board is covered in crumbs!
Say thanks to your Dutch oven for the beautiful steam it produced. If you have leftovers, wrap them in a kitchen towel. This bread is best eaten after 2-3 days. If it lasts that long, it makes great toast on day 2 or 3.
Poolish Starter
A batter-like mix of flour, water and yeast used as a starter for bread dough.
Ingredients
1

cup

Water

1 3/4

cups

All Purpose flour

1/8

tsp

Yeast
Instructions
In a medium sized bowl, combine the flour, water and yeast to make a wet batter.

Cover and leave at room temperature for 8-16 hours. In warmer months, use a shorter time, in cold weather use longer amount of time.

The poolish starter is ready when the surface is covered in tiny bubbles. Do not expect it to rise much.
Crusty French Boule
Equipment
Dutch Oven

Stand Mixer with Spiral Dough Hook attachment

Baking Stone
Ingredients
12.5

oz

Poolish

12.5

oz

Bread Flour

.19

oz

Yeast

.25

oz

Salt

6.3

oz

Water
Instructions
Add all the ingredients to the mixing bowl of your stand mixer, and mix on first speed for 3 minutes to incorporate the ingredients. Mix on second speed for an additional 3 minutes, to moderate gluten development.

Place the dough in a covered container and let rest 2 hours with a fold after 1 hour.

Divide the dough into one lb. portions and pre shape by gently rolling the dough into a thick log shape.

Let the dough rest about 20 minutes and then shape it into a round ball, trying not to tear the gluten membrane on the surface.

Lightly flour your proofing basket and place the boules in the basket with the seam side up. Gently cover the baskets with a dish towel.

Allow the dough to proof approx 30 minutes or until it feels ready. Gently touch the dough. It should leave a light indent of your finger tip.

Invert proofing basket with dough onto a piece of baking parchment. Cut the tops with a few slashes.

Carefully lift parchment into your preheated dutch oven.

Place lid on dutch oven and bake for 20 minutes with lid, then remove dutch oven from oven, lift out bread by holding onto parchment and sliding bread onto baking stone. Bake for an additional 10 minutes until a golden color is achieved.

Allow to cool before slicing.
Don't forget to share a picture of your bread on facebook or Instagram using my hashtag so we can all see your work!
Here are a few more bread recipes you may enjoy now, or Pin them for later !