Are wondering about the difference between cottage foods and commercial kitchens? Are you running out of space in your home-based bakery kitchen? Or maybe you have a product that can't be prepared in a home kitchen because of your state cottage food regulations?
Let's take a closer look at the when, why, and how of transitioning to a commercial kitchen.
If you've been around this blog for a while, then you've heard me talk about how I got my start as a home-based baker, and then went on to open four retail bakery shops. Leaving my small home kitchen and renting a commercial space was a huge step for me!
Keep reading to learn all my tips to help you transition to a commercial kitchen so that you can grow your baking business!
What is the definition of a cottage food kitchen?
Cottage food kitchens are small, informal businesses that make and sell food like pies, bread, jams, and other baked goods. The business is typically run out of a home kitchen with no storefront, and the food is sold primarily through local farmers' markets.
What is a commercial kitchen?
A commercial kitchen is a space where food preparation and cooking occur. It is typically used for restaurants, cafeterias, catering businesses, and other food-related industries or services.
When should I consider renting a commercial kitchen?
When you are looking to start or grow your baking business, renting a commercial kitchen can be an option. Here are a few scenarios that may lead you to seek out a bigger kitchen.
I'm out of space in my home bakery kitchen
If your home-based baking business is successful, then you may have more orders than you can handle. Your space or equipment may be holding you back from taking more orders. If this sounds like you, then moving into a larger kitchen could help you expand your production capabilities.
What if I cant make my favorite recipes under cottage foods laws
For safety reasons, most states limit the types of food that you can prepare at home. Cottage food bakers are often restricted to only using "non-potentially hazardous" foods. But what if have a recipe that calls for a prohibited ingredient?
Preparing your recipes in a commercially licensed kitchen may be the solution! You'll need to check with your state regulations, but there are plenty of states that allow you to use a commercial space for all or some of your cottage foods baking.
I want to sell my baked goods wholesale, but my state won't allow it
One of the common limitations with a cottage foods bakery is who you are allowed to sell your baked goods to. Most cottage food bakers sell from their homes, or at farmer's markets. But what if you have other ideas?
It's not uncommon for states to put restrictions on who you may sell to, and often require that you only sell to the end consumer. if you've got plans to sell your baked goods to restaurants, cafes, or retail shops then producing them in a commercial kitchen may help you to expand your baking business in this direction.
3 Tips to successfully transition your bakery from cottage food to a commercial kitchen
So, you're ready to make the move into a commercial kitchen space? There are plenty of things I learned the hard way while I was growing my business from a home bakery into a fully licensed wholesale kitchen. Check out these three tips to help you make a smoother transition.
Before expanding your home bakery, get clear with your finances
You'll want to have good bookkeeping habits in place before you take on the responsibility of a lease or additional expenses for your business.
Here are a few things you may want to ask yourself:
How much is the initial investment?
How much is your business making currently?
What percent of your sales are profit?
How much will you need to sell to cover the new expenses?
If you need help with your baking business, check out The Fully Booked Bakery Academy. In this group coaching program, I help bakers create predictable sales and keep more profit for themselves. If you are a baker who is already selling baked goods and want help growing your business, then book a call with me today!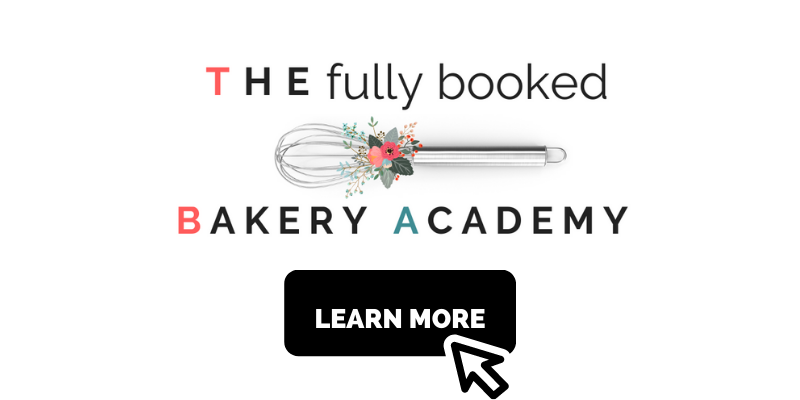 Have predictable income from your baking before expanding
Home-based bakeries are a great way to start your baking business because they require very little start-up expenses. Once your home bakery creates regular sales and you are paying yourself a predictable income from the business, you can safely take the next step.
Document your operations when growing your bakery
When you are a one-person operation, you know exactly how things need to be done. But what will you do when it's time to bring in help for all the new orders you'll be taking?
Getting your recipes organized and your processes documented will help you to grow your business without compromising the quality that you've worked so hard to established.
Transitioning from cottage food to a commercial bakery can be a smart move for your baking business
Bakers may need a larger kitchen for many different reasons. Switching to a commercial kitchen is a good idea if you've outgrown your home kitchen, you want to sell a product that your current licensing doesn't allow, or you want to sell your product wholesale.
If you're thinking about making the move from your home kitchen into a rental kitchen ( now or in the future) then remember to get clear on your finances, have some existing sales so that you can afford the new expense of a kitchen and document all of your processes to help you grow your baking business.
My own transition into a commercial kitchen space was a huge step for my baking business and it allowed me to grow my business into something much bigger. I was so glad I expanded and enjoyed the new challenges and opportunities that it created.
Let me know in the comments what your baking business goals are!