If you run a baking business from home, you have probably struggled with the best way to print labels at home. A Laser printer is expensive, inkjet printer labels smudge, and custom-printed labels are too expensive for everyday use!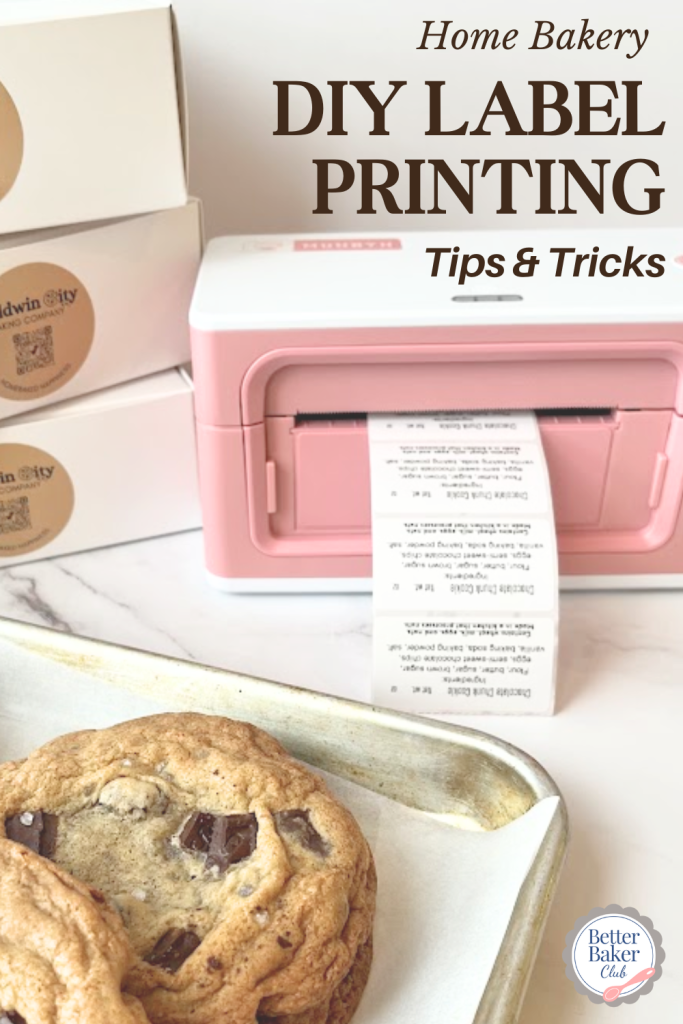 Over the past 25 years as a bakery owner, I've tried many label printers for printing bakery labels. I've used an online design tool, the Brother label maker, and printed at-home Avery labels. The best way that I have found to print bakery labels at home with my own labels is with a thermal printer like the Munbyn Bluetooth thermal printer.
Great labels are essential for branding and marketing your small business
Labels are for so much more than listing your ingredients. If you want to build a strong brand and market yourself to your customers, don't overlook your label presentation!
A good label enhances the value of the products
Most bakers already use labels to share essentials like ingredients and business information, but did you know that your labels can also add value to your product? By showing the information your customers want to know about, you can increase the perceived value! (That means customers will pay more for a little extra effort.)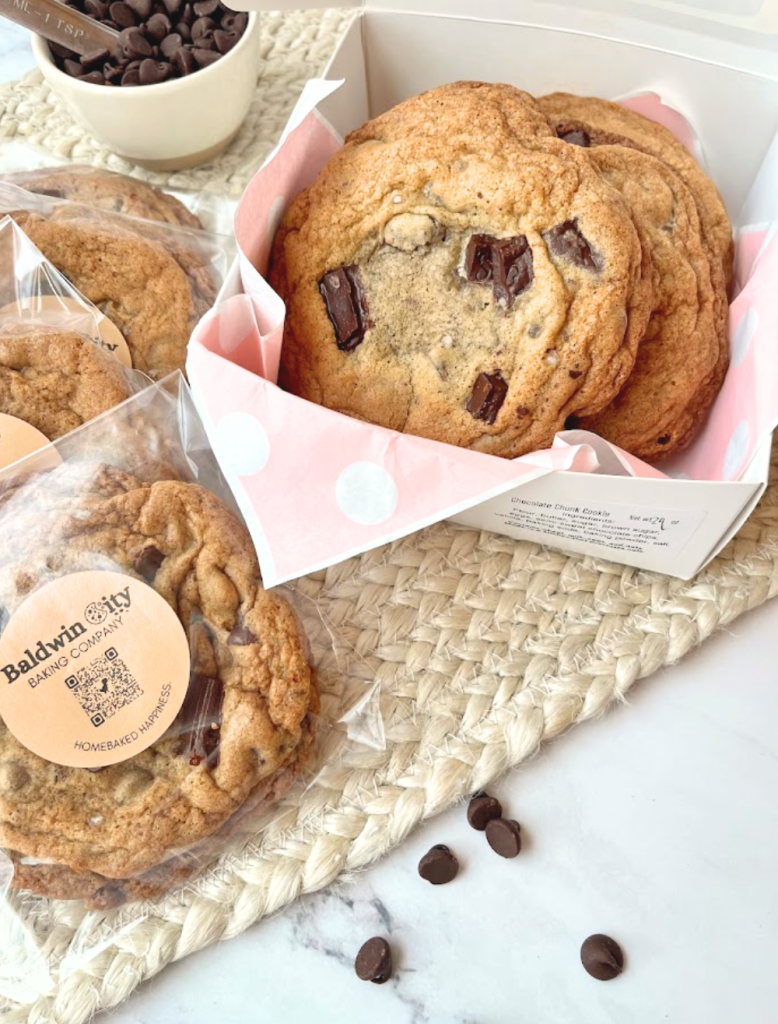 How does bakery labeling help you get new customers?
Imagine a customer trying to avoid baked goods made with soy products. She strolls the farmer's market stalls, looking for a loaf of bread that she can take home to make sandwiches with during the week. She visits several booths with lovely baked goods on display, but she hasn't found any with the ingredients listed on the product.
Now, imagine she strolls by your booth. You have loaves of bread, individually wrapped and clearly labeled with a label that includes ingredients and even an allergen warning. She immediately recognized the loaf as being safe to eat. She also appreciates that you took the time to list the known allergens and print your disclaimer right on your label.
When she gets home, she saves your label and makes a point to find your booth the next time she visits the market. She really values the loaf of bread she purchased from you!
By taking the time to create a great label, you increase the value of the product itself!
Use your label to encourage repeat customers
As we saw in the example above, labels can help your customers get to know, like, and trust you more. By showcasing the quality and uniqueness of your products, using the right labels helps boost your product's appeal and improves your presentation.
A customer who purchases from you as a first-time buyer could be compelled to order from you again if your label includes a QR code. Imagine how easy it would be for them to scan a QR code on your label and visit your social media page or website to see what other products you make! Having a great label is an easy way to encourage customers to buy from you repeatedly!
What is the best type of label printer for home bakers?
Now that we've discussed the need for high-quality labels on your baked goods let's dive into the best label printer for home-based bakers.
Choosing the right kind of printer will save you time and money.
When it comes to selecting the ideal label printing method for your business needs, making the right choice can be a valuable investment. Not only can it save you precious time and money, but it can also streamline your baking operation.
One crucial aspect to consider is printing speed.

Opting for a label type that offers quick printing can streamline your label printing time and boost productivity.
Don't forget, the quality of printing matters too!

Thermal label paper, for instance, boasts the advantage of not smudging, ensuring that your labels remain crisp and clear. This means that your labels have a professional appearance, regardless of condensation or moisture from the product. Look for printers with a high print quality.
Finally, don't underestimate the ease of use

. Product labels that are user-friendly and simple to handle can reduce the chances of errors and wasted labels.
By considering these factors when choosing labels, you pave the way for smoother operations and enhanced branding.
The Munbyn Bluetooth label printer is one of my favorite ways to do bakery label printing at home. Here's why I love it so much:
It's super fast! (72 labels/minute!)

The high-resolution print features 203 dpi (and is even capable of 300dpi for higher printing requirements such as Amazon bar codes).

It's easy to use! You can connect it to your computer or phone via USB or Bluetooth.
How does a thermal label printer work?
Thermal labels work by changing color when heated. They have two layers: a top layer with heat-sensitive chemicals and a bottom layer with adhesive. When heat is applied, like from a printer, the chemicals react and create visible marks or colors. This makes the label information show up. No ink is needed, which is why they're used so often in receipts and food labels.
These labels resist moisture, oils, and temperature changes too!
Munbyn thermal labels are waterproof and oilproof. You can create a highly custom look for your print-at-home bakery labels and stickers with their different colors and shapes. They are also easy to peel off too! I love sticky labels that don't leave any sticky residue behind. (That makes it easy for your customers to remove price stickers after purchasing.)
What are the essential labels for small business owners?
Wondering what type of label you need to showcase your home-baked goods?
Cottage foods label-

A cottage foods label

is a sticker or tag containing info about your homemade baked goods. It includes the product name, ingredients, allergens, net weight, baker's contact, and a phrase stating it's made in a home kitchen. This helps buyers know what they're getting and any potential allergens.

Shipping labels-

Home bakers who ship their baked goods need shipping labels when sending products to customers. These labels show the customer's address, your return address, and the shipping details. (You'll also need good return address labels for your biz)

QR code labels

– These allow you to share more information about your products. Attach QR codes on packaging or labels. When scanned with a smartphone, customers can access more information about your business via social media or your website. Clear labels work great for this, by the way!
If you are a baker who prints shipping labels on Etsy, printing shipping labels correctly is essential to ensuring your orders reach your customers safely. Click here for more tips on Etsy label printing.
How to print bakery labels at home with a thermal printer
Here are the steps to print bakery labels at home using a Munbyn thermal printer:
Prepare the Printer- Ensure your Munbyn thermal printer is set up correctly and connected to your computer or

smartphone mobile app.

Design the Label

:- Use the

Munbyn Print App

to design your labels. Include your bakery's name, logo, product info, and required details like ingredients, weight, and allergens.

Load Label Roll-

Open the printer and place the roll of thermal labels in the designated area. Press and hold the feeder button so the printer can identify the label roll you are using.

Label Set Up-

In the

Munbyn Print App

, preview the label. Adjust the layout, font size, and alignment to fit the label size.

Test Print-

Before printing multiple labels, do a test print to ensure the layout is correct.

Print Labels

– Print the labels individually or in batches, depending on your preferences.

Attach Labels

-Peel off the printed labels and attach them to your bakery products or packaging.

QR Codes (Optional)

-If you want QR codes, create them using a QR code generator online. Add them to your label design before printing.

How to format Munbyn Labels
I used the Munbyn Print App to format my labels. It's the easiest way to lay out your text and logo on the different-sized label templates.
Here are the steps I used to design my labels
Set up a 2 column table on a Google Doc or in Microsoft Word

Copy and paste product names and ingredients into the table

Include allergen warnings and cottage foods disclosures if needed

Open the Munbyn Print App and click the + CREATE button

Scroll through the new label sizes to search blank label templates

Tap on text and double-tap to edit

On another screen in your device, open your Google Docs and copy your desired label text

Paste the text into the Munbyn Print App editor
How to add your logo to a label
The easiest way to get your logo onto a Munbyn label is to download the image to your smartphone. In the Munbyn Print App, tap on Image and then tap Select from phone album.
Sizing your logo is the tricky part. Just keep adjusting it by dragging the edges until it's centered on the template, and you think it looks good.
Some blank labels are better for ingredients, and some are good for logos. Choose the ones that work best for your bakery products.
Click the link below for my Google Doc template for formatting labels with the Munbyn Label App. I've included instructions to make your own custom labels too!
(The actual size labels I printed are 2″ x 2″ circles and 1.25″ x 2″ rectangles.)
Thermal printers help you easily print labels at home
So there you have it, fellow baker! The scoop on creating eye-poppin', mouth-waterin', custom labels for your home bakery biz.
If you've read this far, this is your sign to put the effort into your home bakery business with some great custom labels! They'll enhance your brand, add value to your products, and encourage repeat customers. And we all want that!
After years of selling home-baked goods and guessing at my prices, I developed a simple process for pricing homemade cookies that covers all your costs and makes a profit for your business. Click here to learn more!