Have you been thinking about making your own pizza crust at home?
Do you have a sourdough starter that is ready to be used?
I'm going to show you how simple it is to use a sourdough starter to make great pizza dough at home.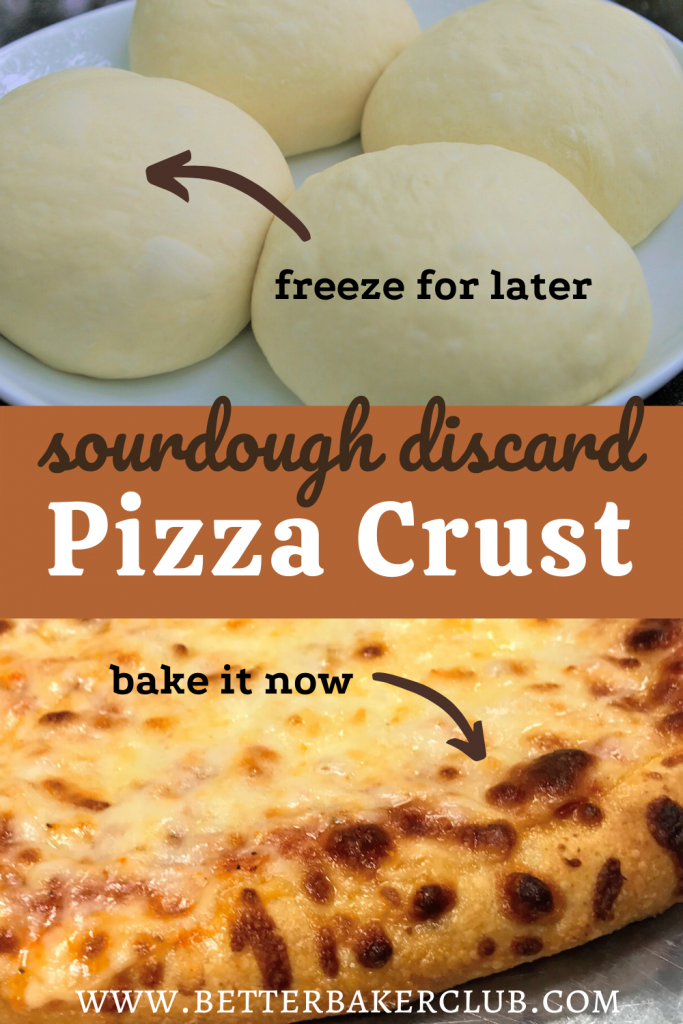 Jump to Recipe
The dough is made from just 4 simple ingredients. It is very easy to mix, in fact you don't even need a stand mixer. With only 5 minutes of kneading and some time for the dough to rest, you can have an authentic Italian style pizza crust. Top it however you want with pizza sauce, cheese, meat, or veggies for a fun pizzeria-style meal at home. I'll even show you how to save and freeze your pizza dough so you can top and bake pizza crust whenever you want a quick meal.
The Ingredients are simple pantry basics that you may have on hand already
Mixing the dough for this recipe is super easy
While most bread recipes call for a stand mixer, for simplicity I chose to make this by hand. I just combined the ingredients in a bowl, then turned them out onto a clean countertop. I used my hands to knead the dough until it was smooth and elastic which took about 5 minutes. If you prefer to use your mixer and a dough hook that will also work.
The steps involved are:
-Weigh the ingredients
-Mix with a spoon until it is a shaggy dough
-Turn out onto the counter and knead by hand for 5 minutes (in a mixer with a dough hook for 4-5 minutes)
The natural yeast in a sourdough needs more time to proof
-Start the dough early (8 hours before you want to eat)
-Remember that natural starters are slower acting
-Place the dough in a warm spot in your kitchen
-When the dough has risen to double its size, it's ready to shape
Use the dough now or freeze it for later
-This recipe makes 4 individual size crusts or 2 large crusts
-Turn the dough out onto your work surface and divide it into the desired number of crusts
-Using plenty of flour, gently round the dough
If you are making your pizzas within 24 hours: place in a covered container and refrigerate until you are ready to shape and top your pizzas.
If you are freezing your pizza crusts: Allow the dough balls to rest at room temperature for about 20 minutes. Flatten the dough in the shape of the crust. Place on a
Here is what it looks like on a large scale.
Top and bake your pizzas
-Preheat your oven to 450° oven

-Place a " target="_blank" rel="noreferrer noopener">parchment paper

-Top your pizzas with desired toppings

-Bake for 10-15 minutes for individual pizzas or 20-25 minutes for a large
Sourdough Pizza Crust
Use your sougdough discard to mix up an authentic pizza crust.
Equipment
Pizza Stone, Food Scale, Pachment Paper
Ingredients
2.25 cups Bread Flour 100%, 12oz, 355g
1 cup Water 70%, 8.5oz, 248g
1/4 cup Sourdough Starter 25%, 3oz, 90g
1 tsp Salt 2%, 0.25oz, 7g
Instructions
Into a large bowl, pour the water measurement. Add the sourdough starter, bread flour measurement, and the salt.

Stir with a wooden spoon until you have a shaggy mass and there is no visible dry flour.

Turn the dough out into a worksurface and knead until snooth and elastic. About 5 minutes.

Let the dough rest in the warmest part of your kitchen until doubled in size.

Turn dough out onto a floured work surface. Divide into 4 individual crusts or 2 large crusts.

Gently round the dough into balls. Cover and allow to rest at least 20 minutes before shaping.

To bake immediately transfer shaped crust on to a piece of parchment and top with your choice of sauce, cheese, meats or veggies. Bake at 450°.10-15 minutes for small crust and 20- 25 minutes for large crust.