This simple and delicious hello dolly cookie recipe is famous for a reason! It has decadent layers of chewy coconut, crunchy pecans, and gooey dulce de leche. The best part is that it is so easy to make that it will quickly become your all-time favorite cookie to make any time of year.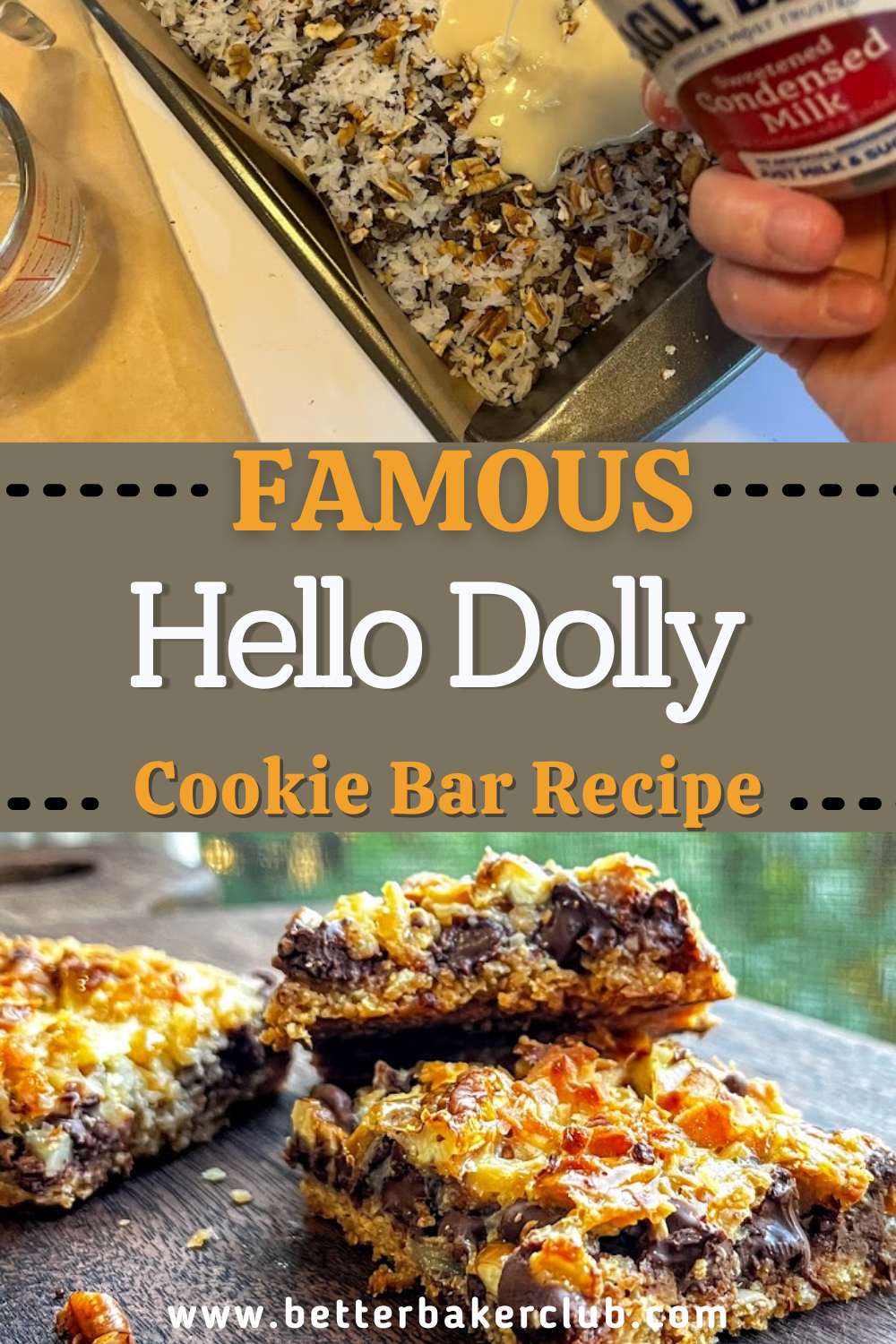 You might know them as magic bars, hello dolly cookies, seven-layer bars, or even coconut dream bars. Although the name is hard to remember, this easy recipe with many different names is unforgettable!
My husband insists on singing show tunes whenever I make these delicious treats, even if I remind him that hello dolly bars actually have nothing to do with the broadway musical Hello Dolly.
The origin of the recipe traces back to 1965 when Clementine Paddleford, a food columnist in The Week Magazine, featured a cake recipe called Hello Dolly Cake. Legend has it that someone turned the cake into cookies and that is how they got the hello dolly name.
While they have nothing in common except the name, both the musical and the magic cookie bars are well-deserving hits.
The famous hello dolly cookie bar recipe
A while ago I found Borden's original street cart recipe on a recipe card in an old recipe box and decided to make it. I've tried to stay true to the original recipe, only changing a few things to make a crispier crust and a toasted coconut top layer on the cookie bars.
When to serve magic cookie bars
When I owned my bakery, we always added magic cookie bars to the menu during the holidays. It seems that people are a little more indulgent around Christmas time and the combination of coconut, chocolate, toasty pecans, and a buttery graham cracker crust just feels perfect for this time of year.
This bar cookie is hearty and holds up well, so they are perfect for putting in cookie boxes, as part of a holiday cookie exchange, and make great gifts.
If you're looking for a new cookie to add to your holiday baking, look no further than the hello dolly cookie.
Simple ingredients make hello dolly bars easy to make
This recipe is so fool-proof, that when I was training new bakery staff, I would often have them start with these cookie bars. Simple ingredients and easy-to-follow instructions are great for beginning bakers or even little helpers in the kitchen.
Here's all you need to make these dessert bars:
Graham crackers– crushed into fine crumbs, or use pre-crushed graham crackers
Butter– Use salted or unsalted according to taste
Semi-sweet chocolate chips– also known as dark chocolate chips
Coconut flakes- I like Baker's Sweetened Angel Flake Coconut
Sweetened condensed milk- Eagle brand is my favorite
Large bowl- no mixer is required for this recipe
Tips for making perfect hello dolly bars
I like to bake this recipe in a 9in by 13in glass baking dish. It creates the perfect thickness for rich bar cookies like these.
Spray your pan with non-stick cooking spray, and line it with parchment or aluminum foil.
Don't be tempted to use wax paper instead of parchment paper. Wax paper is not heat resistant and the wax will melt and ruin these lovely cookie bars.
To make graham cracker crumbs, place 1 package of graham crackers in a gallon-size zip lock bag and crush them with a rolling pin.
You can also pulse graham crackers in the food processor to make finely ground graham cracker crumbs.
Variations from the original hello dolly bars recipe
Part of the "Magic" of these cookie bars is how the ingredients can be personalized. Here are a few ideas for changing up the recipe:
Crust– substitute vanilla wafers or shortbread cookies for the layers of graham crackers
Baking chips– try swapping out some or all of the semi-sweet chocolate chips for white chocolate chips, milk chocolate chips, peanut butter chips or even substituting a cup of butterscotch chips.
Omit nuts– if you prefer this recipe without pecans, you can swap out any type of crunchy nuts, or leave the nuts out altogether and use toffee chips instead for the crunch factor.
Feel free to mix and match and create your own unique version of the hello dolly bar recipes!
How to store this hello dolly cookie bar recipe
Resist the temptation to dig right in and allow the hello dolly bars to cool completely before cutting and serving. The gooey chocolate needs time to set up and it will slice much better when fully cooled.
Loosen the edges and lift the parchment paper or aluminum foil from the pan and place it on a flat surface for cutting.
Cut the bars with a sharp chef's knife, cleaning it with warm water after each slice. Cut the batch into 6 columns and 4 rows to create 24 equal-sized square servings.
You can store these little miracle bars in an airtight container or sealed in a plastic bag at room temperature for up to 4 days.
For an over-the-top dessert, try serving these with a scoop of vanilla ice cream!
The Famous Hello Dolly Cookie Bars Recipe
This simple and delicious hello dolly cookie recipe is famous for a reason! It has decadent layers of chewy coconut, crunchy pecans, and gooey dulce de leche.
Ingredients
1 1/2

cups

Graham cracker crumbs

1

stick

Unsalted butter (4 oz)

1 1/2

cups

Semi-sweet chocolate chips

1

cup

Coconut flakes

1

can

Sweetened condensed milk (14 oz)
Instructions
Preheat oven to 350°

Prepare the baking dish by lightly spraying with nonstick spray and lining with parchment or aluminum paper.

In a covered microwave-safe dish, melt butter for 45 seconds.

Combine the graham cracker crumbs and melted butter, then spread evenly and press mixture into the bottom of the pan to create the base layer.

For the rest of the ingredients, Spread the semi-sweet chocolate chips evenly on top of the graham cracker layer. Top with the pecans and then coconut.

Drizzle the entire can of Eagle-sweetened condensed milk over the baking dish, making sure that everything is evenly distributed.

Bake at 350 degrees for 25-30 minutes or until the top is golden brown with toasty coconut.
Try this hello dolly cookie recipe the next time you bake
Every time I bake this sweet treat I am reminded of why I love it so much! It's so quick and easy to make but it tastes like you've been in the kitchen all day.
The best part is how you can mix and match the ingredients and create your own unique dessert bars!
For more easy, one-bowl dessert recipes check out my favorite shiny top, chewy crust brownie recipe. Let me know how your magic cookie bar recipe turns out in the comments below!