This shelf-stable buttercream frosting recipe is the perfect baker's frosting recipe to use in your cottage foods or home bakery business because it contains no dairy products and tastes delicious!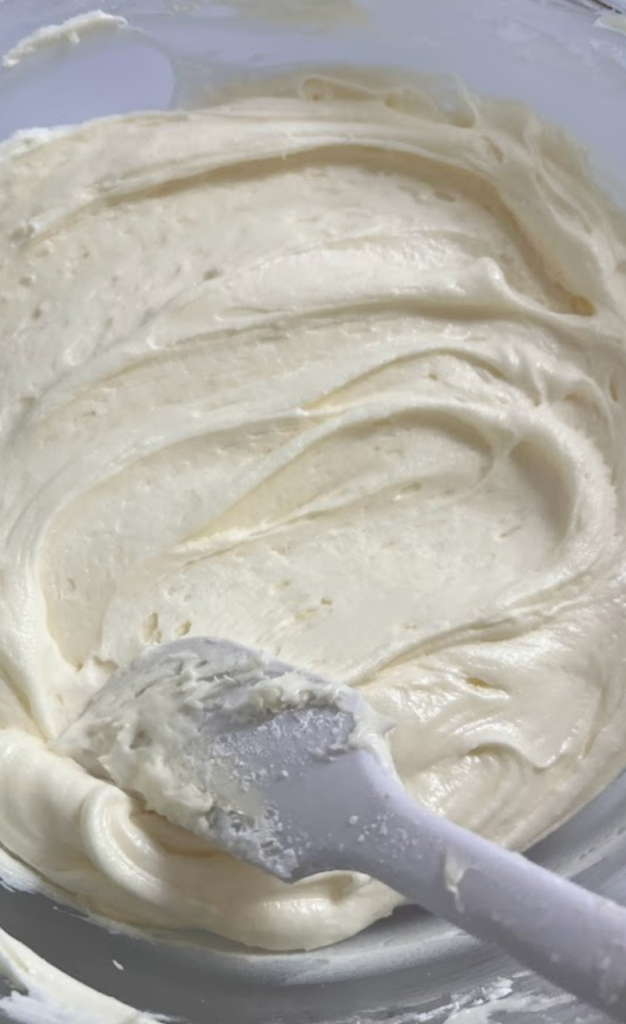 Cottage food-approved recipes
The question I get asked most by cottage food bakers is: How can I make my recipes taste like they should when we can't use the ingredients we love?
Selling baked goods from your home means you might need to make some changes to your recipes so that they adhere to your state cottage food laws.
Don't give up on your bakery dreams, just find good cottage foods-friendly recipes instead!
Here are a few of my favorites:
Easy Chocolate Icing Recipe: No Butter
Royal Icing Recipe with Meringue Powder
Jump to Recipe
My professional baker's frosting recipe
If you've been around my website before, you probably know that I used to own and operate a chain of cupcake shops. We were known throughout the Midwest for our buttercream frosting and people went BANANAS for it! The recipe that I'm sharing today isn't the same (because that one had butter and milk) but the baker's technique is the same.
Is buttercream shelf-stable
Shelf-stable foods are those that can safely be stored at room temperature in a sealed container. This recipe has no dairy ingredients that require refrigeration, so once you mix the recipe you can store it unrefrigerated for up to 7 days.
How do I make grocery store-style buttercream frosting
Customers love the taste of grocery store-style frosting. This tastes like grocery store bakery frosting because it is whipped. The grocery store whipped icing recipe uses shortening and flavorings instead of real butter.
The technique of whipping frosting is great because:
It makes it easier to ice cakes
It increases the volume and goes further
Customers love it!
What is the most stable buttercream frosting
Ask any baker and they will probably tell you that they have different frostings for different uses. One of the types of frosting I often needed was heat-stable frosting.
Summertime weddings that get set up outside require cakes and cupcakes that can hold up to warm weather.
This recipe holds up well in warm weather and is perfect for things like outdoor summer weddings or selling cupcakes at the farmer's market.
Does Buttercream frosting need to be refrigerated?
This non-refrigerated frosting recipe can be stored at room temperature in a sealed container.
To save time, it can also be mixed in bulk and stored in the refrigerator or freezer.
How to add flavor to buttercream frosting
If you'd like to change the flavor of this buttercream frosting you can! Just mix it according to the recipe directions, and then add your flavoring of choice.
My favorite flavorings are baker's emulsions. An emulsion is like an extract but instead of the flavoring being suspended in an alcohol base, it is suspended in a water base.
This is great for frosting flavoring because you do not cook the alcohol out of the recipe as you would with baked goods.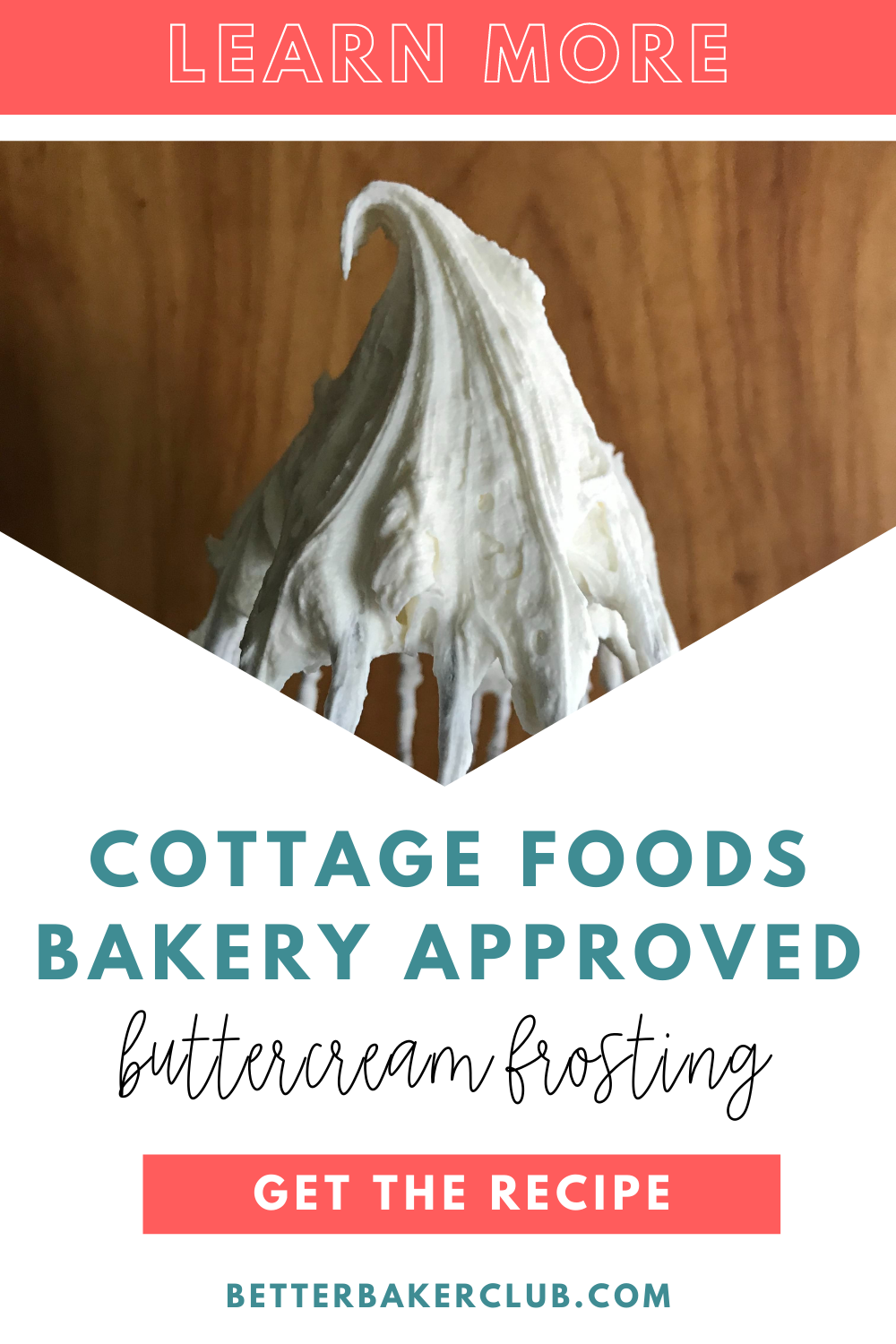 Lorann Oils makes the best emulsions! Here are a few of my favorites:
Almond- love this in cookie frosting!
Princess Cake and Cookie- give your frosting a wedding cake flavor!
Cheesecake-for cottage foods safe cream cheese frostings.
Coffee- perfect for that rich mocha flavor.
Butter- use as a base for the vanilla frosting.
Lemon – Amazingly intense natural lemon flavor.
You can also combine the flavor oils for a more unique taste. I like Princess, Lemon, and Almond for a signature wedding cake flavor.
A word of caution, the flavors are very concentrated, so a little goes a long way. Start with just a drop or two and add more if needed.
Hi-ratio shortening for a creamier frosting
I like to use a high ratio shortening whenever I can because it acts more like real butter in the recipe. If you can find high-ratio shortening, you will get a glossier and smoother frosting by using that in the recipe.
If you can't get high-ratio frosting, then you can substitute a more traditional shortening like Crisco. It will work for the recipe, but won't have the same creamy mouthfeel and texture.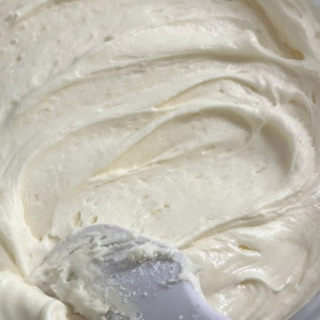 Shelf Stable Buttercream Frosting
This non-refrigerated frosting is perfect for home-based cottage foods bakers who can not use dairy products in their recipes
Equipment
Mixer with whip attachment
Ingredients
1

cup

Sweetex High Ratio Shortening

8 oz

7

cups

Powdered Sugar

2 lbs

3

tbsp

Water

1

tsp

Loranne Princess Cake and Cookie

1/2

tsp

Salt
Instructions
Using your mixer with the paddle attachment, whip the shortening on medium speed for about 5 minutes or until very light, scraping the sides of the bowl as needed.

Add the Loranne flavoring, water and salt and mix to combine.

Add the powdered sugar, a few cups at a time and mix until all the powdered sugar has been combined.

Remove the paddle attachment and switch to a whip attachment. Whip the frosting mixture on medium until it is very light. This is the trick to making it taste like bakery frosting, so don;t skip the whipping part!

The frosting is now ready to use. If you prefer a thinner frosting for icing cakes, just add 1 tsp of water at a time until you have your desired consistency.

Frosting can be stored at room temperature in a tightly sealed container for several weeks. You can also freeze the frosting in smaller quantities and defrost at room temperature as needed.
Final thoughts
If you are looking for a professional baker's frosting recipe that is similar to grocery store frosting, then give this a try! You'll love the convenience of non-refrigerated ingredients, and your customers will love that it tastes like their favorite bakery-style whipped frosting.
Don't be discouraged if you are a new cottage baker and your list of prohibited ingredients doesn't allow you to bake like you are accustomed to. Just swap out your old recipes for new cottage bakery-friendly recipes like this one!
If you liked this recipe let me know in the comments and be sure and check out my Chocolate Shelf-Stable Frosting too!