Warning
: exif_imagetype(): stream does not support seeking in
/home/customer/www/betterbakerclub.com/public_html/wp-includes/functions.php
on line
3286
No matter what size your pantry is, we can all use a little more space and organization. I find that it makes it baking so much easier when you can see what you have! Check out these amazing pantry organization tips to get all your bakery ingredients in one place.
Tupperware Modular Mates for Your Baking Supplies
I was so excited when I was approached by Tupperware to write a post and receive free Modular Mates products to try! This post is really coming at a great time because I was just thinking about how I wanted to share a pantry storage post with you!
How I did a pantry makeover using my new Modular Mates!
It's been a busy holiday baking season and my pantry has definitely taken a beating! Before I get started cleaning things up and replacing old containers with my new Modular Mates, take a look at my "before and after" picture!
Tip Number 1: Take advantage of the empty space in pantry shelves
It's always a good idea to take advantage of the empty space in your pantry shelves. Going vertical with your ingredient storage means that you can fit more ingredient containers in a small area, and have each container be more visible.
In my pantry makeover, I eliminated one of the adjustable wooden shelves so that I could stack my new containers and have more visibility!
Modular Mates from Tupperware are designed to stack together interchangably, so that you can create the perfect arrangement for your baking ingredients.
Tip Number 2: Store Ingredients in Airtight Containers
One of the best ways to make sure you always have all the ingredients you need on hand is by purchasing them in bulk. This will allow you to save time and money, as opposed to purchasing small portions of various ingredients when you need them.
One of the down sides of buying your ingredients in bulk however is that they can dry out! That's one of my favorite things about my new Mondular Mates. All of their containers are air tight so you food stays fresh longer.
My 2 lb. bag of brown sugar fits perfectly in the Super Oval 3 and has been soft and moist for weeks now!
Tip Number 3: Use Space-Saving Products
A common issue that arises when trying to organize a pantry is the lack of space. Here are some ideas for how to make your small space count:
Use containers that stack together
Think about when you put a bag of chips in your pantry, all the space above the bag of chips is just air. But, if you put that bag of chips in a Modular Mate, now you can stack another Modular Mate on top of it and gain that space back.
Use a lazy susan to access the smaller containers
I already had a lazy susan in my baking pantry but I filled it with containers that were too large for it. I swapped out some over-sized containers for Tupperware spice shakers which I filled with salt and cornstarch. They have flip top lids with both a scoopable side and a shaker side. (I'm already excited about rolling out my fondant with the cornstarch shaker!)
Tip Number 5: Plan Your Space Before You Start
One of the hardest things about organizing your pantry is determining the number of containers you will need!
For help planning your pantry, Tupperware can map out your pantry based on its size and determine which Modular Mates are best for you! You can check out the pantry planning resources available from Tupperware by clicking here.
I love how my set was custom picked to hold the type of ingredients I use most. They all stack together so nicely!
My Custom Set of Modular Mates for Baking Ingredients
-Square 1 ( I'm using it for chocolate chips)
-Oval 2 ( Right now I have raisins, but I may change it for walnuts)
-Super Oval 3 with a Pour All Spout ( PERFECT for a 2 lb. bag of brown sugar)
-Rectangle 4 (fits a FULL 10 lb. bag of flour!)
– 2 spice shakers ( I've got salt and cornstarch in mine, but they would be amazing for sprinkles too!)
-Rectangle 2 ( this hold two bags of granulated sugar! 8 lbs. total!)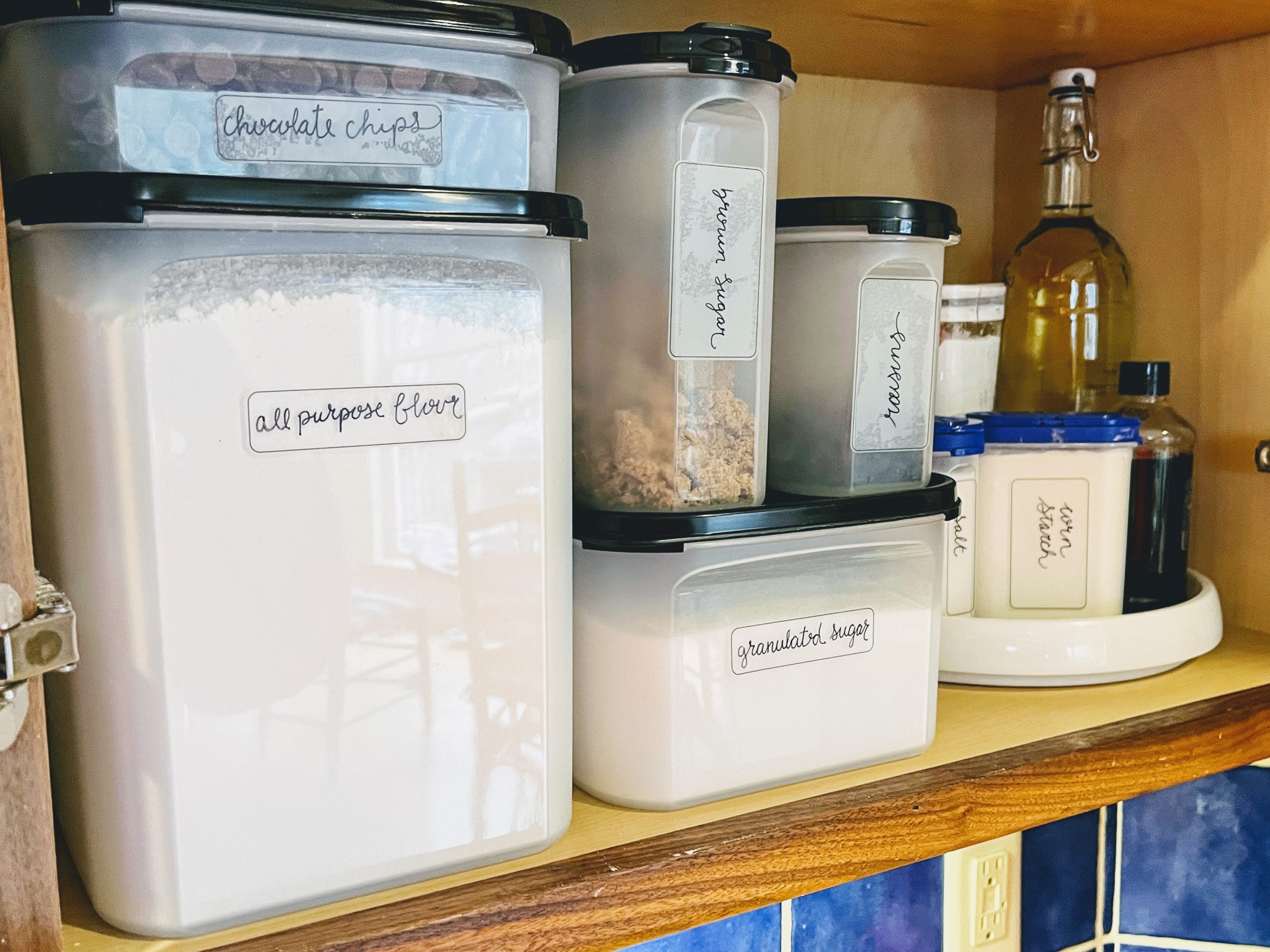 Click here to see the full selection of Modular Mates. With Tupperware Modular Mates, you can easily find what you need and forget about clutter.
Enter to Win Your Own Modular Mates!
I'm so excited to share that the wonderful folks at Tupperware have offered to share a giveaway with my readers! This means that you can enter to win a Rectangle 2 ( this hold two bags of granulated sugar! 8 lbs. total!) and a Oval 2 ( perfect for nuts, dried fruit or chocolate chips)
Spruce Up Your Kitchen Pantry Storage!
You can see how with just a few tips and some new containers you can have a really functional baking pantry in a small space. To learn more about what other customers are saying about using Modular Mates in their kitchen pantry, click here.