Pop-up shops are the perfect way to make extra money and attract new customers to your home bakery business. Check out this step-by-step guide and learn how to get started with pop-up shops today!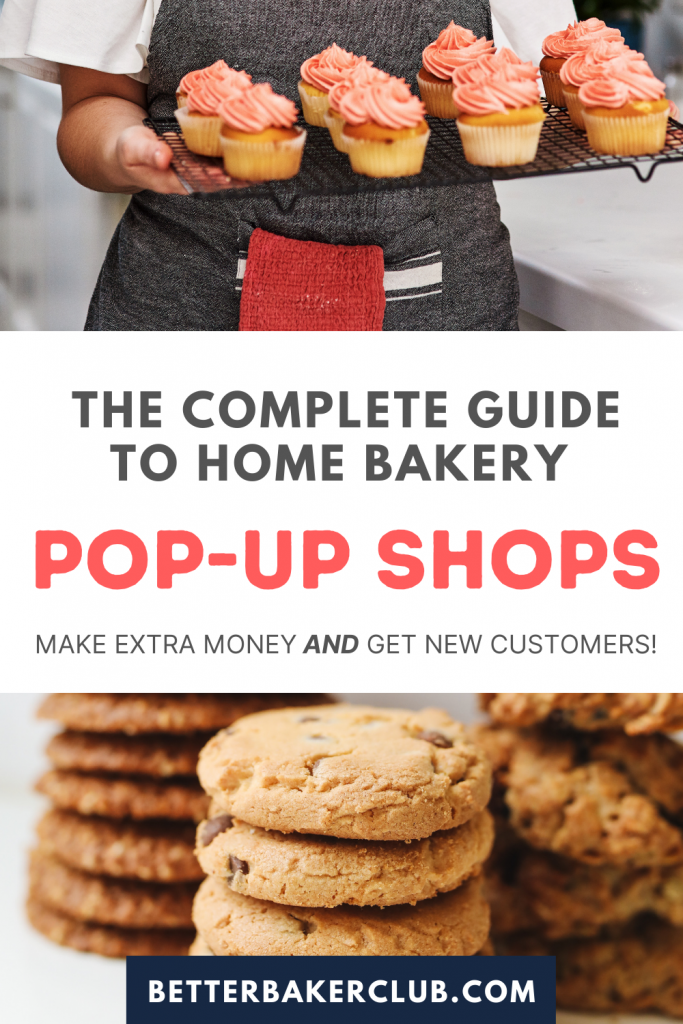 How to get your home bakery ready for a pop-up shop
Are you ready to learn how to host your very first pop-up? Check out these beginning tips to know if you are ready to start planning a pop-up shop for your home bakery business.
Your home bakery should have a payment system in place before your first pop-up sale
If you're like many bakers who are just starting out, you may be collecting payment when you deliver your orders. This will work in the early stages of your business, but it's not the best solution long term.
You'll want to set yourself up to process credit cards and allow customers to check out quickly with QR code links. I recommend setting up an account with Square. It has so many features that you'll need and keeps track of all your sales transactions. You can read my full blog post about why Square is the best POS for your home bakery here.
Understand how to price your baked goods before you choose a selling price
It's very tempting to guess your prices when you start selling. This is one of the biggest mistakes that I see new bakers make. Before setting your prices, learn the ins and outs of pricing your baked goods. You'll feel more confident knowing that you are making a profit on everything you sell.
If you are just starting out and want to learn more about how to price your baked goods, check out this post, where I talk about all of the elements that you need to know to properly price your home-baked goods.
Bakery pop-up sales: at your home vs. on location
Pop-up sales can be done in a few different ways. Let's consider whether selling from your home location or selling on-site is a better solution for you.
Hosting a pop-up sale at your home
Home-based pop-ups work well for many people. Here's what you'll need to be able to do this:
An ample amount of space to set up your display
Space for customers to shop
An address that's accessible to your customers
Hosting a pop-up sale on location
Hosting a pop-up sale on location usually involves a little more planning. This can include:
Finding a shop, boutique, or store that has a similar client base as you.
Coordinating with the manager or owner of the shop
Deciding on a menu
Promoting on social media
Deciding which type of pop-up sale is best for you may involve several factors. Home-based pop-up sales are better for beginning bakers or bakers with large following customers who prefer to pick up orders. On-location popup sales are ideal for special events, seasonal promotions, collaborations with other vendors, and bakers who have a large and engaged social media following.
How to decide what baked goods to sell at a pop-up sale
Deciding what to sell at your pop-up shop is an exciting part of planning your event. Think about selling your most popular items and your most requested items.
You can also plan your pop-up sale around a holiday or a season. If you do that then your selection of baked goods can include seasonally decorated items, gifts, and crowd-pleasers.
Creating a menu for your pop-up sale
When putting together a menu for your pop-up sale, be sure to include a variety of prices sizes, and flavors so that you're sure to have something for everyone.
Prices– you should have items in a low, medium, and high price range
Sizes– consider packing in small quantities, as well as larger quantities
Flavors– try to include something for everyone! Don't forget about ready-to-eat items for hungry shoppers and kids.
How to create an amazing pop-up sale display
Are you wondering how to pull it all together with your display? It's actually easier than you may imagine. With a little investment or some borrowed items, you can create an amazing and professional-looking display to showcase your baked goods.
Here are the essential items for a good pop-up sale display:
Affiliate Disclosure– If you click on a link in this post and activate an account or buy hardware from Square, then I get paid. This is called an affiliate commission. It doesn't cost you anything and you do not pay more for the product. This is how I make money from my blog and am able to continue to provide valuable content for my readers.
Printed menus
Signs for product names and prices
QR code for taking payment
Folding chair
To read more about creating a great display booth, check out my Complete Guide to Selling Baked Goods at the Farmer's Market.
How to promote your home bakery pop-up shop
When it comes to promoting your bakery pop-up shop you will want to start early! The worst thing that could happen is you can put all of the time and energy into preparing delicious products and setting up a beautiful display just to sell yourself short by not advertising it to enough people and being left with unsold products.
How to use social media to promote your home bakery pop-up shop
Social media is great for sharing information about your pop-up shops. Plan on starting your promotions about a month in advance. You can share behind-the-scenes photos of you preparing your treats. Share details for ordering and purchasing your items. You can even share photos up the special packaging that you may be offering for the season. Remember that social media is an interactive tool and when you post be prepared to reply to comments and engage with your readers.
How to use word-of-mouth marketing to promote your home bakery pop shop
Another really powerful tool for promoting your pop-up is simply talking to people that you already know. Let your friends know about your pop-up shop and invite them to come and even to bring a friend! You can get creative with your promotions and offers special mini treats as a reward for bringing a friend. You can hand out a postcard or flyer that can be used for a special discount on the day of your pop-up shop.
When it comes to promoting your home bakery pop-up shop the more effort that you put into it the more reward you will get in the end!
Use these tips to help you host a successful home bakery pop-up shop!
In this article, we have covered how to get ready for your first pop-up shop, the importance of knowing how to price your baked goods, and having your payment systems set up for quick and easy transactions for your customers.
Be sure to use the resources mentioned to create an amazing display and don't forget the importance of promoting your pop-up shop in advance.
With these tips, you should be able to create a successful first pop-up shop. Power shops are a great way to gain new customers a bigger social media following and boost your home bakery sales.
Here are some answers to frequently asked questions about pop-up shops:
How do go about doing a pop-up bakery on location?
I recommend trying to connect with local small business owners that have similar clientele. Ask if they have ever done cross-promotions with pop-up bakeries. You'll both promote the event to bring in new customers for each other making it a win-win situation!
I've done bake sales with my church. Is a pop-up kind of the same thing?
The same type of sweet treats that you sell at a bake sale can be sold at your bakery pop-up shop. Cinnamon rolls are a top seller, as well as signature cakes and seasonal specials.
First time doing a pop-up shop and I had tons of leftovers. Any advice?
Your first time doing a pop-up bakery is all about gaining experience! Be sure to keep good records so that you can measure your improvement. Things to track are:
Your promotion strategy
Inventory of what you baked
Sales records
Comment below and let me know what your favorite tip from this article was!