So you've perfected your cinnamon roll recipe, and now you need ideas for cinnamon roll packaging? I've got you covered! Here's a list of 10 different ways to package your cinnamon rolls for sale that will not only make your cinnamon rolls look irresistible but also help you leave a lasting impression on your customers.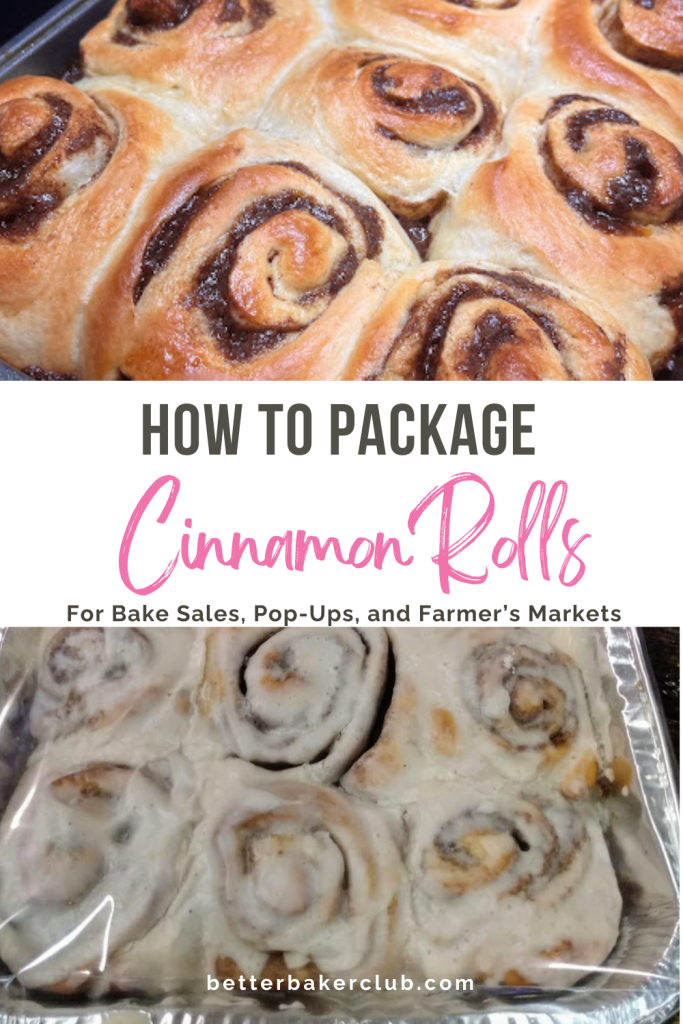 Affiliate Disclosure: I may earn a small commission through affiliate links in this post, but I only recommend products that I have tested and used myself.
Cinnamon roll packaging ideas
Picture this: A fresh batch of cinnamon rolls, beautifully packaged and ready for sale. The mere sight of them can make anyone's mouth water. That's the power of presentation! Before we dive into the list of packaging ideas, let's talk about why packaging matters and how it can elevate your cinnamon roll game.
Did you know In a recent announcement, General Mills Foodservice unveiled an exciting update to their classic cinnamon rolls? Nicole Nelsen, Director of retail foodservice shared the news that they are rebranding the Pillsbury cinnamon rolls with a new retail-ready packaging. It's a move that aims to make these delicious treats even more accessible to consumers. This news is a boon for all bakers selling homemade cinnamon rolls because according to Ms. Nelson, it signals a growing market demand for cinnamon rolls as a retail-ready bakery item. To learn more about this exciting development, you can check out the full article here.
Visual appeal of well-packaged cinnamon rolls
Packaging is often the first thing customers see when they encounter your cinnamon rolls. A well-designed and visually appealing package can immediately grab their attention. By adding colorful or creative packaging, it can pique curiosity and entice customers to take a closer look.
You can charge more with great cinnamon roll packaging
The quality of your packaging can influence how customers perceive the value of your cinnamon rolls too. Sturdy, attractive packaging can convey a sense of professionalism and quality, making customers more willing to pay a premium for your product.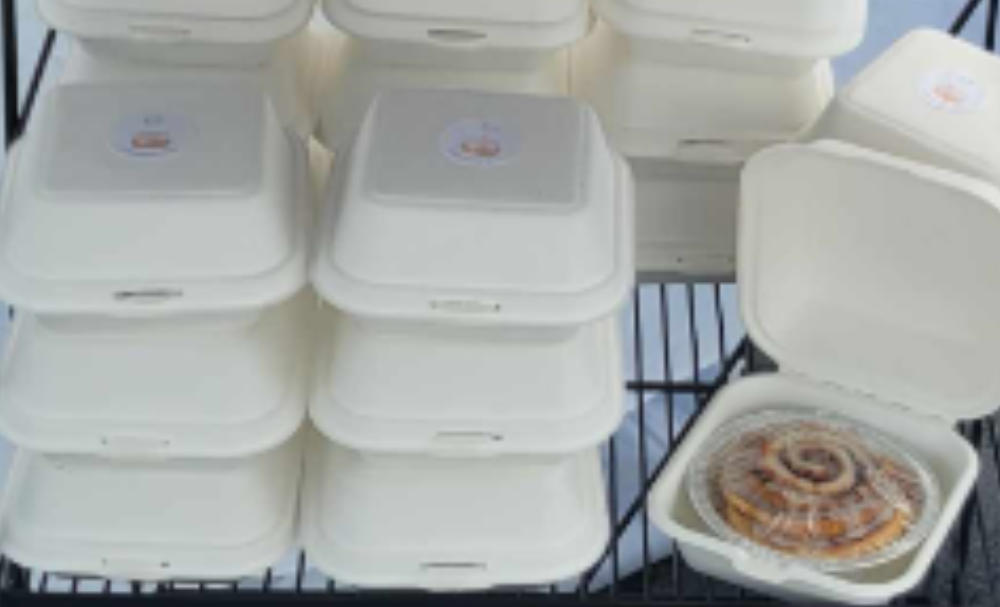 Good packaging helps extend the shelf life of cinnamon rolls
Proper packaging helps preserve the freshness and homemade taste of your cinnamon rolls. It protects them from environmental factors like air and moisture, preventing them from becoming stale or soggy. Fresh, delicious cinnamon rolls are more likely to lead to repeat sales and positive reviews.
Here's a list of the 10 best cinnamon roll packaging ideas
In this section, we'll explore ten fantastic cinnamon roll packaging ideas that will not only keep your treats fresh but also make them look utterly tempting. Whether you're a seasoned baker or just starting your cinnamon roll business, you'll find the ideal packaging solution to suit your needs and enhance your sales.
Paper Boxes for Cinnamon Rolls
If you struggle with packaging sticking to your gooey cinnamon rolls then you'll love these Charcuterie Boxes with Clear Lids.
These cinnamon roll boxes have a great presentation and the clear lids are perfect for showing off your pre-frosted cinnamon rolls.
Custom Cinnamon Roll Packaging Boxes
These 4 x 4 window boxes are the perfect size for an individual cinnamon roll. The boxes are available in several colors which are the perfect solution for creating a custom look without breaking the bank!
Eco-Friendly Clamshell Container for Cinnamon Rolls
100% compostable take-out food containers are an effortless and environmentally friendly way to package your sweet desserts. At farmer's markets, eco-friendly packaging is a popular choice among customers, making it an excellent way for your business to align with their preferences.
Clear Clamshell Packaging for Cinnamon Rolls
Clear clamshell packaging is a great way to package cinnamon buns. The one-piece hinged design means you can quickly do your packaging with less back-of-house labor.
Entire Foil Pan Packaging for Cinnamon Rolls
Have you ever thought of streamlining your process by baking and selling in the same pan? These foil pans are a low-labor way to package. You simply proof, bake, and pop on the lid! Bonus points for the increased revenue you'll get from selling the entire pan!
Plastic Wrap for Cinnamon Roll Freshness
Plastic wrap creates an airtight seal around each cinnamon roll, ensuring that none of the delicious taste escapes. This means that every bite your customers take is as flavorful as the moment it comes out of the oven.
💡Pro Tips:
Use high-quality food-grade plastic wrap
Wrap each cinnamon roll individually
Consider custom-printed labels with your bakery's brand identity to leave a lasting impression.
Portion Cups for Cream Cheese Frosting
Cream cheese frosting is the crowning glory of many cinnamon rolls but it can pose a challenge when it comes to smudge-free packaging. You can help your customers enjoy the perfect ratio of cinnamon rolls and frosting by packaging the roll and the frosting separately. These cups and lids help you get perfect portions, without worrying about smudging the frosting!
DIY Cinnamon Roll Kit Packaging
For a shelf-stable option, consider making DIY cinnamon roll kits. You can create a thoughtfully crafted dry mix of premium ingredients, accompanied by a step-by-step recipe card and package everything neatly in an oven-ready pan. They make wonderful Christmas gifts!
Warm Cinnamon Roll Serving Containers
These disposable paper bowls, complete with transparent lids, offer the perfect solution for selling warm cinnamon rolls, or cinnamon rolls that your customers can easily reheat in the microwave. It's the best way to package oven-fresh cinnamon rolls and reheat your delicious treats.
Freezer Bags for Cinnamon Roll Storage
Need a low-cost cinnamon roll packaging solution? Place them on a disposable plate and slide them into a high-quality freezer bag. The resealable bag allows your customers to safely store your cinnamon rolls for future enjoyment!
These packaging options offer a variety of choices for bakers looking to present their cinnamon rolls attractively and conveniently.
Enjoy these cinnamon roll packaging ideas
It's clear that the packaging of your cinnamon rolls is not just about covering them; it's a crucial part of your marketing and sales strategy. It can affect how customers perceive your product's quality, convenience, and value. I hope you found a few new ideas for high quality and appealing packaging. The most important thing is that your packaging helps your customers enjoy the best cinnamon rolls possible!
I've gathered the best solutions for all types of baked goods packaging here in this post.
If you run a baking business from home, you have probably struggled with the best way to print labels at home. Here are my tips for printing better labels at home.
.