Are you stumped when it comes to finding the perfect baked goods packaging? Are you looking for creative new packaging ideas? In this highly requested topic, I've gathered the best solutions for all types of baked goods packaging! I'm even sharing all the links so that you can shop right from this post and get your packaging ordered before supplies run out!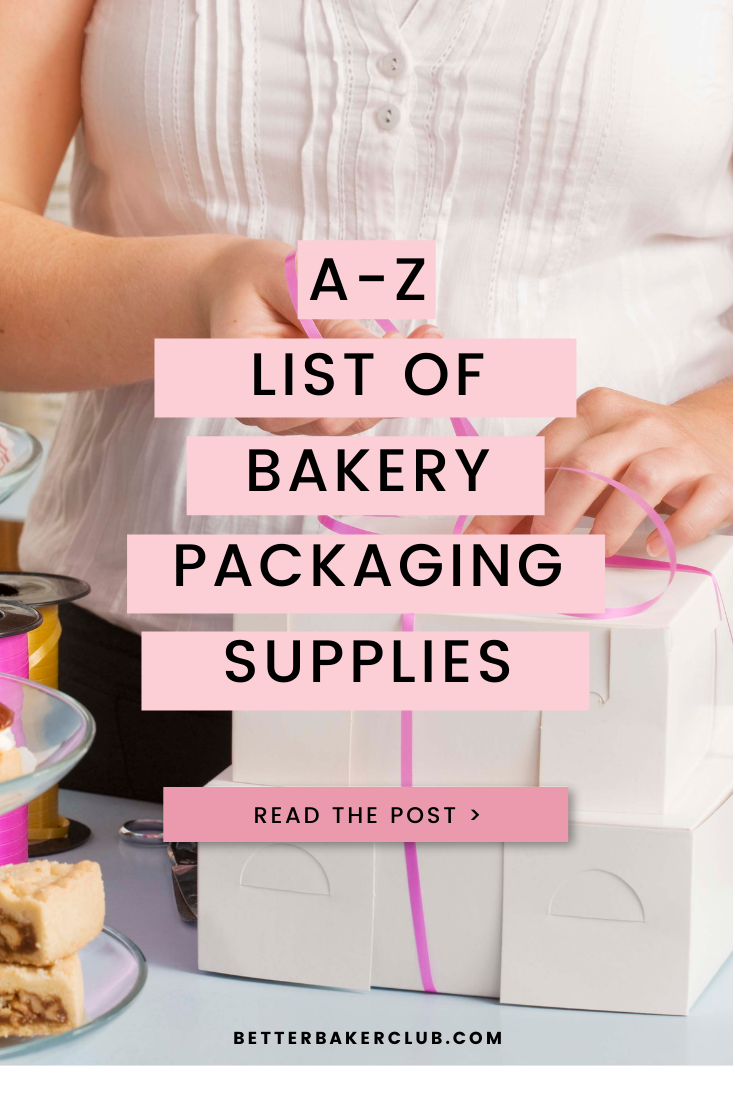 In this jam-packed article you will find:
The best packaging for each type of baked good
I'm breaking down this awesome resource list into baked goods categories, so you can get new ideas for how to package all different types of treats!
Packaging for wholesale and large batch baking
Are you in the custom decorated or wholesale business? I've got links to my favorite boxes and bags for transporting bakery orders both large and small!
Eco-friendly packaging for selling at farmer's markets
If you are doing cupcakes, brownies, cookies, bread loafs and all kinds of different baked goods at the market, then you'll need a variety of high quality cookie boxes, food tissue, and bakery essentials to package all your home baked goods.
The complete list of baked goods packaging from A-Z
Let's take a look at the most common baked goods and some different ways that you can package them.
Packaging ideas for cookies
These self sealing cellophane bags are perfect for selling single cookies. They are 4 x 6 and hold large 4 oz cookies. I love the self sealing. It makes packaging quick and easy.
I also like to have a clear cellophane bag on hand for selling half dozens or cookie bundles.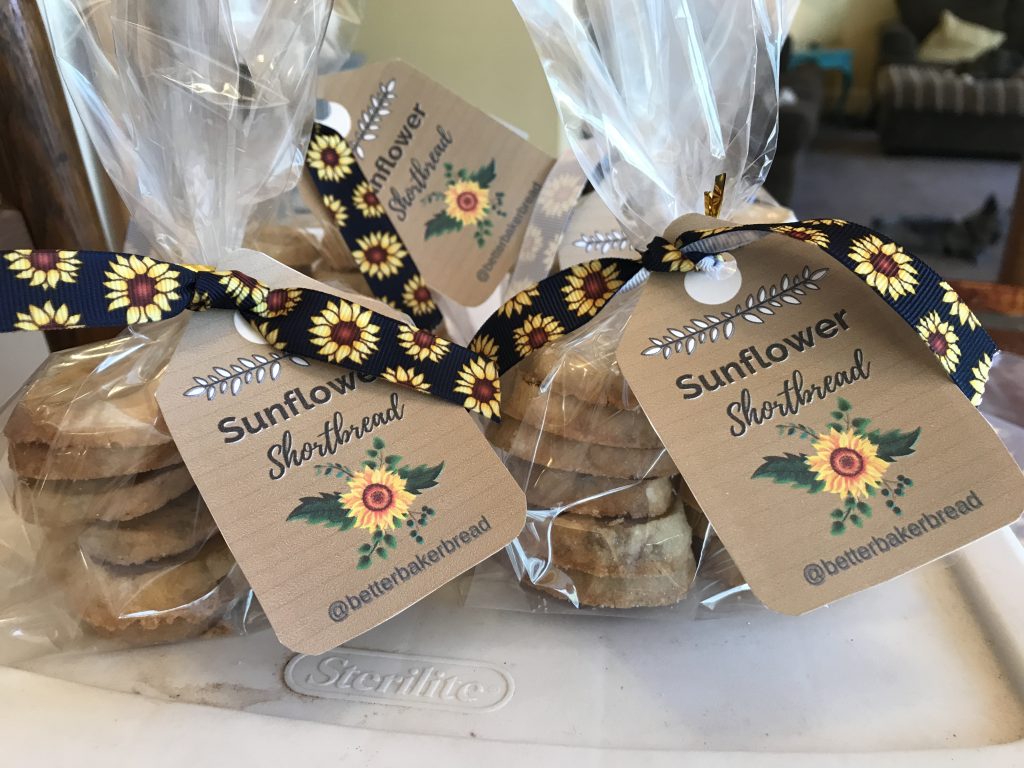 If you're looking for an economical option for packing cookies, check out these Waxed Paper bags. They are grease resistant and eco-friendly too!
For cookies that are sticky or jam filled, I like to use these 8 inch cookie boxes with a window. They are also perfect for macarons and assorted pastries.
How to package sweet breads, mini loaves and quick breads
I like to bake and sell quick breads and mini loaves in the same container with these 1 lb. aluminum pans.
Pans with lids are also available if you have iced or sticky topped loaves, otherwise, loaves can be wrapped in plastic wrap, parchment paper or kraft paper and twine.
Two of these 1 lb. mini loaf fit perfectly into a 7" x 7" x 3" brown bakery box. This is a great way to upsell and package two flavors together. You can add décor, stickers, ribbon and a custom label to make it your own.
Cinnamon roll packaging ideas
I get a lot of questions about cinnamon roll packaging! Some bakers sell them individually, and some sell in half dozens, and even full dozens. Here is a list of supplies for all the different quantities you may want to sell.
Packaging for Single Cinnamon Rolls
These little bakery boxes are easy to put together and perfectly sized for one cinnamon roll. They are 4"x4"x2.5" with a window. They also work great for mini bundt cakes!
Packaging ideas for two cinnamon rolls
I like to use the mini aluminum pans with lids to bake two cinnamon rolls. Bonus points if you sell quick breads and use the same packaging for multiple items!
Big batch packaging ideas for cinnamon rolls
The easiest solution is to proof, bake and sell in the same container. 7 inch round aluminum pans are perfect for that.
You can also bake your cinnamon rolls in a cake pan lined with a parchment circle. After they are baked you can transfer them into a 7" x 7" x 3" brown bakery box.
Packaging ideas for bread, rolls and biscuits
Selling bread , rolls and biscuits can be very rewarding and lucrative! Customers need to be able to see your products so clear packaging, or packaging with a window is important.
Packaging solutions for soft crusted loaf bread
I like to have an all purpose poly bag for a variety of yeasted bread, rolls and biscuits. These bags are large enough for a full loaf of bread, and can also be used for smaller items by trimming the tops a little shorter.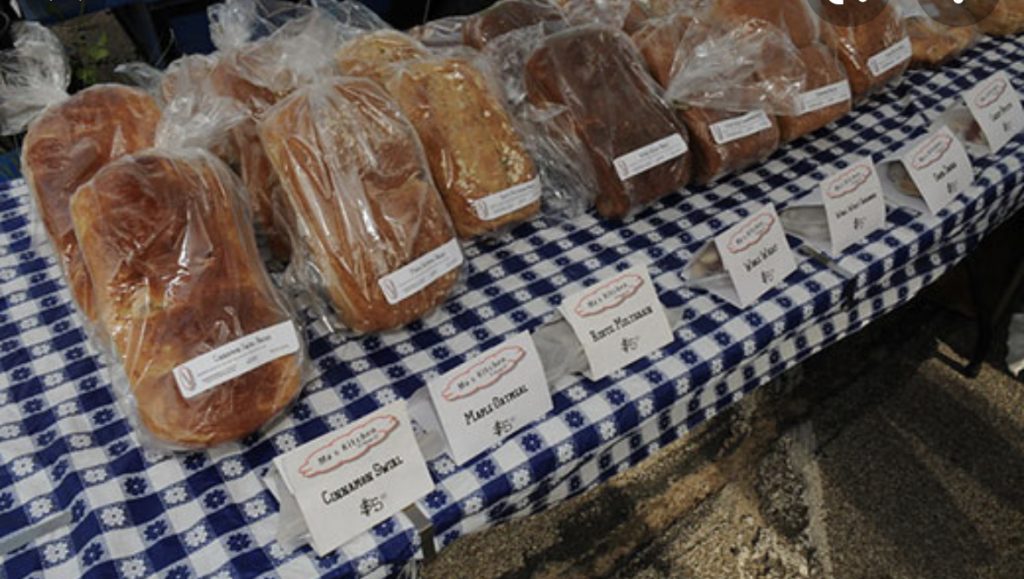 Tips for packaging crusty artisan bread
Every bread baker knows the crusty loaf dilemma! How can you package your bread to sell without loosing the crispy crust that you worked so hard to create?
I like these paper bread bags with a front window. I usually leave the tops open to allow as much fresh air as possible and tape them closed when a customer purchases them.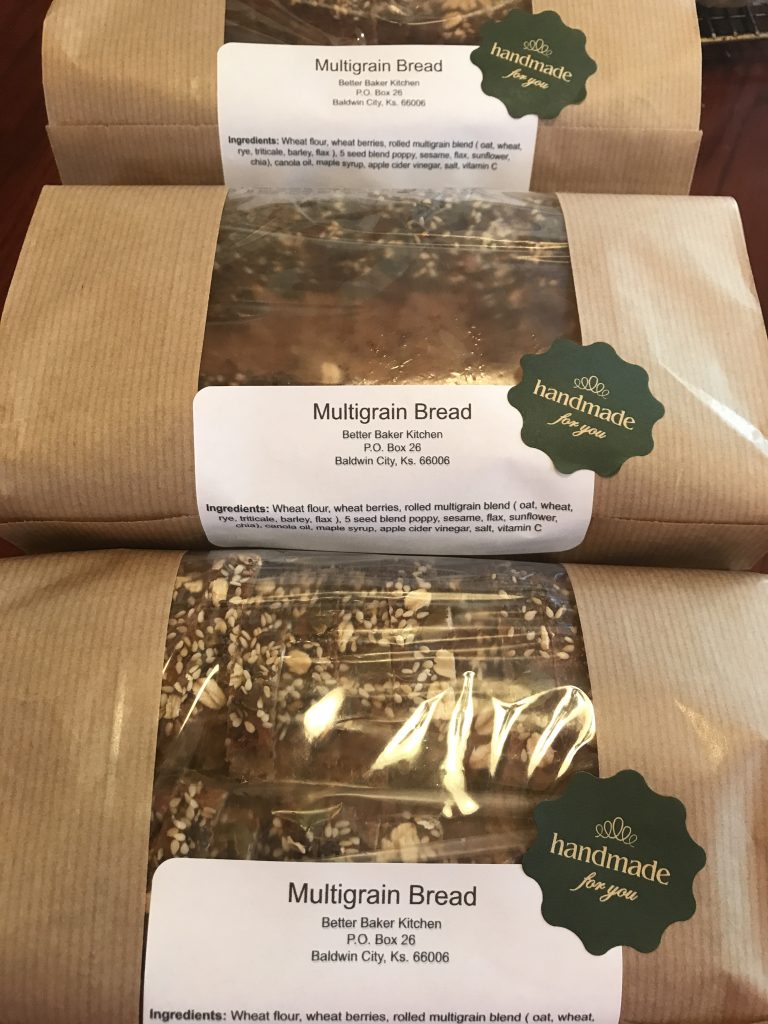 Cupcake packaging ideas
Cupcakes can be challenging to package because of the delicate icing as well as the need to transport them without tipping over.
Here are a few different ways to sell packaged cupcakes individually and in bulk:
Packing cupcakes in clear cups with lids
These cups are the perfect size to package single cupcakes. Essentially what you do is flip the cup over and use the lid as the base. Set the cupcake on the lid and snap the cup on top. They are stable enough to keep from tipping over and can be snacked to transport if needed.
Clamshells for a single cupcake These dome top cupcake holders are sturdy and protect the cupcake from tipping over.
6 compartment clear plastic holder works great for selling multiple cupcakes. You can mix and match, or sell custom decorated sets of a half dozen.
Bakery boxes for a dozen cupcakes When I have larger orders of cupcakes, I transport them in a half sheet box. You can use a cake pad for stability and space the cupcakes apart so the tops do not get damaged.
Cake cup packaging
Do you ever save cake scraps for another use? (Its a great way to use up scraps of cake and bits of frosting left over from a larger cake project. This 12 oz cup with dome lid is the perfect size to package cake cups.
Here are some of my favorite baked goods packaging essentials
I like to have a good selection of multi-purpose supplies on hand so that I can be creative with packaging.
Parchment paper– These are great for baking and make for easy clean up, but they are also good for lining bakery boxes (grease proof is a plus!) and wrapping breads for a rustic look!
Twine I have been using this spool of jute twine for well over a year now. Its the perfect thickness to tie little bows or to wrap around a bakery box.
Plastic wrap– I don't like to mess around with the grocery store version of plastic wrap. Once you switch to these industrial containers you'll never go back! Plastic wrap is great for individual serving sizes, as well as all of the uses in your kitchen when you are prepping your baked goods.
Raffia– This paper ribbon is perfect for decorating boxes of baked goods. Its available in a variety of colors too!
Food Grade Tissue Paper Perfect for lining bakery bokes or wrapping treats. They are sturdy and grease resistant which is perfect for baked goods. Check out all the colors and patterns available!
Help is here for packaging baked goods!
There are so many great solutions available to help you package and sell your home baked goods!
Just be sure to keep your products visible with window packaging so that your customers can see what they are buying.
You can also bake and sell in the same container for the easiest and best results. Check out the links to aluminum containers to get started.
Sticky topped and iced treats can be challenging to wrap, so be sure to have plenty of window bakery boxes on hand!
If you'd like to learn more about selling baked goods at the farmers market, check out The Complete Guide To Selling Baked Goods At The Farmers Market. For help deciding what to put on your menu, you might like: 3 Simple Steps To A Profitable Bakery Menu.
Got a baked goods packaging dilemna? I can help! Let me know your biggest packaging challenge in the comments below.