If you're ready to learn about selling baked goods at the farmer's market, you're in the right place!
In this complete guide, I'll be covering everything you need to know about getting started selling baked goods at the farmer's market. I'll cover how to start selling, how much money you can make, planning the display of your baked goods, and some top-selling farmer's market baked goods recipes. I'm even sharing links to supplies you may need and tips for setting up your payment systems.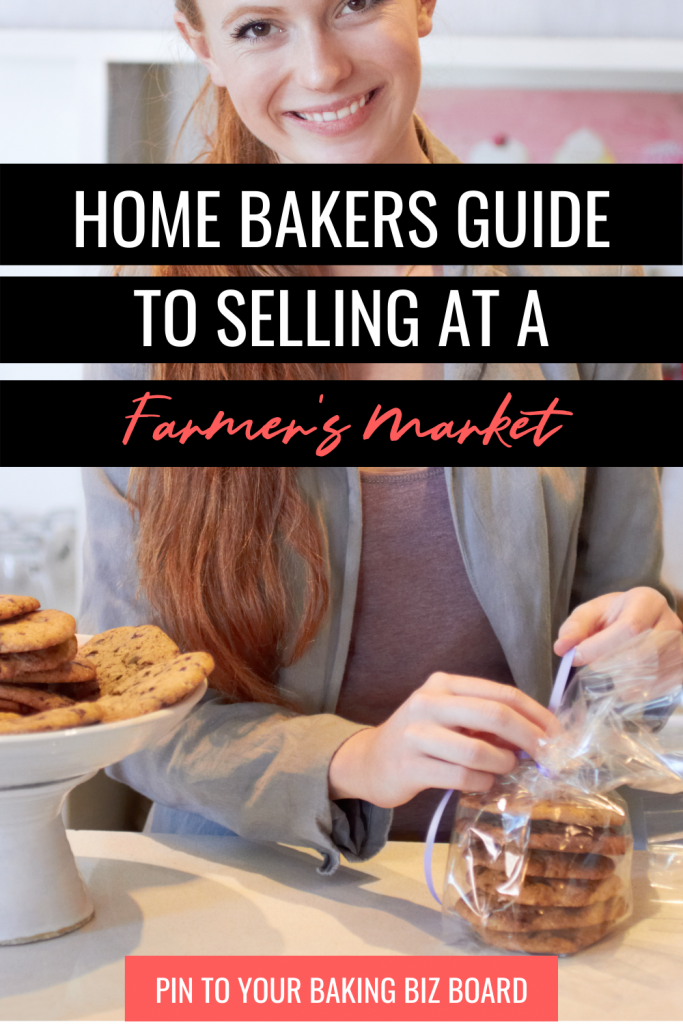 Affiliate Disclosure– If you click on a link in this post and activate an account or buy hardware from Square, then I get paid. This is called an affiliate commission. It doesn't cost you anything and you do not pay more for the product. This is how I make money from my blog and am able to continue to provide valuable content for my readers.
Before we get started, let me introduce myself
The internet is full of advice and information, so what makes me qualified to share these tips with you? If we haven't met yet, let me introduce myself. My name is Allyson and I share my experiences as a bakery business owner in the hopes that it helps you grow your baking business.
I started as a home-based bakery
About twenty years ago, I opened my first home-based baking business. I made a lot of mistakes and learned some lessons the hard way, but I made it through my first year and quickly outgrew my home kitchen. I've owned and run four bakery shops during my career as a baker. The tips I'm sharing here are things that I've done that have worked.
I help bakers like you get their businesses up and running
I started this blog to help bakers like you build their baking businesses. Each week I share tips you can use right away.
If you'd like learn one simple thing you can do each week to help you have a better baking business then join "The Club" and hop on my email list!
Now, let's get started with everything you need to know about selling at the farmer's market!
Can I sell my home-baked goods at the farmer's market?
The big question most new bakers want to know is whether or not they can sell baked goods they make in their home at the farmers market. Here's the good news: the market isn't just for farmers anymore!
Who can sell at local farmer's markets?
These days, there is a big trend towards artisan, small-batch, locally produced items. Consumers are making their preferences for local products known by turning out at these markets in larger numbers than ever before. Take a stroll through a farmer's market and you'll see:
Coffee roasters
Hand-made body care products
Gourmet sauces and spices
Specialty food products
Cottage foods bakers
The farmer's market has become a thriving marketplace filled with artisans selling their products. It's the perfect fit for a cottage food or home-based baker. You'll want to be a legally operating home bakery following your state cottage food laws before you begin.
Do you need a license for selling baked goods at the farmer's market?
If you are thinking seriously about selling at the farmer's market, then you'll want to know what kind of licenses you need.
Farmer's markets follow the state regulations for cottage foods operations. That means that each state is regulated differently and you'll need to know your own state's regulations for how to legally make and sell baked goods from home. If you want to learn more about the legal requirements for a home-based bakery, check out my Dream Bakery Design Lab here.
How to start selling baked goods at the farmer's market?
Let's get ready to learn what you need to do to prepare yourself to be a vendor at the market.
Contact your local farmers' market
The first step is to contact the local market. They may have a website or a download guide to becoming a vendor. You'll want to get a copy of that and read it thoroughly. They'll cover things like:
Application process
Licenses
Insurance
Fee's
Product requirements
Every market is different, so make sure you get your information from the market you want to participate in. Farmer's market season usually runs from April-October. The waitlist can be long, so start making plans early for the following season. Some markets don't have a long wait though, so it's always worth asking if they still have spots available for the current season.
Is selling at the farmer's market worth it?
The next question you may have is if selling at the farmer's market is worth it. To decide that you'll need to know the following things:
The cost to participate
How many people usually attend
How many other bakery vendors participate
The number of baked goods you can make
How much you would earn if you sold everything
After you answer these questions, you can do some simple math and decide for yourself if it's worth it. The general feedback from home-based bakers is that it is definitely worth it for them because of the number of customers they can have on any given day.
For big farmer's markets: You'll likely get plenty of foot traffic and exposure to lots of new customers each week.
For smaller farmer's markets: You may still do well since smaller markets usually have lower fees and less vendor competition.
How much money can you make selling baked goods at the farmer's market?
It's exciting to think about how much you can make by selling baked goods at the farmer's market. Here are my tips for figuring out how much you can actually make.
Add up all the fees involved with the market
To do this you need to know the costs associated with being a vendor at the market (application fee, booth cost, insurance, etc..) as well as any transportation cost for you to get there.
Decide how much you need to sell to be worthwhile
After you calculate all the costs of the market, you can then decide how much you would need to sell at the market to make the profit you want.
You'll need to pay yourself for:
Shopping for ingredients
preparing all your baked goods
packaging and labeling your items
spending the day at the market selling your items
Let's assume that you put in 30 hours of work to prepare for your market and you pay yourself $12/hour. You'll need to pay yourself $360 for your time.
For this example, let's say that the market costs you $50 in market fees each week.
You'll also need to cover the ingredient cost of all your baked goods. I'll use a basic example of 10% food cost. That means that the ingredients are 10% of the sales price. So a dozen cookies that sell for $10 costs you $1.00 to make.
Now lets talk about how much you can actually product in your home kitchen. What is the capacity of your home bakery production? What is the number of items you can make and still have them be fresh enough for the market? Think about doing this amount every week. Let's say you are a cookie baker and you can make 50 dozen cookies each week in your kitchen.
You sell your cookies for $10/dozen. If you sold every batch you would make $500. Then you would pay for your market fees. ($500-$50=$450). Next you'll pay for your ingredients (50 batches cost you $50 in ingredients. ($1.00 x 50) Subtract the $50 food cost from $450. You now have $400. Next you need to pay yourself. You decided that your time was worth $360. After you pay yourself you will have $40 leftover.
In this example you will cover all your costs, pay yourself, and keep $40 profit for your business.
Of course, you can alter those numbers to get different results. You may decide to bake more, work faster, charge more, or maybe even have lower market fees so that you can earn the profit you want from your market experience.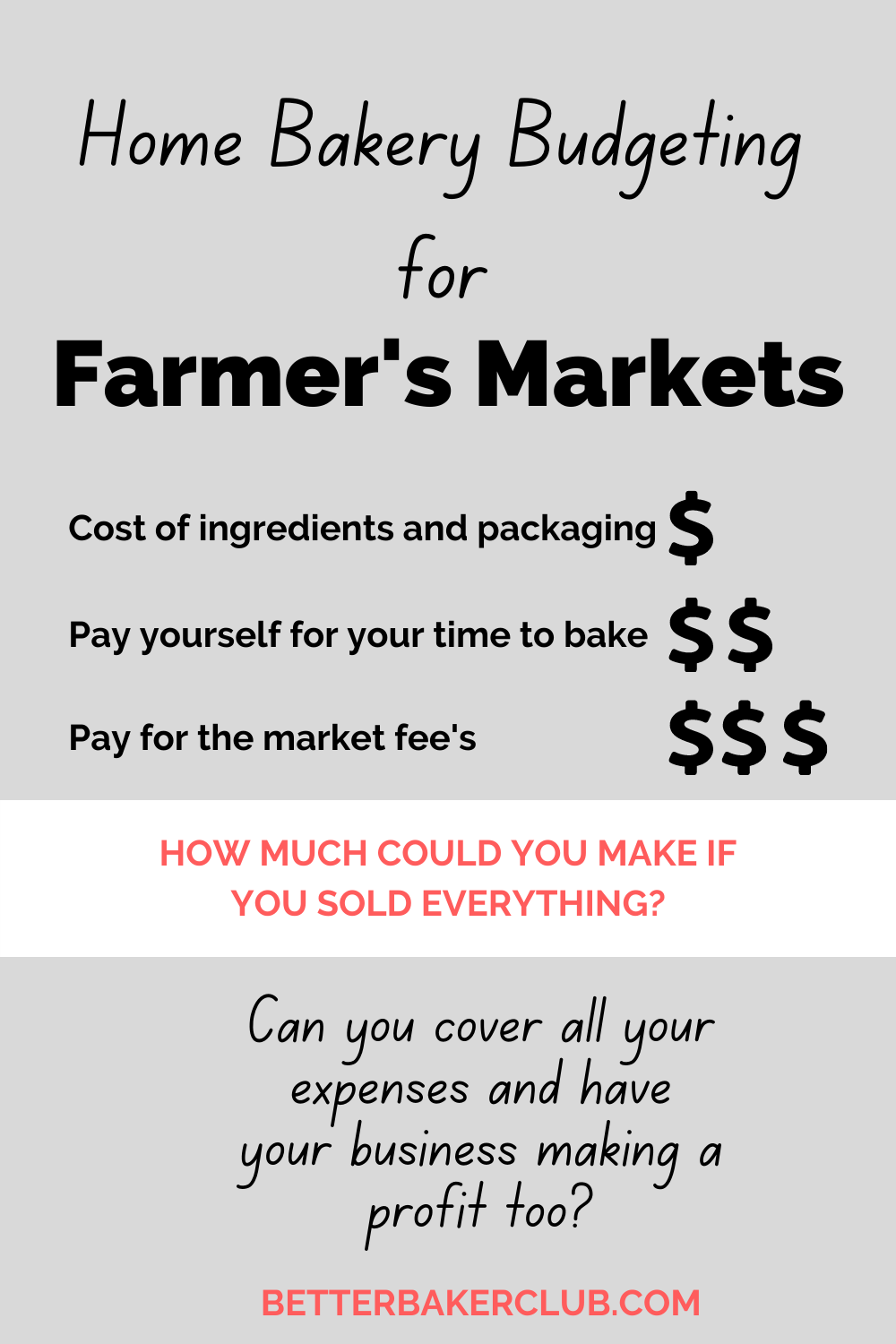 Farmer's market bakery display ideas
Selling your baked goods at a local farmers' market is a great way to talk directly with your customers. You will get lots of foot traffic from people who don't yet know you. so you'll want to make sure your booth display makes a great impression.
Bakery display tips for a great booth
One of the biggest worries that bakers have when planning to sell at a farmers market is what to include in their display. Here are a few tips to get your creative ideas flowing:
Use vertical space to create interest. The main idea here is to get things up off the table and into the line of sight. As they say "eye level is buy level".
Get your brand out there. Have information available to promote yourself like business cards and printed menus. Be sure to tell people how they can contact you and how they can reorder your products.
Use color to stand out. Choose a branded color for your business and use that sparingly throughout your booth. You'll get more attention if you create a memorable display.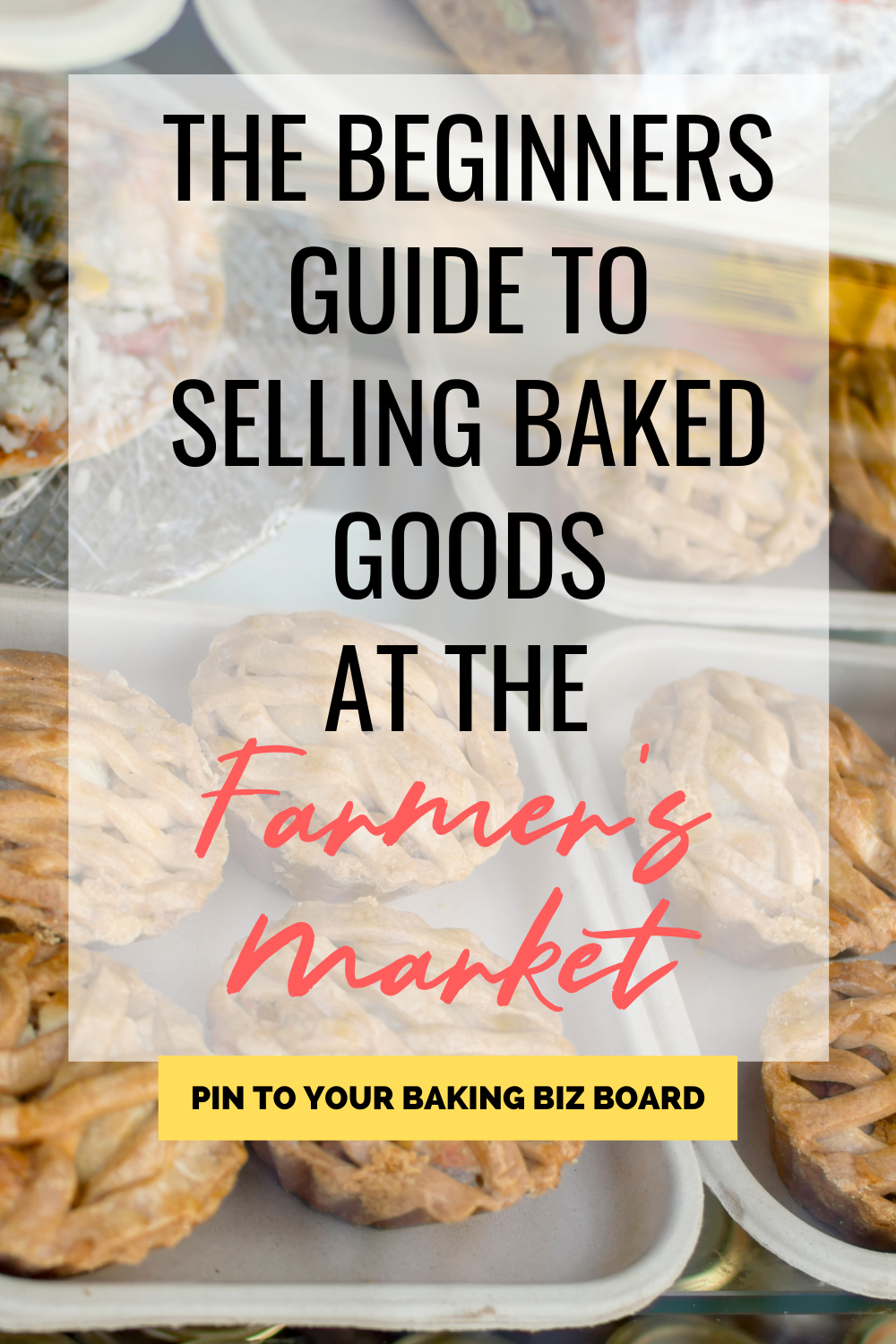 Bakery display must have supplies
After years of selling at the markets, I've come up with a list of booth supplies for a successful market experience. Click on the links to see the exact item that I use.
Packaging ideas for selling at the farmers market
Here are a few more tips for your market packaging:
Clear bags to show off your products- Clear cellophane bags are a versatile packaging option for lots of different products. Customers appreciate being able to see what they are buying and they fit easily into their shopping totes or baskets.
Use labels to answer questions- Your labels can help the buyer identify you for a repeat visit in the future, as well as answer their questions about ingredients, allergens, and contact information. Use labels to your advantage to answer the most popular customer questions.
Top-selling baked goods at the farmer's market
Are you wondering which menu items you should prepare for the market? You want to be strategic about what you bring to sell so that you can maximize sales and minimize waste.
Here are a few things that can help you decide what to sell at the farmers market:
Scope out the market before you participate- Take a walk through the market before you are planning to sell. See what other vendors are selling and find a product that fills a void.
Compliment, don't compete- Being part of a farmers market community means being supportive of other vendors and their products for sale. If you sell something that competes with another vendor, then you won't face a warm welcome into the community. Remember that you need their support.
Farmer's market baked goods recipes
So, now you may be wondering what you can sell at the farmer's market. The possibilities are endless! From cookies to cakes, to pies and breads, the market is such a great way to show off your creations. If you are looking for some ideas, check out Baked To Sell, my FREE guide for anyone looking to make extra money selling baked goods.
DOWNLOAD NOW
How to take card payments at the farmer's market
You'll need to be able to accept several forms of payment. Here are some options to get started.
Using Venmo, or Cash app
When you are just getting started you will probably want to go with the simplest method available. Think about accepting payment in a format that is most convenient for your customer. I find that most people have Venmo on their phones. You can print out your QR code for customers to scan at your booth.
Accepting credit cards
When it's time to get more serious about your farmer's markets, you'll find that it's in your best interest to accept credit cards as a form of payment. Not only does it make you look more professional, but it's an added convenience to your buyers.
Here are the steps to getting set up for taking credit cards
Set up an account- You'll need to choose a merchant service to work with. They usually charge based on a small percentage of the transaction amount and sometimes a small fee per transaction as well.
Get a card reader- Look for a merchant processor that offers a free card reader with an activated account.
Smartphone app-If you choose a company that has a mobile app you'll be able to use your phone as a "cash register" when you are ringing in orders.
Here's a link for a free card reader if you want to get started with Square.
Now you have a good idea of what it takes to sell baked goods at the farmer's market!
I hope you have gotten answers to your questions about selling baked goods at the farmer's market. I've covered how to get started, licenses, fees, and costs, as well as deciding if it's worth it and how much you can actually make. If you think this is the right thing for your business, I've given you a list of supplies you may need to get started. You also have an overview of taking payments at the market so you can get started with this exciting next step for your home bakery business!
Let me know in the comments if you are planning a market this season or next!
GET FARMER'S MARKET IN A BOX