Discover more than 50 cookie display ideas. Whether you are looking for help increasing your cookie sales or want to put together an impressive cookie display for weddings and events, all the best ideas are here. Dive in to find out more!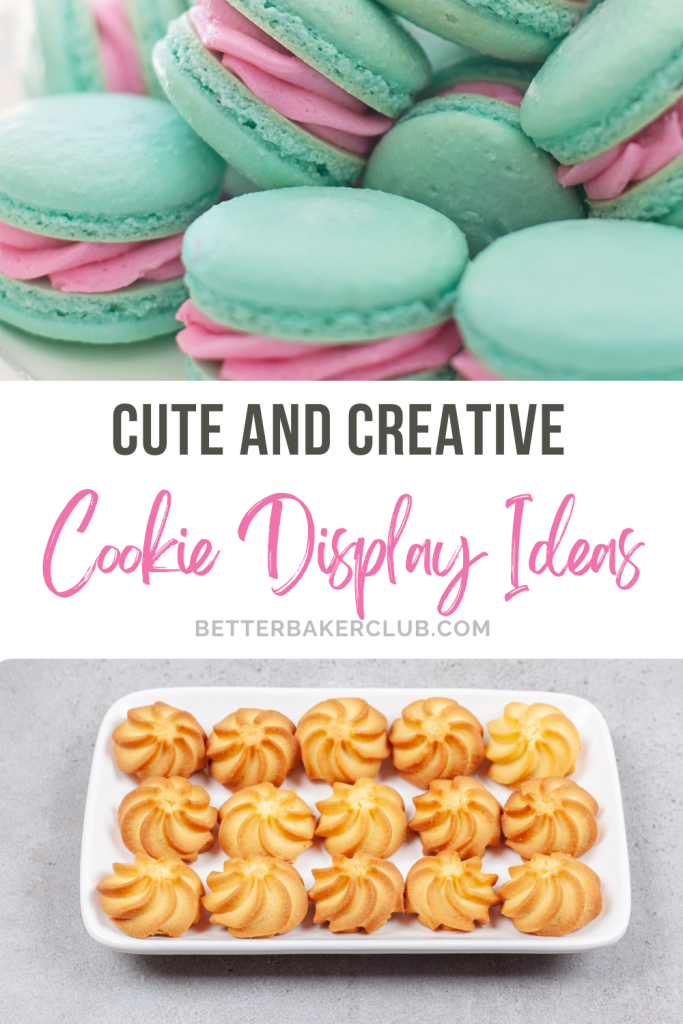 Affiliate Disclosure: I may earn a small commission through affiliate links in this post, but I only recommend products that I have tested and used myself.
These are my most popular cookie recipes that have been winning the hearts (and taste buds) of discriminating bakers and customers. Whether you're short on time and need the magic of No-Chill Sugar Cookies, yearning for the rich flavor of a Delicious Greek Wedding Cookie, or on the hunt for a Crispy Chocolate Chip Cookie that holds up to stacking in a jar, there's something for every cookie lover here. Now let's dive into the top 50 ways to display your cookies.
Here are 50 Great Cookie Display Ideas
Presentation is everything when it comes to showing off your treats. If you're hunting for some cool ways to display your cookies, look no further. I've got a list of ideas that'll make sure your cookies are the talk of the town.
Cookie Displays for Weddings
Having been a wedding cake decorator for many years. I was lucky enough to see lots of wedding reception setups. Many of them had cookie tables that incorporated their colors and style into the reception. Here are some of the ways that brides use cookie tables to add a personal touch to their wedding
Wedding Reception Cookie Table Ideas
Tiered Stands Extravaganza: Use different heights of tiered displays to present an assortment of cookies.
Elegant Glass Jars: Store your delicious cookies in a glass jar, making them visible while keeping them fresh.
Charming Cookie Bouquets: Bamboo skewers can be used to create cookie bouquets, offering a fun way to showcase your baked masterpieces and add height to your cookie table.
Milk Bottles Pairing: Every cookie tastes better with milk! Display cookies next to vintage milk bottles for a nostalgic touch.
Destination Cookie Corner: Design a cookie bar inspired by honeymoon travel destinations, like Parisian macarons or Greek Wedding Cookies. Just add some iconic travel-related decor and you're all set!
Wedding Elegance: Create an elegant cookie table display with all-white vintage plates, platters, and jars. Try varying the levels by using sturdy pillars as bases under the plates and platters.
Place Card Details: Use elegant place cards to label each cookie type, adding a touch of sophistication and fun.
How to Display Cookies as Wedding Favors
Recipe Card Cookies: Choose a cherished family recipe to make cookies as wedding favors. Attach the recipe card to the cookie gift. This thoughtful gesture can serve as a tribute to a departed family member, keeping the tradition alive.
Transparent Treats: Using clear cellophane bags allows the beauty of your cookies to shine through. Pair with a decorative ribbon, and it becomes both a showcase and a gift wrap.
Cookie Ladder: Use a decorative wooden ladder with flat rungs. Place a tray or flat board on each rung and arrange cookies in an ascending or descending order based on size or type.
Cookie Place Cards: Combining cookies with a place card setting is a fun way to add a personal touch at your wedding reception. Choose a cookie shape that matches your wedding theme. Use an edible ink icing pen to write each guest's name on the cookie and turn each cookie into a personalized place card.
Edible Centerpiece: Use tiered cake stands or trays and stack them with cookies, creating a delightful centerpiece for your table. You can add edible flowers or herbs for an extra touch.
How to Display Cookies for Sale
Presentation is everything when it comes to selling cookies! If you are a baker who sells at the farmer's market or at pop-up events, check out this list of resources to help you display your cookies in style!
Farmer's Market Cookie Display Ideas
If you're just getting started as a vendor selling at markets and events, it can be overwhelming to figure out what your table display is going to look like. Here is a list of ideas to help you incorporate your own personal style and brand into your table display.
Cookie Display Ideas for Beginners
Elevate with Platters: Even cookies wrapped in cellophane benefit from an elegant display. These white serving platters are not only thick and shatterproof but also stack easily for convenient storage.
Brand Color: Introduce your brand's vibrant colors to your table with these large 12.5 x 12.5 colorful platters, adding a lively and eye-catching element to your presentation.
Diverse Cake Stands: Collect cake stands from home goods stores and display cookies at different heights.
Colorful Sweet Treat Banners: Use vibrant banners to highlight the deliciousness awaiting at your cookie stall.
Cookie Display Ideas for Professional Bakers
When it's time to level up your cookie set-up, here are some popular and functional pieces to add to your display.
A cupcake tower is a clever choice for displaying cookies, as it not only provides ample space but also creates height on your table for added eye appeal.
A three-tiered wooden serving tray is the perfect choice for a farmhouse-style cookie display, adding a rustic and inviting touch to your dessert presentation.
Portable Retail Display Stand: This portable tiered display stand is a fantastic choice for vendor events and trade shows, and it's incredibly convenient as it collapses flat for easy storage, making it a practical and space-saving solution for on-the-go exhibitors. Plus, it can hold individual cookies, cookie bundles, and small boxes, making it versatile for showcasing a variety of sweet treats.
Major Retailer Inspiration: Take cues from major retailers to design a modern cookie display with these retail-style baked goods risers.
3-Tier Acrylic Countertop Display: The crystal clear acrylic construction puts your treats front and center & helps boost visibility and increase impulse sales. This commercial countertop pastry display case is perfect for placing on a tabletop to show off your cookies.
3-Tier Tabletop Display: Large baskets hold plenty of cookies on each tier, Perfect when you have limited space for displaying cookies.
The Best Way to Host a Cookie Party
Want to make cookies the highlight of a party in the most captivating way? If you're gearing up to host your own sweet gathering, I've got a list of innovative ideas to help you display your cookies and make a lasting impression.
Cookie Display Ideas for Parties
Cookie Charcuterie: Charcuterie boards aren't just for savory food. They can be filled with a delightful variety of sweets like cookies. For the most impact focus on a variety of tastes and textures. To get started just grab a beautiful wooden platter or even a slate cheese board. Then, artfully arrange a selection of cookies, like buttery shortbreads, crunchy biscotti, and chewy macarons.
Cookie Grazing Board: I love creating cookie grazing boards for a fun and tasty treat! To make one, start with a rustic wooden serving platter or a classic wooden cutting board, then arrange an assortment of your favorite cookies, like chocolate chip, oatmeal raisin, and snickerdoodles. Try adding a few savory snacks like pistachios or fruit-studded cheese for a striking contrast.
Cookie Toppings Corner: An interactive party idea I love is a cookie toppings bar. Begin by choosing a variety of cookies. Gather different toppings like frostings, sprinkles, nuts, and even fresh fruit. Then, set up a designated area. Lay down parchment paper and arrange the cookies and toppings for everyone to enjoy!
Cookie Exchange Party: A fun way to fill your cookie boxes for the holidays is to invite a group of cookie bakers to share their creations. Each Baker brings a designated amount of cookies that you can display using assorted platters and plates. Be sure to provide decorative boxes or bags for guests to pack their chosen treats.
Cookie Display Ideas that Focus on Packaging
When it comes to cookies, first impressions are vital. The right packaging can elevate the whole experience, turning a simple treat into a memorable delight. Let's explore five unique packaging ideas that can truly transform your cookie display:
Transparent Treats: Using clear cellophane bags allows the beauty of your cookies to shine through. Pair with a decorative ribbon, and it becomes both a showcase and a gift wrap.
Rustic Charm with Tins: Vintage or patterned metal tins can add a touch of nostalgia. These are perfect for themed events or for gifting during the holidays.
Eco-friendly Edibles: Consider biodegradable or recyclable packaging to appeal to the environmentally-conscious crowd. Brown kraft paper bags stamped with your brand or a fun design can look both chic and earth-friendly.
Boxed Bites: Personalized boxes, especially with a window cut-out, can give a premium feel. This is a great way to group cookie sets or collections, making them perfect for gifts or special occasions.
The Mason Jar Marvel: Layer cookies in a mason jar for a visually appealing and sturdy packaging option. It's a fun way to display cookies, and the jar can be reused by the recipient, making it a gift within a gift.
More Great Cookie Display Ideas
Cookie Display Ideas to Boost Your Sales
Tasting Stations:

Offer bite-sized samples, ensuring the first bite convinces them to buy more.

Seasonal Rotations:

Update your display table with cookies fit for every season, from summer to winter.

Wedding Reception Sampler:

Provide small samples suitable for weddings, helping brides-to-be envision their wedding dessert table.

Cookie Canvas

: Use a large board to display cookies, turning your booth into an edible art gallery.

Cookie Stories:

Next to each cookie type, include a small card sharing its history or origin.

Themed Baskets

: Create cookie baskets based on themes, like "Chocolate Lovers" or "Holiday Favorites".

Cookie & Drink Pairing:

Pair specific cookies with recommended drinks, like milk or tea.

Cookie in a Jar Display:

Offer cookie mix ingredients in glass jars, adding variety to your booth.

Favor Packaging Options

: Showcase cookies as potential party favors with ribbons and tags.
How to Display Cookies by Type
Want to display different types of cookies? In this section learn the secrets of setting up a cookie table that not only looks fabulous but also caters to diverse needs and preferences.
Exotic Cookie Corner:

Dedicate a section for cookies inspired by global cuisines.

Color-Coded Cookies

: Arrange cookies based on their color scheme for a visually pleasing table.

Play with Textures:

Group cookies based on their texture – crunchy, chewy, or soft.

Mystery Cookie Bags:

Offer bags where customers get a mix of cookies, adding a fun surprise element.

Endless Options Sign

: Use signs to highlight the vast variety of cookies you offer.

Bestsellers Spotlight:

Clearly mark your best-selling cookies to guide new customers.

Allergen-Friendly Section

: Cater to customers with food allergies with a dedicated section with clear labels.

Bite-Sized Bunch:

Offer mini versions of all cookies for easy sampling.

Vegan & Gluten-Free Corner:

Cater to different dietary needs by having a clear section for special cookies.

Holiday Galore

: Dedicate a corner of your table to giftable holiday cookie packages. Cookies are the perfect gift for offices, teachers, and Secret Santa parties.

Cookie Subscription Info

: Want to take your cookie sales to the next level? Display info about a monthly cookie subscription. Cater to each customer's personal preference and deliver a box full of different cookie types each month.
Did you find a great idea for your next cookie display?
With these creative ideas, any baker can elevate their cookie display, making every sale an experience for the customer!