If you're looking for an easy no chill sugar cookie recipe you're in the right place! These no-chill sugar cookies are perfect for making cut-out cookies for Christmas, birthdays, or any occasion. In this blog post, I'll walk you through the step-by-step process of creating these delicious cookies.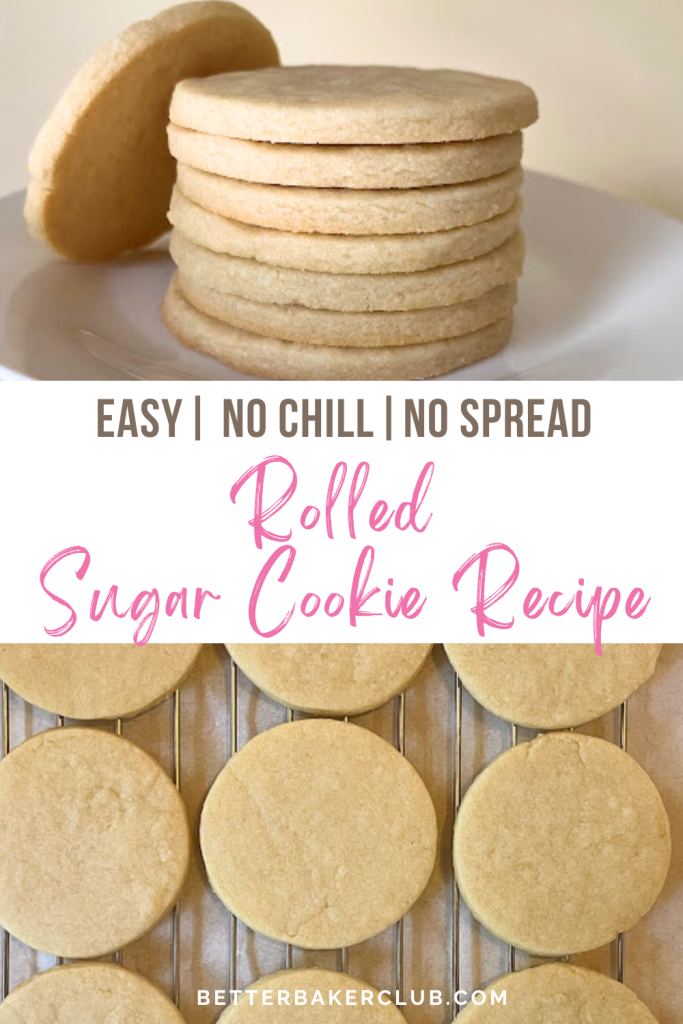 Affiliate Disclosure: I may earn a small commission through affiliate links in this post, but I only recommend products that I have tested and used myself.
You can find my favorite Royal Icing Recipe here, and my favorite cookie sheets for baking here.
No-chill dough saves time
One of the best things about this recipe is that it skips the chill time typically required for sugar cookie dough. Most recipes call for chilling the dough in the refrigerator for an hour or more, but with this method, you can have your cookies ready in a fraction of the time.
This makes it perfect for last-minute cookie orders, spontaneous baking sessions, or when you simply can't wait to indulge in soft, delicious sugar cookies.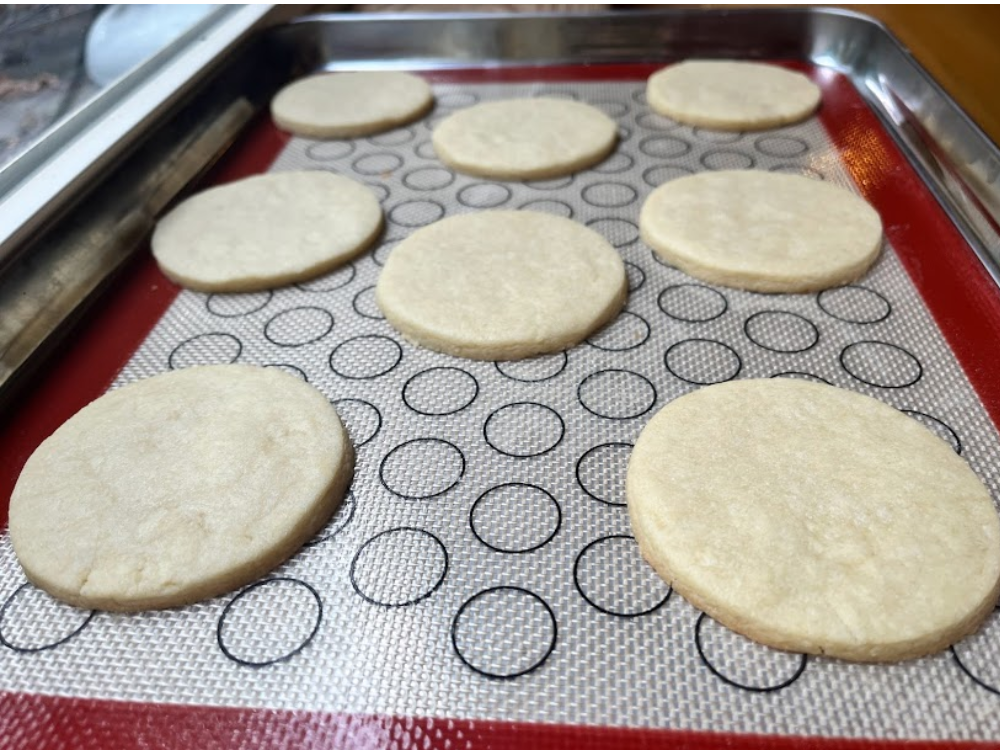 Be sure to check out this recipe for Easy Royal Icing Recipe Using Meringue Powder. It's the perfect icing for these sugar cookies.
Instructions for making these easy sugar cookies
To make the best sugar cookies, you'll need the following simple ingredients:
Unsalted butter

White sugar

1 Egg

Vanilla extract

Almond extract

All-purpose flour

Baking powder

Salt
The full recipe can be found in the recipe card at the bottom of this blog post.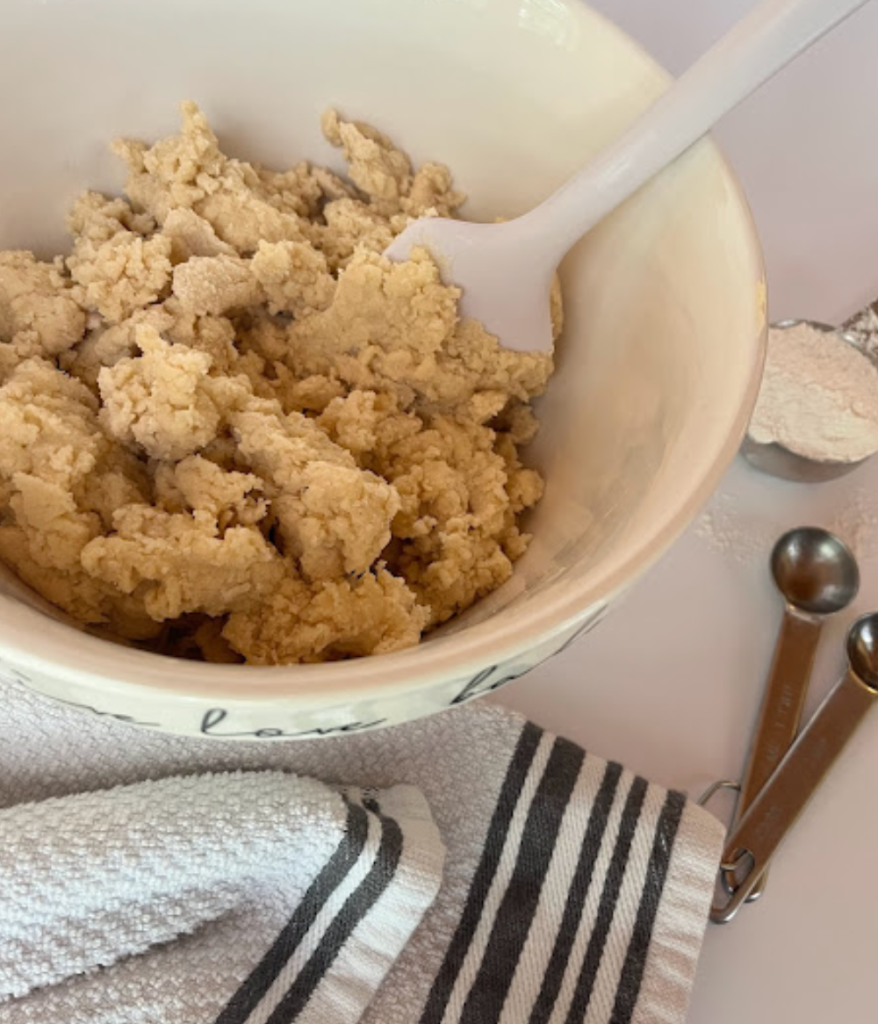 The recipe makes enough cookie dough to roll out about 32 average-size 2-inch cookies.
My favorite tools to bake great sugar cookies
Gathering your tools is the first step to success in any baking venture. Here's what you'll need:
Mixing bowls (a medium bowl for the dry ingredients and a separate bowl for mixing everything)

A hand mixer or stand mixer with a paddle attachment

Cookie cutters of your choice

Rolling pin

Cookie sheets or sheet pans

Parchment paper or a silicone baking mat

Wire cooling rack

Rolling strips- optional
Tips for rolling out no-chill sugar cookies
If you've ever made cookies that were sticky and messy and left your kitchen covered in flour, then you'll appreciate these tips for getting great-looking cookies every time.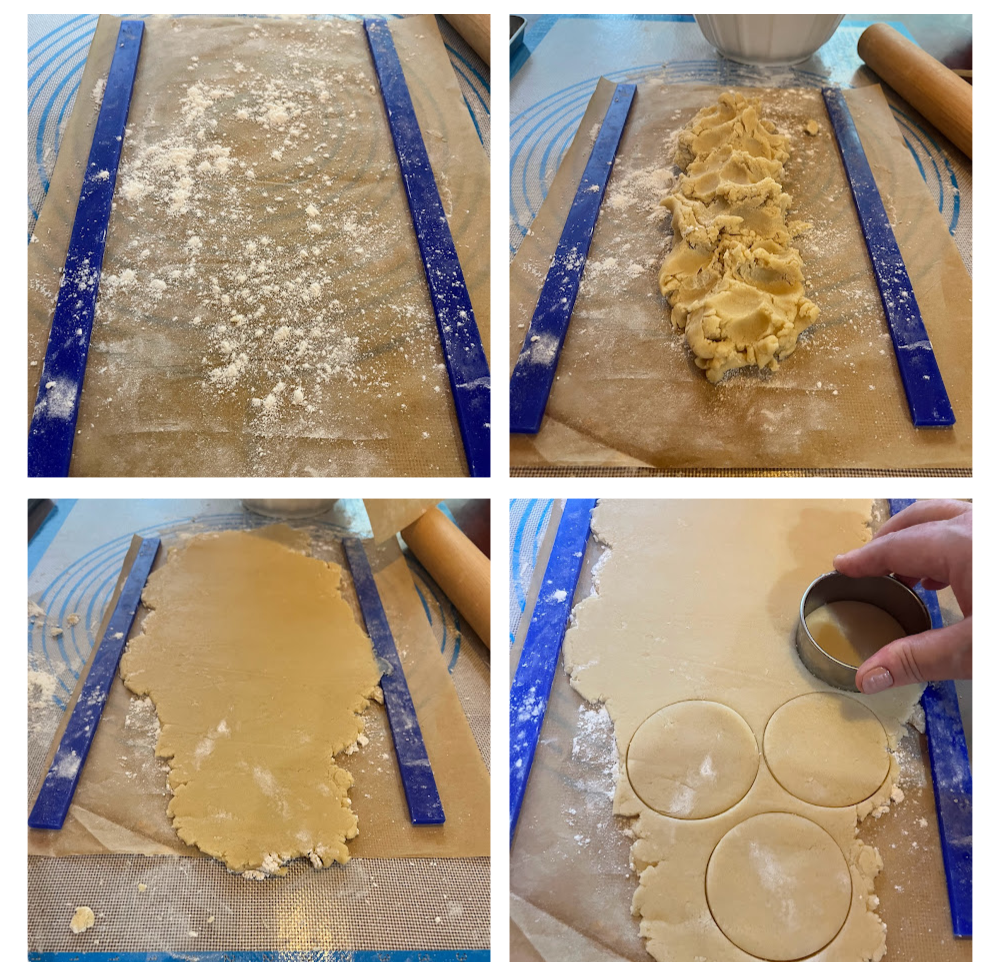 Use rolling strips
Getting an even cookie thickness is important for uniform baking. I like to use rolling strips to help ensure the dough is perfectly level. They help you get consistent results and a professional look.
Make sure your rolling pin is big enough
When it comes to making the perfect sugar cookies, having the right rolling pin can make a huge difference. If it's too short, you won't have enough room to roll out the dough. I like the untapered dowel rolling pins because they give me more control of the cookie dough.
Roll your dough on a rolling mat
Using a rolling mat is a fantastic strategy to prevent your dough from sticking to the counter during the baking process. These specialized mats are typically made of non-stick silicone or similar materials, providing a smooth and non-adhesive surface for rolling out your dough. Not only do they eliminate the need for excessive flour, which can alter your dough's consistency, but they also make the cleanup process a breeze.
Keep your cookies fresh after baking
Store your cookies in an airtight container with a sheet of parchment paper between layers to prevent sticking. They'll stay fresh for a long time, but they're so delicious that they might not last that long!
FAQ S's for perfect cookies
What is the best cookie sheet to use for this recipe?
The choice of a cookie sheet can significantly impact your baking results. To find the best option for your needs, check out our comprehensive guide on [Selecting the Perfect Cookie Sheet]. It covers various types of cookie sheets and their advantages, helping you make an informed choice.
How do I bake soft sugar cookies?
Achieving soft sugar cookies is all about balance. Avoid rolling the dough too thin, as thicker cookies tend to be softer. Additionally, be cautious not to overbake them. They should just turn lightly golden around the edges when done. Keeping an eye on your baking time will ensure that your sugar cookies maintain that desirable softness.*
My oven bakes unevenly. How can I get a more consistent bake on my sugar cookies?
Dealing with an uneven oven can be challenging, but there are some strategies to ensure a more consistent bake for your sugar cookies:
Rotate Your Cookie Sheets: During baking, rotate your cookie sheets halfway through the recommended baking time. This helps ensure that all cookies are exposed to the oven's hot spots evenly.

Use an Oven Thermometer: Invest in an oven thermometer to accurately gauge the actual temperature inside your oven. This way, you can adjust the temperature setting accordingly to achieve consistent results.

Bake Smaller Batches: If your oven has hot spots, avoid overcrowding the oven with too many cookie sheets at once. Bake cookies in smaller batches to allow for better air circulation and more even baking.

Check for Doneness: Keep a close eye on your cookies and use visual cues to determine doneness. Look for lightly golden edges, as this is often a reliable indicator that your sugar cookies are ready.
Easy No-Chill Sugar Cookie Recipe
Equipment
Hand-held mixer

Stand Mixer
Ingredients
1

cup

Unsalted butter

2 sticks

1 1/4

cup

Granulated sugar

1

ea

Egg

1

tsp

Vanilla extract

1/2

tsp

Almond extract

3

cups

All-purpose flour

400g

1

tsp

Baking powder

1/4

tsp

Salt
Instructions
In a large bowl, cream together the softened butter and sugar using your hand mixer or stand mixer at medium speed.

Add the egg, vanilla extract, and almond extract to the butter and sugar mixture. Mix until everything is well combined.

In a separate bowl, whisk together the flour, baking powder, and a pinch of salt. Gradually add this dry mixture to the wet ingredients, mixing until the dough begins to clump together.

Flour your work surface and rolling pin, then roll out the dough to your desired thickness (usually around 1/4 inch). Use cookie cutters to cut out your favorite shapes, and transfer them to the prepared baking sheets.

Bake at 350 degrees for 10 minutes or until the edges are lightly golden. Keep a close eye on them, as baking time may vary depending on your oven.

Once the cookies are done, transfer them to a wire rack to cool completely.
If you plan to decorate your cookies with royal icing, check out Easy Royal Icing Recipe Using Meringue Powder for tips and instructions on creating beautifully frosted cookies.
Enjoy this easy sugar cookie recipe
There you have it. An easy, no-chill sugar cookie recipe that's perfect for making cut-out cookies for all occasions. These cookies are sure to be a hit at your next holiday gathering or any time you crave a sweet treat. Experiment with different shapes, colors, and decorations to make your cookies truly unique.