How did a family farm that relied on the weekly farmers' market pivot its business to continue to sell baked goods during the pandemic?
If you are a baker or a farmer's market vendor, looking for ways to adapt your business to the "new normal" then you are in for a treat.
I had a chance to talk to Marcia Peters from Peters Family Farm in Baldwin City, Ks. She shares how her business adapted to the pandemic, and what surprised her about the way things turned out in 2020.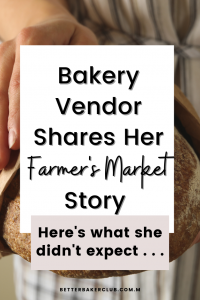 A Baker and Farmer selling at the farmer's market
Peter's Family Farm is an 18-acre farm just outside of Lawrence Kansas. They produce vegetables from their garden, as well as sourdough bread from a clay oven. Their beehives provide honey to sell and an orchard that supplies them with fruits for jams and jellies. They also have a line of body care products for natural hair and skincare. To check out the Farm's website and see the products they have available for shipping, click here.
I met Marcia Peters at a local holiday bazaar in December 2020 and she agreed to share some wisdom with other bakers looking to sell at the farmer's market.
What is a normal farmer's market experience like for baked goods vendors?
Marcia shared that farmer's market turnout can be unpredictable. She looks at what local events are happening in town to see if people will be out and about. She sells at a farmer's market in a college town and adds that the sports schedules are a big factor in market turnout.
Pre-covid, customers enjoyed the market with all their senses. They like to see the baked goods, pick things up, read labels, and taste the samples.
How did you pivot your farmers market business post covid?
The pandemic hit food vendors particularly hard, so in order to continue to sell, the Peters and other vendors had to learn a new way of doing business based on trial and error.
Using an e-commerce website for pre-orders
Marcia was lucky because her farm had an existing website established. She turned to the website to adjust her business model. Customers who follow her website get an email every Monday with the offerings for the week. She takes pre-orders through her website where customers can choose to pick them up at the farm or at the Saturday market.
Farmer's market booth during a pandemic
The Peters continued to participate in the Saturday market but adjusted the way they sold their goods.
Instead of having a table display with baked goods at the customer's reach, she keeps her goods out of reach now. She also has a large sign with a menu of offerings available for customers to read at a distance.
Marcia noticed a decline in grab-and-go, single-serving items that shoppers used to eat while they strolled the market aisles. She focuses more on half a dozen packs of cookies and biscotti instead of selling them as singles.
How do you know how much to bake for the farmer's market?
Here are a few tips that Marcia shares for predicting farmer's market baked goods sales:
Watch the weather
Check for local community events that bring people outdoors
See if there are any major sporting events that might keep people indoors
Pick a set amount that you need to sell to make the market financially worthwhile and stick to that amount.
What do you do with unsold baked goods?
Since Marcia has an email list for her customers, she uses that to let them know when she has extra baked goods. She recommends sending out an email blast for Sunday pick-ups for any remaining bread, cinnamon rolls, cookies or perishable items.
Social media posts are another way to get the word out when you have extra treats.
Tips for new bakers just starting at Farmer's Markets
Here are 5 things Marcia recommends for anyone thinking about selling at a farmers market this season:
Visit the market beforehand to get an idea of what to expect.
Don't try to mimic other vendors.
Find your niche. It's okay to be different.
Don't try to set your prices lower than other vendors to make a sale.
Focus on building relationships at the market.
Turn the unexpected into a learning experience
Just like Marcia and Peter's Family Farm, sometimes you just need to figure things out as you go! She was able to lean into her existing website to build more of an online business and thank goodness she did. Staying in touch with customers by email and social media can help sell baked goods when face-to-face sales aren't possible. Being flexible with booth setup can help you work through the needs of the customers as we all adjust to the "new normal" and get back out there selling to your customers.