If you're looking for an easy and unique cookie to bake this holiday season you're going to love this biscochito recipe! Biscochitos are delicious anise-scented shortbread cookies covered in cinnamon sugar. They are the perfect way to use your favorite cookie cutters this Christmas season or any time of year.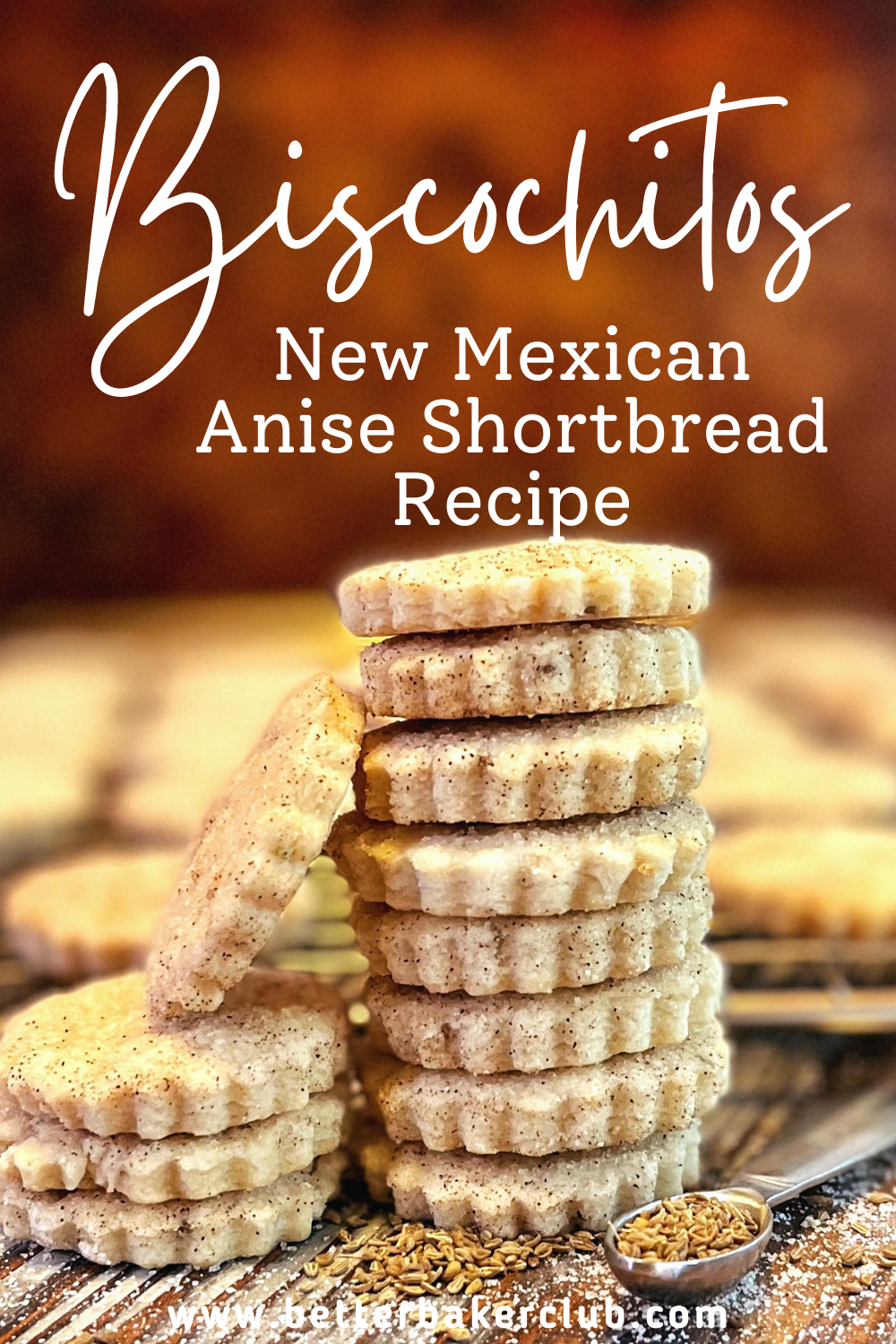 I first learned about this biscochitos recipe after visiting Santa Fe on my honeymoon. My husband and I fell in love with the unique city, its history, and its blend of cultures. Biscochitos are the New Mexico state cookies and typical of Santa Fe's traditional home-baked cookery.
This biscochito recipe is adapted from The Pink Adobe Cookbook
After our honeymoon in Santa Fe, I was excited to re-create some of the delicious foods we ate in this charming city. I picked up an old copy of The Pink Adobe Cookbook at a book sale and was excited to learn some new cooking techniques.
The Pink Adobe Cookbook is a self-published recipe book by Rosalea Murphy and it embodies the artistic, eclectic spirit of Sante Fe cuisine.
The Pink Adobe Restaurant is a national treasure and is located in a 300-year-old historic building in Sante Fe, New Mexico. It has been a Santa Fe tradition since 1944.
I'm sharing the simple biscochito recipe from the Pink Adobe recipe book with a few modifications that make it easier for bakers to get consistent results.
Special ingredients in the biscochito recipe
When you bite into a traditional biscochito, you'll notice two very distinct characteristics.
The first thing you notice is the delicate anise flavor. This Biscochito recipe has ½ teaspoon of whole anise seeds in the dough. German, Middle Eastern, and Mexican cooking uses anise seed often. It has a little bit of natural sweetness and licorice flavor.
The second thing you notice about this cookie is the crumbly, flaky texture. This traditional recipe uses a lard mixture and this creates the delicious shortbread quality of the cookie.
Resist the urge to substitute butter for the lard though, because it will change the light and flaky texture of this cookie.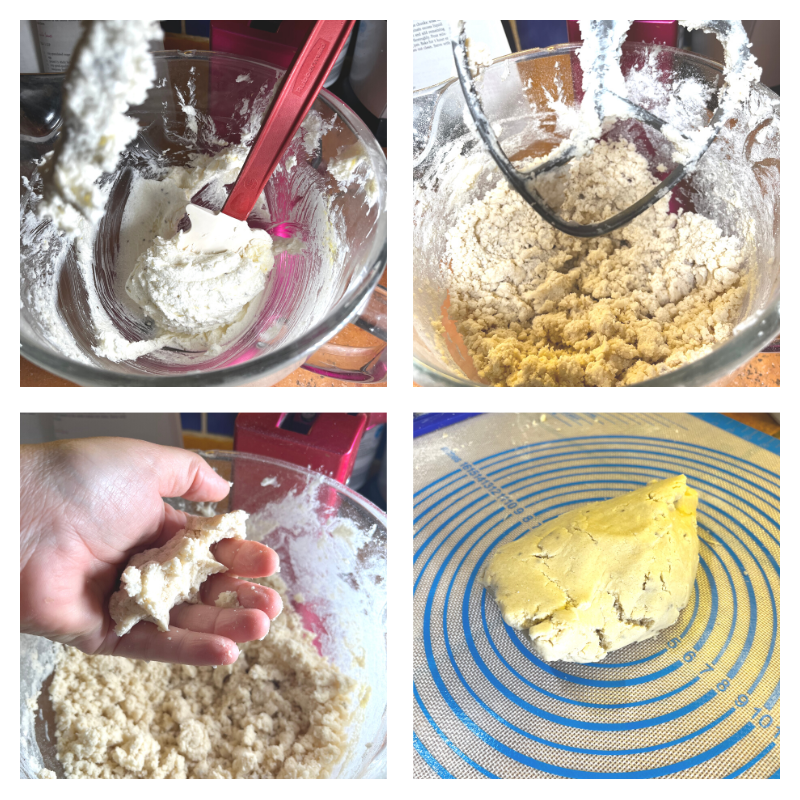 Just before baking, the cookies are dipped in a cinnamon sugar mixture. This light coating creates a flavor that is delicious year-round but combined with the anise seed, tastes especially festive during the holiday season.
Supplies you'll need to make this easy Biscochito recipe
To make these cookies you'll a few simple baking utensils and supplies. You'll need a stand mixer with a paddle attachment or an electric mixer to fully whip the fat and sugar together until light and fluffy.
Baking cookies on an ungreased cookie sheet
Contrary to what you might think, shortbread-style cookies turn out better when they are baked on an ungreased pan.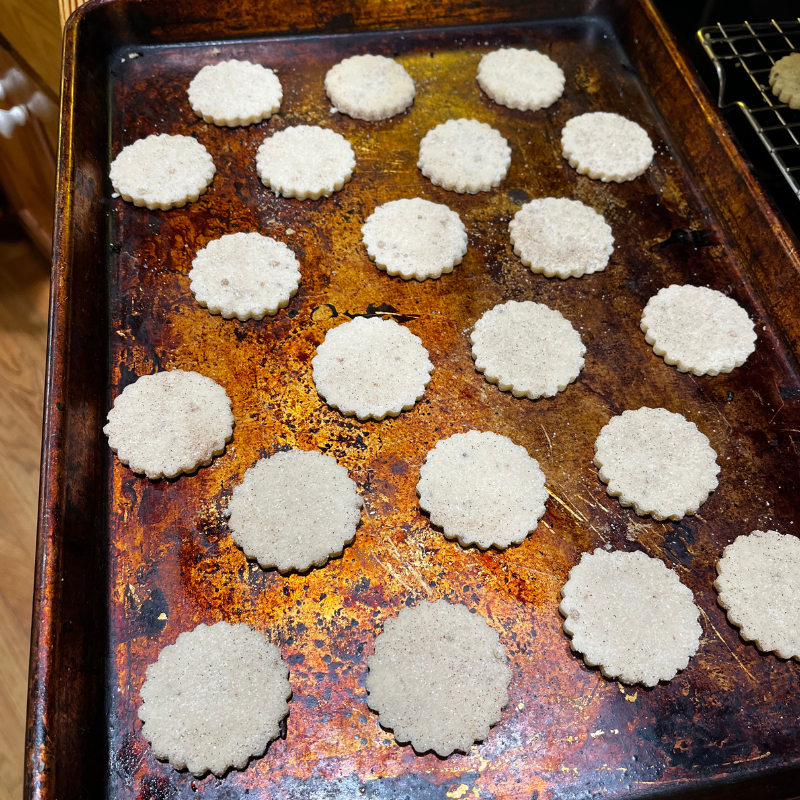 Baking on an older, well-seasoned baking pan helps the cookie hold its shape better. Don't worry though, there is enough fat in the cookie to prevent it from sticking to the pan.
My favorite supplies for rolling cookie dough
You'll need a big enough work surface to roll out and cut the cookie dough. I like to use a rolling mat like this one. I can lift it up when I'm done and wash it in the sink without leaving a mess on the countertop!
The dough can be cut with any shape of cookie cutters you desire. To get a uniform thickness on all the cookies, I like to use these silicone rolling strips.
For the cookies pictured here, I used a 2-inch fluted cutter like these.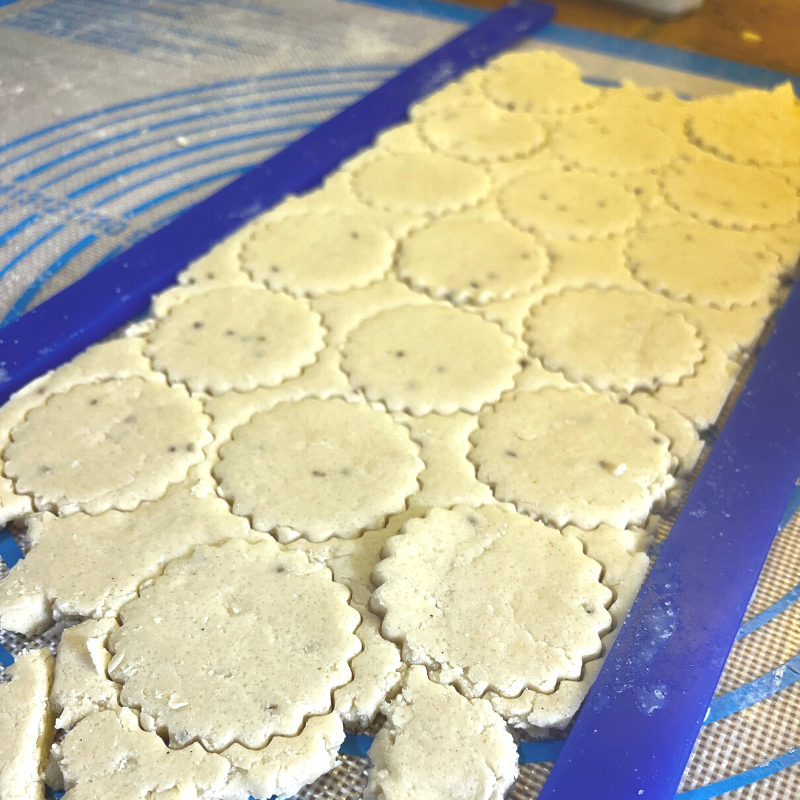 Easy Biscochito Cookie Recipe
Traditional New Mexican anise-scented shortbread cookie
Ingredients
1

cup

Lard (7 oz)

1/2

cup

Granulated sugar (4 oz)

1/2

Egg yolk

4

Tbsp

Water

1/2

tsp

Anise seed

3

cups

All-purpose flour (14 oz)

1

tsp

Baking powder

1/2

tsp

Salt

1/4

cup

Granulated sugar ( for dipping cookies)

1/4

tsp

Cinnamon (mixed with sugar for dipping)
Instructions
In a large bowl, sift the flour and then measure it by spooning it lightly into a measuring cup and leveling the top. Alternatively, you can also weigh the flour after sifting. Add the baking powder and salt to the flour and set aside the dry ingredients.

In the bowl of a stand mixer, or with an electric mixer cream together the lard, anise seed and 1/2 cup of sugar. Beat until light and fluffy, scraping the sides of the bowl to make sure the sugar is well incorporated. Add the half egg yolk and mix until smooth and blended.

Add the dry ingredients to the wet ingredients and combine until the mixture looks crumbly. Add the water 1 Tbsp at a time until the mixture holds together.

Dump the mixture out onto a work surface and knead the mixture gently until the crumbly pieces form a dough ball. Roll the dough to 1/4 in thickness and cut into shapes using your cookie cutter of choice.

Mix 1/4 cup of sugar with 1/2 tsp of cinnamon for the topping. Gently press each cookie into the cinnamon sugar mixture coating the top and side of each cookie. Place cookies on an ungreased baking sheet. Bake for 10 minutes at 350°

Allow the cookies to cool for 5 minutes on the baking sheet before transferring to a cooling rack.

Store cookies covered in plastic wrap or in an airtight container for up to 5 days at room temperature.
For more easy recipes check out my Hello Dolly Cookie Bars or these delicious Shiny Top Brownies.
Let me know in the comments how your biscochito cookies turned out!