Are you looking for Fall bakery ideas? Here is a photo round-up of bakery displays, recipes, treats, shop decor, chalkboard design, and Fall inspired cookies, cakes, pies, and cupcakes.
Cherry Hand Pies
These were made for a Fall wedding at the bride's request. I thought they were adorable and loved her rustic themed display! I just filled my favorite pie dough with cherry pie filling and baked them in these
Mini Pies in Thanksgiving Flavors
About a month before Thanksgiving, I start selling mini pies in all the traditional Thanksgiving flavors. I think its a great way for customers to decide which pie they will order.

Don't forget to order your disposable
Loaded Brownies topped with seasonal candies
I have to admit, this isn't my original idea. I saw my local supermarket loading up their brownies and thought I would give it a try.
Boy oh boy do my customers love these loaded brownies!
I take my regular brownies, dip them in ganache, and use buttercream frosting to stick on all the goodies. Here's a link to my favorite brownie recipe and the ganache I use to dip them in.
Carrot Cake Cupcakes
Carrot cake always reminds me of Fall. It's not on my menu year-round, except by special request, but in the Fall I offer carrot cake cupcakes all the time.

Want to try my favorite carrot cake recipe? Here's a link to my Super Easy Carrot Cake Recipe
Turkey Day Cheesecake
These sell out every year! I used an oreo cookie crust and swirled caramel into the cheesecake. Topped it with whipped cream, peanuts, and a cute lil" Turkey dude.

You can get my cheesecake recipe by joining my email list here.
Pumpkin Cake
I think you can do just about anything with pumpkin in the Fall and it will sell. This is a Spice Cake covered in fondant and decorated like a pumpkin centerpiece.
Cinnamon Frosted Sugar Cookies
I like to keep a basket of cutely wrapped cookies next to the register as an impulse purchase. These sell like crazy. It's a great way to use up seasonal sprinkles and ribbons.
Chocolate Dipped Coconut Macaroons
These may not exactly scream Fall, but they add a nice variety to things. Any type of cookie will do here, just add a Fall colored ribbon.
Cupcakes Topped with Fall Colored Fondant Leaves
Fall weddings are super popular here in Kansas because we finally get a break in the weather. With so many great colors it makes decorating easy and fun as well!

A popular Fall cupcake is Red Velvet. I've got a full blog post about it here.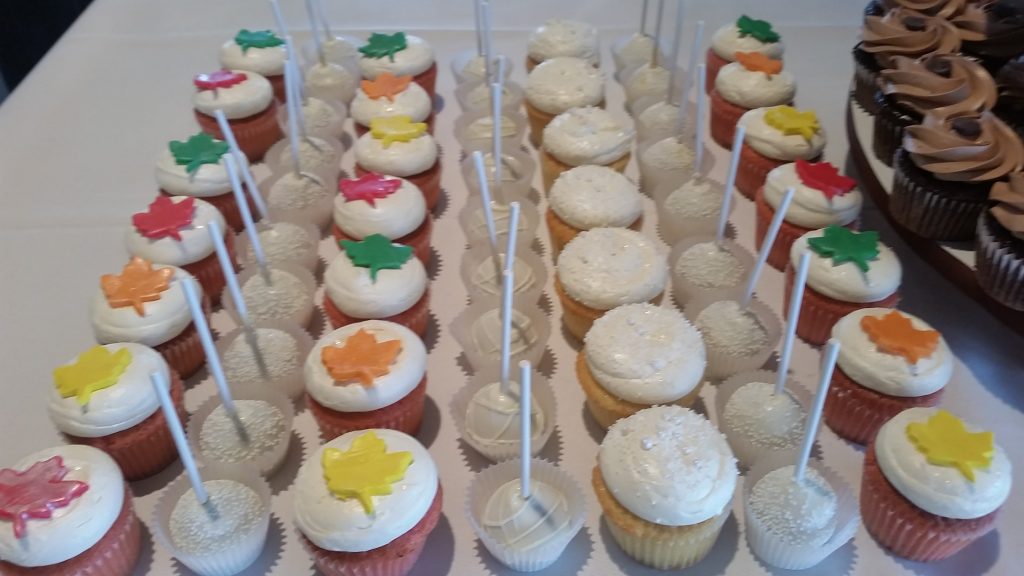 Cute Store Decorations
Being in retail means you need to put up decorations way before you would at home. Decorations remind the customers that its time to start thinking about the holiday.

You definitely want to be top of mind when it comes time to order holiday pies, cakes and other treats.
Of Course, the Neverending Pies!
Every Thanksgiving, I roll 50-100 pie crusts by hand.

Every Thanksgiving I also fantasize about owning one of those pie presses that shapes your dough for you.

But because of all the love us bakers put into what we do, it feels great knowing that our pies are a centerpiece of so many peoples holiday tables.
Fall Themed Cakes Are So Much Fun
Fall cake orders always seem to go like this: " Just make it cute with all the Fall colors"

Challenge accepted!
A Little Chalk Board Art
I could do a whole blog post on the chalk board art. Fall lends itself well to decorations, don't you think?
Pumpkin Cheesecake Cupcake, the number one bestseller, hands down!
When I first made this cupcake, I had no idea what kind of a cult following it would acquire.

I start it in September and have it available through the end of October.

I will link here to the recipe asap!
Pumpkin Spice Latte Samples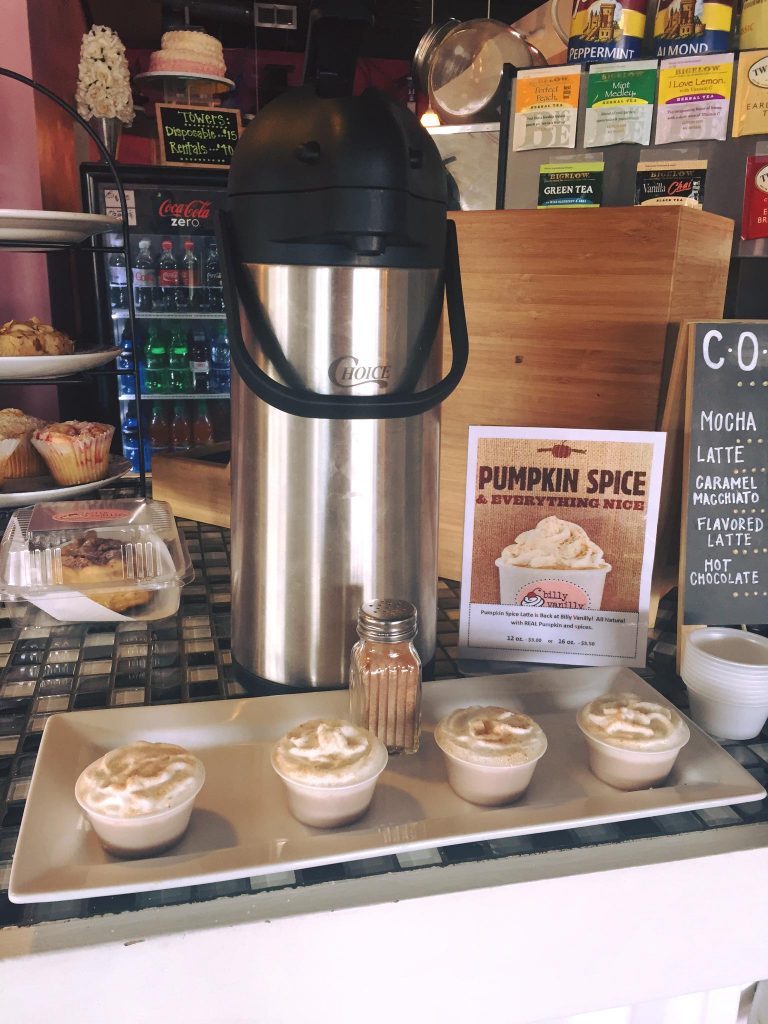 Just look at how tempting these little taster cups of Pumpkin Spice Latte's are? They even have whipped cream and cinnamon sugar toppings.

Little touches like this make customers feel cared for and spoiled!
I've really enjoyed looking at old photos and remembering what I did to decorate the shop and all the different treats I offered.

Its not to soon to plan your Fall Bakery line up. Let me know in the comment section which Fall treat you are going to be trying this year.