Do you dream of quitting your day job and starting a home-based baking business? Have your friends been telling you to start charging for your treats? Consider this your sign. It's time to get serious about starting your home-based bakery!
In this article, I'm going to go over everything you need to know to help you decide if starting a home bakery business is right for you.
What is the best way to sell home-baked goods?
Have you noticed how many bakers are selling homemade treats right now? You can start a business selling all types of baked goods, from cakes and bread to brownies and cookies.
The first thing to do is start planning, and that's what I'm going to help you with today.
Owning your own business can be a fun side hustle or a rewarding full-time job. Let's take some time now to learn as much as you can about the entire process so that you can decide if it's right for you. I've helped hundreds of bakers start a home bakery business they love. In this article, I'll be answering some of their most asked questions.
Selling from your home kitchen is a cottage foods business
Cottage foods are food items made in your home and sold to the public. Cottage foods laws are the name of laws you need to follow for selling food prepared in your home kitchen. The only way to know what you can sell in your home bakery is to learn about cottage food laws.
Cottage food laws differ state by state
Each state has different rules for operating a cottage foods business. They tell you where you can sell and what ingredients you can use. They also tell you how you need to label your ingredients. Some states even limit how much you can earn in a cottage food business.
Understand your state's hazardous food list
Hazardous foods are those that can make someone sick. They require temperature control to be safe. Cottage bakers are not allowed to use ingredients that could make someone sick.
Some examples of hazardous foods are:
Meat -most states don't allow meat of any kind
Dairy -uncooked milk or cream in frosting
Cheese -cheese in bread, or cream cheese in frosting
Canned salsa and pickles -because of the Ph content
Custard-filled items -like pumpkin pies
Taking the time to get your home bakery license is a must if you are serious about owning your own bakery business.
For more help learning about cottage foods laws and setting up a legal home bakery, click here.
Do I need a business license to start a home-based baking business?
Selling homemade goods without a license is not recommended! If you get caught selling without the required licenses, you risk getting fined, or even shut down! You should find out how to legalize your home baking business before making any other plans. Being a licensed, legal cottage foods bakery is important. It will help you stand out from the other bakers and ensure that you can continue doing what you love for years to come!
If you're not ready to get a licensed kitchen you should not sell your baked goods. You can still bake for fun and practice but give your treats away to friends and family for feedback.
What is the total cost of starting home bakeries?
Everybody has a different start-up experience. Starting a home bakery is far less expensive than you might think.
Some home bakery start-up expenses you may have are:
Courses that your state requires
Insurance (sometimes optional)
Courses or groups you decide to join
Do home-based bakeries need a business plan?
A business plan will help you have direction with your new business. It will guide you through the stages of starting your new business and steer you in the right direction.
It's a great way to think through the details and key elements of how you want your business to go.
Writing a business plan is not as hard as you think. It will need you to do a bit of planning and research. You will use that research to stand out in your market and gain more customers once you are up and running.
There is no "wrong" way to write a business plan. Think about what your business will be like in the future and fill in the details of how you plan to make that happen.
Can I operate a home-based baking business as a sole proprietor?
For many people, the answer to this question depends on your state's regulations. A sole proprietorship is someone who owns an unincorporated business by themselves. As a sole proprietor, you are responsible for your business debts and liabilities. An LLC or limited liability company is another option. It is a business structure that shields members from the responsibility of the LLC. For me, I was able to form my home bakery LLC for only $49 plus state fees.
Choosing a business name for your home-based baking business
Naming your bakery is a big undertaking and only you will know the best name for your baking business. Here are a few tips to help you land the perfect business name:
Make it easy to spell– online search is how many people will find you so your name needs to be easy to spell.
Don't be too specific- remember that things change as you grow your business.
Make it unique– your name will be more memorable if it is different from other home bakeries out there.
Make it easy to pronounce– If your name is hard to pronounce customers won't be able to refer you.
Once you find the perfect bakery business name, you'll need to make sure someone else isn't already using it. Check out this blog post for links to register your name and check for any existing trademarks.
How much money can I make selling home-baked goods?
Home bakers, usually make between $200-$1000 per week. The amount that you make depends on several things. How many days per week will you bake? How much marketing will you do to promote yourself?
Do you only want to sell part-time? Would you like to avoid in-person events, pop-ups, and farmers' markets? Bakers who are selling a few items weekly are making about $200 per week.
Would you like to operate full-time and have customers who buy from you on a regular basis? Home bakeries who bake full-time can earn about $1000 per week.
It takes time to grow your business. One thing that helps is to find a niche. Finding your niche will lead to sales, but it doesn't happen overnight. With a little work, you can build a business that you love.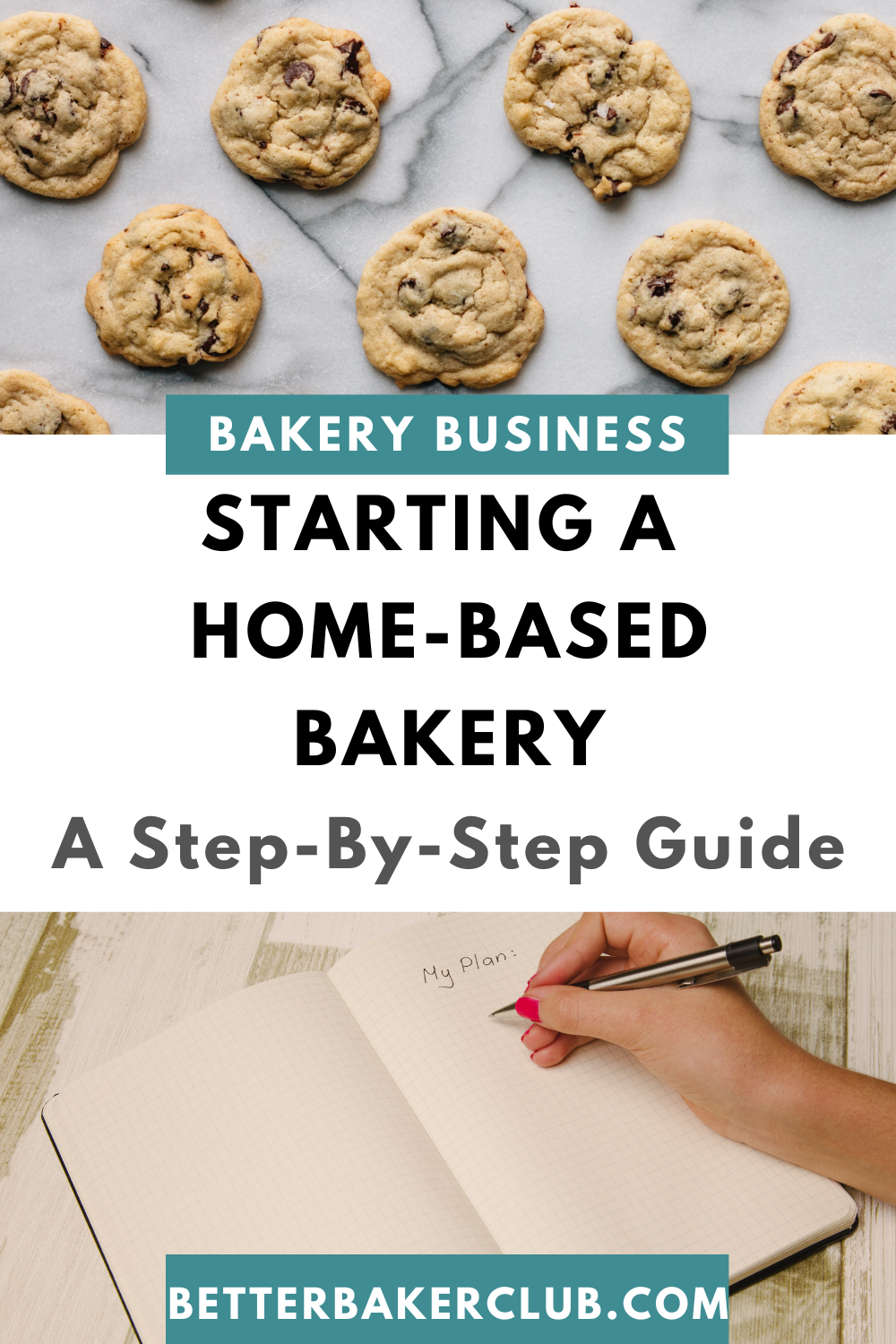 How should I price my home-baked goods?
While it may be tempting to guess at your prices, don't do it! Setting your prices can make or break your bakery business. Learning how to price your home-baked goods is important. Your goal should be to have a baking business that pays you money each month.
To price baked goods, follow these simple steps:
Know how much it cost you to make your recipe
Your costs are things like how much the ingredients cost, the cost of packaging, and your labels. You'll need to save your receipts and add up how much it costs you to make each of your menu items.
The time it takes you to prepare and package your baked goods is your labor. Include your labor costs in the selling price. This reflects the true costs that it takes to prepare your items.
Keep track of your home bakery overhead expenses
Overhead expenses are the bills that you pay to run your business. Overhead for home bakers include things like:
fees you pay to sell at farmer's market
apps you pay for to help you run your baking business
mileage on your car for delivery
Your overhead expenses are part of your prices. Every time you sell something, you make a little money for your monthly overhead costs.
Mark up your prices for profit
Once you've calculated all the costs to produce your items, you should mark it up for profit. Your home bakery is a business and your business should be making a profit. The amount of profit is up to you. Most bakers who are profitable are marking up their costs by 30-50%.
I encourage you to take the time to learn to cost your recipes and make sure that you are charging enough.
Want to learn the basics of pricing home-baked goods? You can sign up for my next pricing workshop here.
Where is the best place to sell my home-baked goods?
Home-based bakers have several options when it comes to selling their baked goods. Make sure you are familiar with state regulations for where you can sell.
The most common places to sell your baked goods are:
Facebook– From your personal profile, business page, inside groups, or on The Marketplace
Instagram– A great way to get exposure, using local hashtags to attract buyers
Farmer's market- Plan ahead and find one with enough foot traffic
Vendor events– Seasonal yearly events popular in the fall and around the holidays
From home– Host a pop-up shop from home
Delivery to customers– Offer extras like delivery to expand your reach even more
Which products should I be offerings?
Planning a bakery is fun because you get to think about all the stuff you love to bake. I'm going to ask you to do something hard now. Think about the baked goods that your future customer wants and needs.
This is the first shift from a hobby baker to a business owner. The customer's needs are your highest priority. What can you bake that will be in high demand?
The best items for your menu are items that your customers want, priced to make you a profit.
Best things to sell in your home-based baking business
The best things to sell are menu items that solve a problem for your customers. The more you learn about what your clients need the better you can solve a problem for them. When you specialize in something specific it's called a niche. Bakers that have a niche often have faster success with their baking businesses.
Here are some business ideas for a home bakery niche
Healthy choice baked goods
I've put together a free resource for home bakers with creative ideas for over 50 items to sell at farmers' markets, events, and pre-orders. It's a full list of the most in-demand baked goods which you can download for free right here.
How will I get potential customers for my home bakery business?
Once you're ready to start selling you'll need to have customers who want to buy from you. Attracting new customers can be one of the biggest challenges for home bakers. You can find your customers in person, or online.
Here are a few ideas for connecting with customers in person:
What type of events can home bakers sell at?
Farmer's market
Vendor events
Festivals
Pop up shops
Here are a few ideas for connecting with customers online:
What are the best platforms to find customers for my baking business?
Facebook page
Facebook groups
Instagram
A business website
Esty (if your state allows shipping)
How important is social media for home bakers
Home bakers have more sales on Facebook than on any other social media platform. Facebook is a great place to start. You should start small and keep it simple. It's much better to get comfortable with one social media platform so that you don't get overwhelmed. Once you have set up and personalized one platform, you can go on to add another.
How can I build my home bakery customer base?
Attracting new customers is a big part of running a successful home bakery business. As the old saying goes, it's easier to keep a customer than to get a new one. Once you get a customer, you should work hard to make sure they are happy, so that they will continue to order from you for a long time to come.
A few ways to build your customer base are:
Ask for reviews and testimonials from your current customers (this helps new customers to feel confident ordering from you)
Promote yourself locally (share your business card often)
Get your business listed and verified on Google
What is the best way to accept payments for a home-based baking business?
Let's get you ready to accept payments for your products. There are plenty of ways to accept payments. You'll need to choose the method(s) that will be the most convenient for you and your customers.
Which form of payment is right for me?
Cash– Cash is always the best because it has no fees associated with it!
Digital Payments– When a customer transfer funds from their bank account into yours. There is often a fee for you to accept digital payments.
Credit Cards-. Accepting credit cards means you'll need to set up a merchant account to be able to collect payments. You will pay a fee for each transaction. It is either a flat fee per transaction and/or a small percentage of each sale.
The form of payment that you choose will depend on where and how you plan to sell. You may find it helpful to accept a few different payment methods.
Here is how payments can vary depending on where and how you sell:
In-person– Cash, credit card, and a digital payment option
Sending invoices( custom orders and wholesale accounts) -Invoicing software via email.
Pre-orders online- Digital payments
Here are a few more questions from bakers about the home-based baking business
What if there are too many home bakers in my local area?
Don't worry that there are already too many home bakers in your area. Home baking is more than providing treats to someone. It is about the connections you will make and the community of people who want to support you. There is nobody who does things the way that you do and your baking is perfect for the right customer.
Should I offer free samples?
Free samples work really well at farmer's markets. They bring in foot traffic and help new customers try your baking. Do it if you can afford to!
What is the right equipment for my kitchen?
It depends on what you want to bake. Most bakers start with a stand mixer, several baking pans, multiple sizes of mixing bowls, doubles of all utensils, and plenty of measuring spoons and cups. It also helps to have a deep freezer and plenty of counter space.
I get a lot of people asking for my recipes, should I share them?
You can share your recipes if you want to, but you've worked hard to develop them and they are a part of your business. If you don't want to share, you can say " I can't share this recipe, but you can look on Pinterest for something similar"
I have a family member who expects stuff for free. How should I handle this?
Let your family member know that you are starting a business by selling your baked goods and you would love to have her as a customer. If she is willing to spread the word and share reviews and testimonials on social media, tell friends and promote your business then you might offer her a small discount.
In conclusion, there are some great reasons to start a home-based baking business!
There has never been a better time than now to start your own baking business. The start-up cost is low, and you can create your own business doing what you love. There are so many different ways that you can have a successful home bakery. Full-time or part-time, a home bakery can fit into your lifestyle.
Just be sure to take the time and learn about your state's cottage foods laws and take care of all the permits and licenses needed to be a legally operating home bakery.
Learn to price your home-baked goods so that you can pay yourself for your hard work. Once you find out what your customers need, write a menu that is specific to your niche and market yourself as the solution to their problems. A combination of in-person selling events and pre-order selling works well when you are just starting out.
The very best part is that you get to be your own boss and do what you love.
Are you thinking of starting your own bakery? Be sure to grab my ULTIMATE Checklist to see if you have what it takes to start your home bakery business. Let me know in the comments below what you are thinking of selling in your home bakery!