Homemade pan release is my go-to solution for removing baked goods from whatever baking pan you use without damaging your product! This is a bakery game-changer, so keep reading to learn exactly what I do to solve this sticky dilemma that every baker faces.
Are you spending too much time and money buttering, flouring, and cutting parchment circles to fit your cake pans or muffins?
Homemade Pan Release is Easy and It Works!
How many times have you baked a cake and just when you go to take it out of the pan, it sticks and crumbles leaving you with an unusable mess of cake crumbs?
I rely on this stuff to easily release my favorite cake recipes from the pan each and every time. Cakes like Lemon Bundt Cake and Classic Carrot Cake can be hard to get out of the pan, but when I use this pan release, the cakes come out perfectly every time.
What is Homemade Pan Release?
Homemade pan release, or pan lube as it's called in my bakery ( I didn't name it, I swear!) is sometimes called Pan Goop or Homemade Bakers Spray.
It is a ridiculously easy blend of equal parts of three simple ingredients.
Here's how to make it:
Flour– 1/2 cup
Vegetable oil-1/2 cup
Solid vegetable shortening-1/2 cup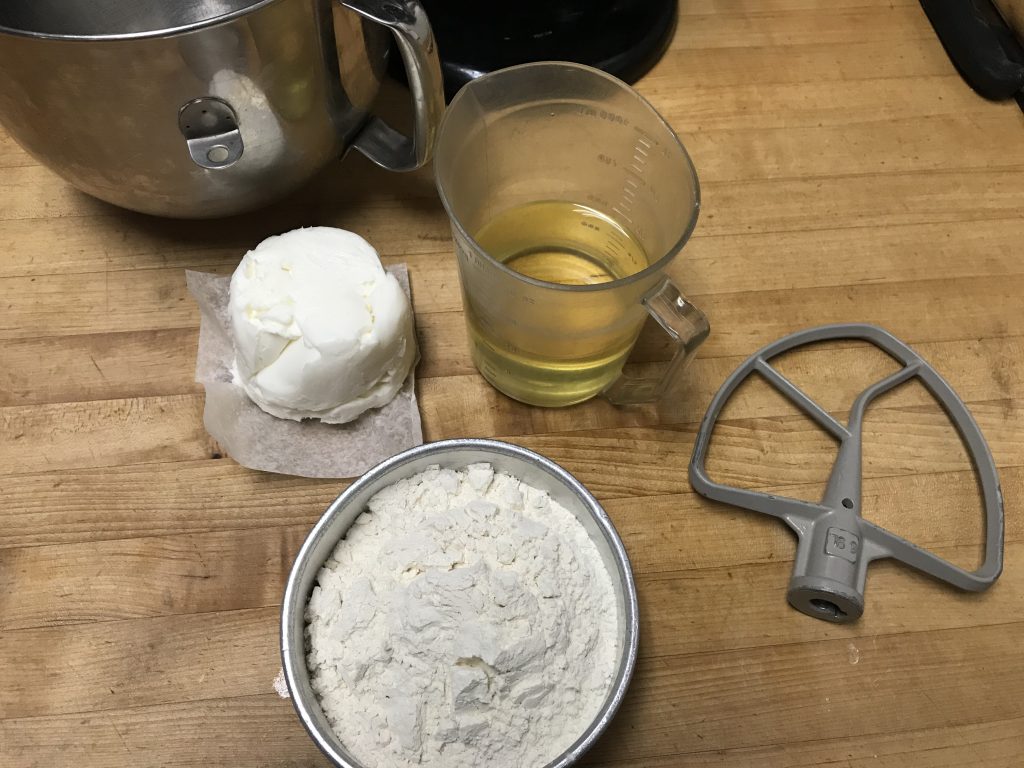 How to Make Your Own Pan Release
Use your mixer with the paddle attachment to mix up a batch of this super easy stuff.
In other words. just dump all the ingredients into the bowl and mix on low-med speed for about 5 minutes until the mixture is smooth and lump-free.
How do I use Pan Release to Keep My Cakes From Sticking?
To use your Homemade Pan Release you simply use a pastry brush to apply the mixture to the inside of your pans.
Generously apply this homemade pan release to the inside of your clean and dry cake pans.
Brush the sides of the pans only as far up as the batter will go.
Bake cakes according to directions
When they come out of the oven, set a timer for 10 minutes.
After 10 minutes, firmly "dump" your cake out onto parchment or plastic wrap the counter
How to Store Your Pan Goop
You can store your Homemade Pan Release at room temperature or refrigerated. It just depends on how often you will use it.
For daily bakers- keep it at room temperature in a sealed container for up to one week.
For occasional bakers- keep it refrigerated in a sealed container for up to 6 months.
What else can you do with this awesome stuff?
Here are some other uses for Homemade Pan Release
Muffin Tins– anytime I want a muffin without the paper liner this works great.
So if you find yourself without paper liners for odd-size muffin pans like minis or jumbos, try using this instead!
Easy DIY Pan Release
Homemade Pan Release – also known as "Cake Lube," this wonderful mixture is just what you need to get cakes out of pans cleanly and easily.
Equipment
Stand Mixer

whip attachment

Electric Hand Mixer
Ingredients
1/2

cup

All-Purpose Flour

1/2

cup

Vegetable Oil

1/2

cup

Vegetable Shortening
Instructions
Combine all three ingredients in the bowl of a stand mixer, or use a hand-held mixer to combine all the ingredients.

Mix on medium speed until the mixture is smooth and lump-free.

Store mixture in a sealed jar for up to 7 days at room temperature, or refrigerate for up to 6 months.
I hope you find this little baker's trick to be useful in your baking adventures. No more need for parchment circles, greasing and flouring, or specialty pan spray.
Just keep a jar of this wonderful goop on hand and bake like a pro, every time.