Consider this your complete guide to make-ahead baking! Here I include all my freezing & thawing tips and how-to's, plus my favorite baked goods to freeze.
Baking is a favorite pastime of many people. Whether you dabble in it for fun, or you are a home bakery expert who spends hours in the kitchen every week, you are sure to have a variety of goodies in your freezer.
But what if you want to get ahead, or you can't bake everything the night before a big order? Thankfully it's easy enough to freeze baked goods when you know-how!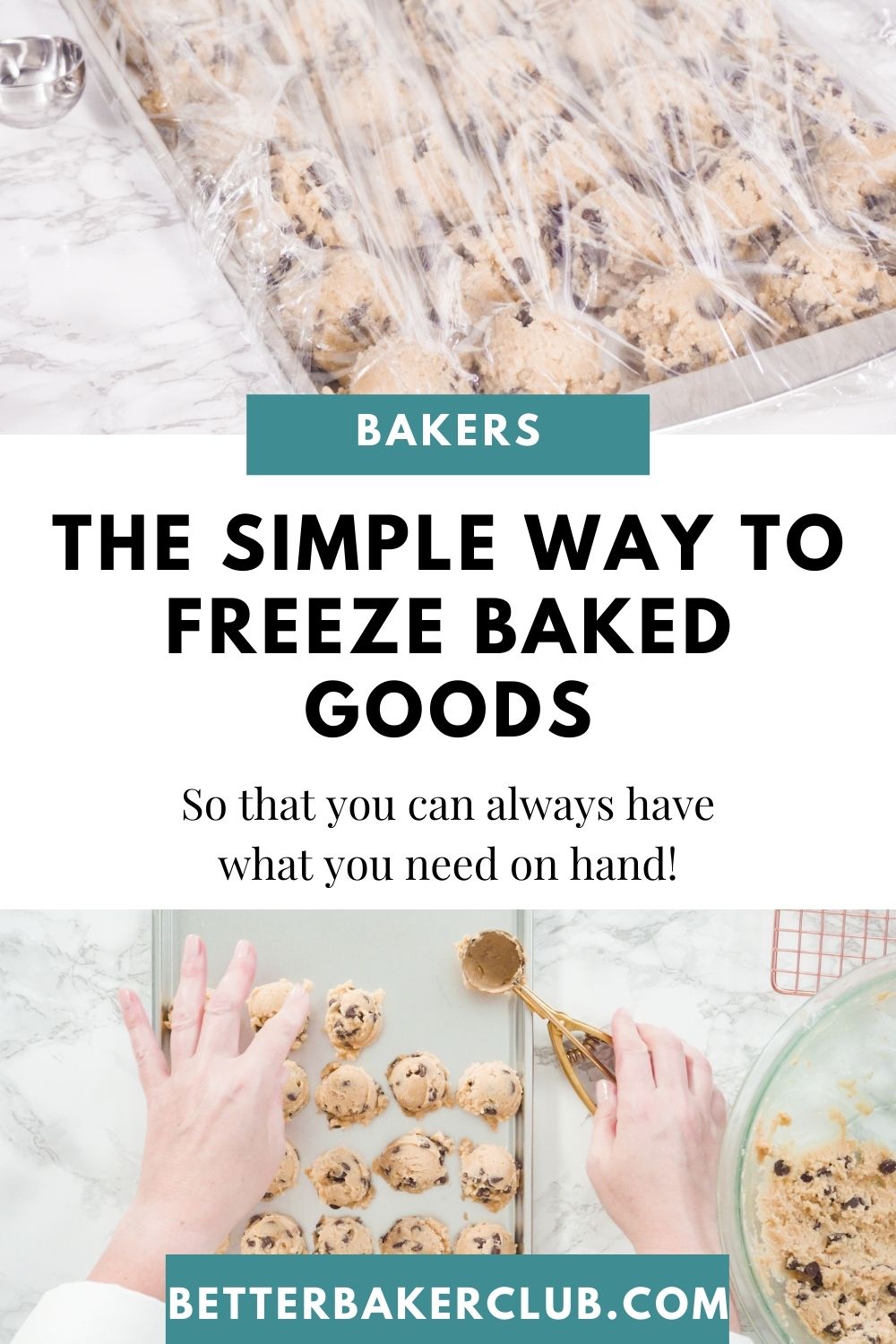 Are you a baker who is (or wants to start) selling your baked goods?
Don't miss the chance to get this download while it's free!
Learn the top 10 mistakes bakers make and how to
avoid them with this ULTIMATE guide!
Keep more profit from your sales and create a more stable baking business!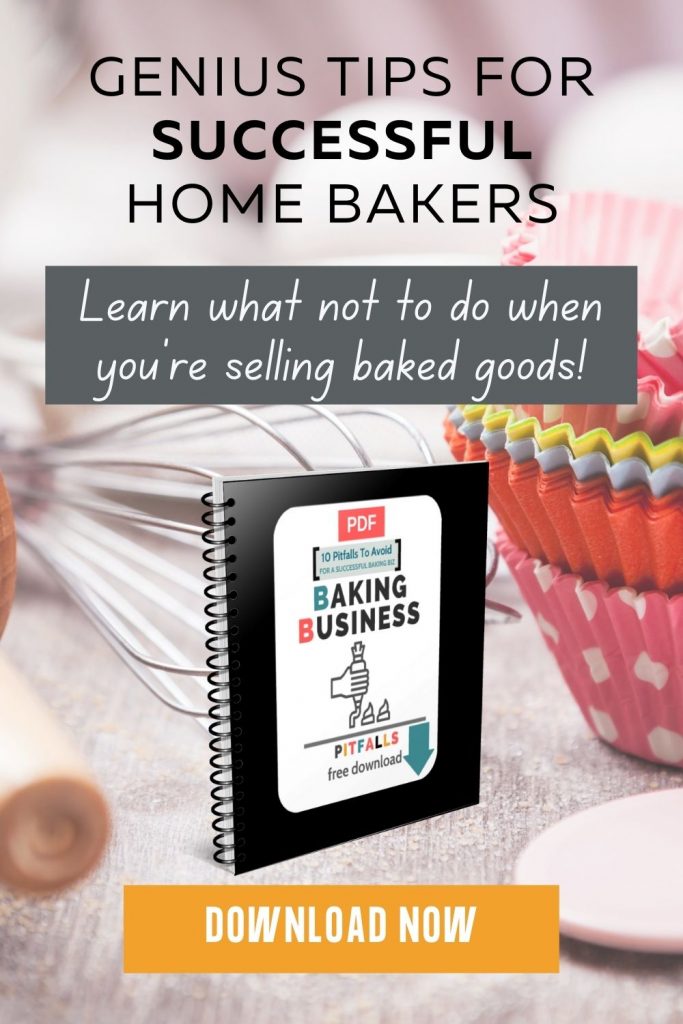 When it comes to freezing recipes, most fall into one of two categories: freeze before baking or freeze after baking.
What kind of baked goods can I freeze raw, before I bake them?
You've mixed up a huge batch of batter or dough and now you want to save some for later. Which types of batter can you freeze and bake when you need it? Here is what my experience has found bakes well from the freezer.
Cookie dough (drop and rolled)
Pie dough
Scones/Biscuits
Puff pastries/Danish pastries
Pre-portioned muffins
You should experiment with your frozen batters to decide which works and whether it's best to bake them directly from the freezer or to defrost them before baking.
Be sure to add baking notes to your recipe. Jot down things like time and temperature for baking frozen items, as well as anything you want to add after defrosting. (egg wash, sugar sprinkles, streusel, etc…)
What kind of baked goods freezes well after baking?
The second category of recipes is those that need to be baked before being put into the freezer. These can include:
Yeasted bread/rolls
Quick bread/muffins
Cakes
Some types of pies
Danish pastries
Cookies
When deciding which types of baked goods should be frozen after they are baked, it is important to check the quality. Ideally, you should only freeze baked items that do not lose any freshness, flavor, or texture qualities when they are defrosted.
You may also decide to freeze fully baked items because it's more convenient. I like to do this seasonally by baking a large batch of a specialty item and defrosting as needed.
Freezing after baking is also great for items that are difficult to bake individually. For example, it's pretty hard to bake one slice of banana bread or one brownie, so I bake those, slice and portion them, and freeze them after baking.
I also prefer to bake, then freeze items with yeast that need proofing. The longer a yeasted item stays in the freezer the less active the yeast becomes.
My no-fail method for wrapping and freezing baked goods
Now that we've learned what to bake before freezing and what to freeze raw, let's take a look at how to preserve the quality so that it's still delicious when you need it.
Here is how to get the best results and the highest quality from frozen baked goods.
Always wrap in double layers using a combination of plastic wrap, aluminum foil, freezer-safe bags, and containers.
Wrap individual items in plastic twice if you want to store them for longer than two weeks.
Place wrapped items inside a freezer bag or container. If you can't individually wrap items ( like cookie dough), then place them in a freezer bag, then place the bag inside a container.
Remove as much excess air as possible before freezing.
Always label items, even if you think you'll remember. Put the label on the outside of the container.
Date the items with a "frozen-on date" and a "use-by date."
Place the items in the appropriate type of freezer for the length of time you plan to keep the item frozen. ( see the next section for what type of freezer works best)
Check out these links for some of my favorite supplies for wrapping, stacking, and containing my baked goods.
How to freeze almost every kind of baked goods
How to Freeze Pie Dough
Freezing: Pie dough is a baked good that freezes well before baking. It can be portioned into single-crust amounts, wrapped in disks, and frozen individually. Another approach is to roll out the dough into the pan and freeze the entire pan.
Thawing: Pie dough should be thawed overnight in the fridge.
How to Freeze Cookie Dough
Most cookies do well when they are frozen before being baked in pre-portioned scoops, discs, or cut-out shapes.
Freezing: Scoop the cookies (or roll out the dough and cut the shapes) onto a lined baking pan. Loosely cover the pan in plastic wrap. Freeze the pan until the scooped cookies are frozen solid. After cookies are completely frozen, you can consolidate them into freezer bags. Cookies freeze well for up to 3 months in a chest-style freezer.
Thawing: To thaw cookies for baking you'll want to experiment with how much defrosting they need before baking. Place cookie dough pieces onto your lined baking sheet, allow to defrost for the desired amount of time, and bake according to recipe directions. If you decide to partially defrost, then bake make sure to take note of the new bake time.
Freezing Muffin Baked Goods
Freezing muffins can be a tricky task. Muffins are moist, delicate and can easily crumble when they are moved from the pan to the freezer bags. Here are two methods for freezing muffins. I've used both and am happy with the results.
Freezing baked muffins: When you are baking muffins for freezing, be sure not to overbake the muffins and dry them out. Allow them to cool completely. Gently remove the muffins from the baking tins and place them on a baking sheet. Loosely cover in plastic wrap and freeze until each muffin is completely frozen. Transfer frozen baked muffins into a freezer-safe bag and seal well, removing as much excess air as possible. Place the bag inside a plastic container with a lid. Don't forget to label the outside of the container.
Thawing baked muffins: To thaw baked muffins, remove the desired amount from the freezer. Thaw uncovered at room temperature for 20-30 minutes or until fully defrosted.
Freezing unbaked muffins: Freezing unbaked muffins is a bit trickier because you will need extra muffin pans. First, line your baking tins with paper baking cups. Portion the batter into the wells. Place the entire pan into the freezer. When the muffin batter is entirely frozen, carefully remove the unbaked muffins and place them in a plastic freezer bag. Remove as much air as possible and place inside of a freezer container.
Thawing unbaked muffins: To thaw and bake frozen, portioned muffins: place the desired amount of muffins in muffin tins. Allow batter to completely defrost (45-60 minutes) and bake according to directions.
How to Freeze Quick Bread
Freezing quick bread: Quickbread freezes best when it is baked before freezing. Take precautions to ensure the bread is completely cool before freezing. Bread can be frozen in whole or sliced and wrapped.
Thawing quick bread: When ready to use, thaw your quick bread at room temperature. For slices, defrost only how much you want.
How to Freeze Cakes
Cake layers are one of the baked goods that improve when frozen. If you have never tried frosting a frozen cake, then you are in for a treat!
Freezing cake layers: Bake your cake layers as usual. Make sure the layers are completely cool to touch before freezing. Wrap each layer in double plastic wrap. Be sure to keep layers on a flat surface when freezing so that the cake layers sit flat when icing the cake. You can achieve this by freezing each layer on a cake pad or a baking sheet.
Defrosting cake layers: What you will be doing with the frozen cake determines how you should defrost it. If you are frosting a cake with multiple layers, you can ice them directly from the freezer. If you are serving the cake un-iced (like a bundt cake) then allow it to fully defrost before serving.
How to Freeze Biscuits and Scones
Freezing biscuits and scones: Biscuits and scones are best when you freeze them before baking. You can complete your recipe up to the point you would bake it, then freeze. If you have toppings to add, you can portion the biscuits and scones, brush with egg wash and sugar, then freeze.
Thawing biscuits and scones: Biscuits and scones can be defrosted about 3/4 of the way before baking. The steam that is trapped inside helps them to "spring" in the oven while baking.
How to Freeze Cinnamon Rolls
Freezing: I love to freeze pre-baked cinnamon rolls because they can stay in the freezer for up to six months! To freeze them, first, bake the cinnamon rolls according to the recipe. Let them cool, all the way. Place the cinnamon rolls in single layers on a prepared cookie sheet and place them in the freezer. Once they are frozen solid, transfer them to a freezer-safe container or bag and keep them in the deep freeze for up to six months.
Thawing: When you are ready to use them, Frost them with fresh icing.
I do not recommend freezing yeasted bread items before they are baked.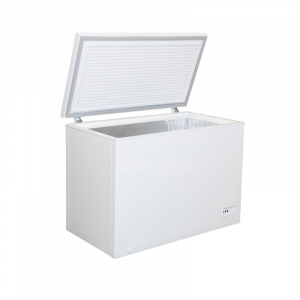 Chest freezer vs. upright freezer: which is best for freezing baked goods?
Storing baked goods in an upright freezer
Upright freezers are typically the freezers that are attached to your refrigerator, either as a separate door or a drawer.
Upright freezers have more drawers and baskets, which helps to see your food better.
Because of the extra drawers and baskets, food can get freezer-burn more quickly.
Storing baked goods in a chest freezer
Chest freezers are freezers that open from the top. They usually have a tighter seal than an upright freezer and because of this, they can hold food longer.
Chest freezers tend to keep a more consistent temperature and cold temperatures stay more reliably colder.
Chest freezers have more usable space than upright freezers and this can help prevent freezer burn.
If your power goes out, baked goods stored in a chest freezer will stay frozen for 1-2 days.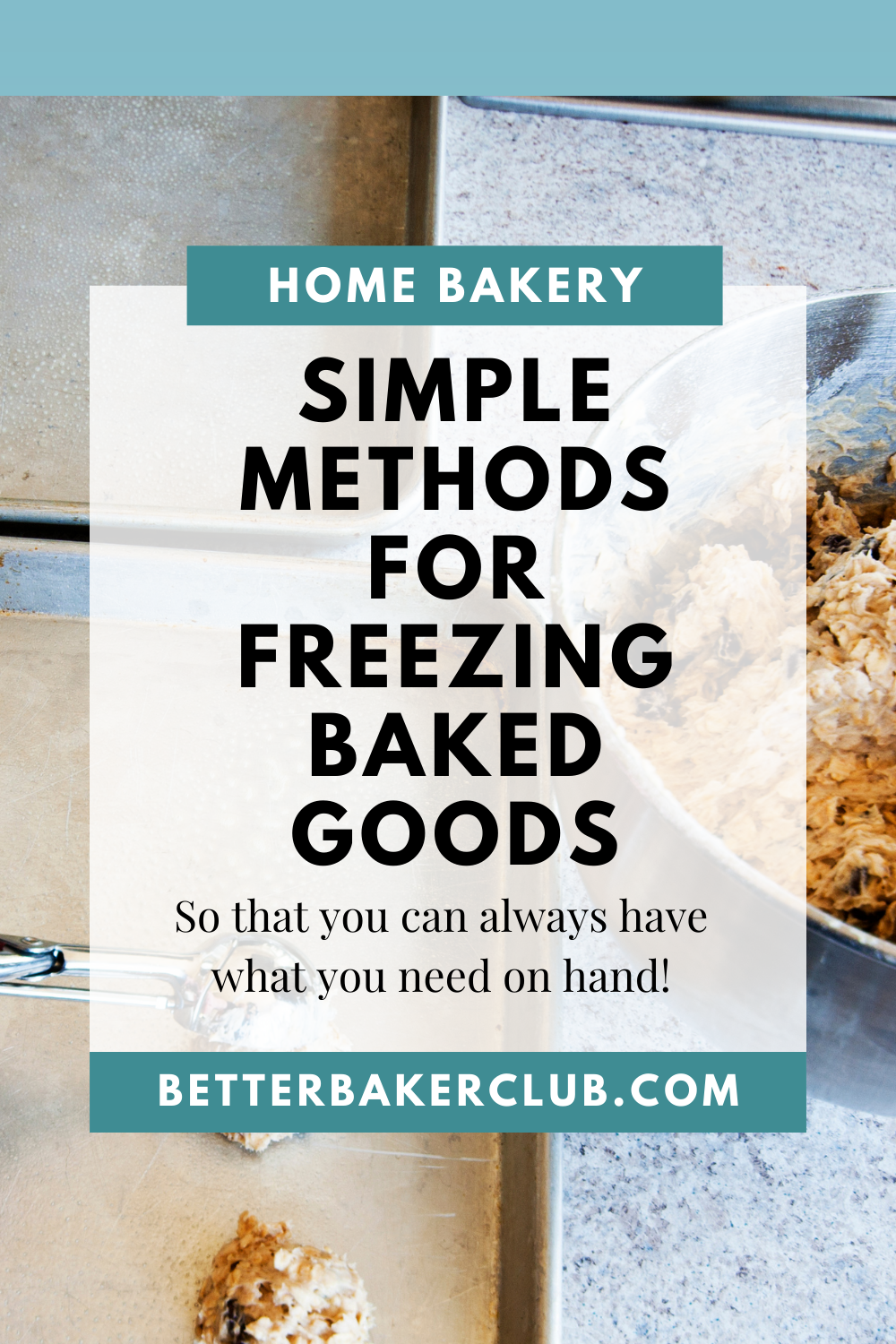 Frequently Asked Questions About Freezing Baked Goods
How long can you leave cookie dough in the refrigerator?
If you decide not to freeze the dough and plan to use it immediately or freeze your cookies after baking you should bake the dough within 1-2 days of mixing. Beyond that, the ingredients will begin to break down and change the quality of the dough.
What do you recommend I bake the pie in if I plan on freezing it?
If you would like to freeze pie dough that has been rolled out, I recommend that you use disposable aluminum pie tins for freezing your rolled-out pie dough.
How do I get the pie out in one piece to freeze?
I recommend using disposable pie tins so that you do not have to transfer pies out of your pie dishes. ( check out my list of supplies for a link to my favorite pie tins)
What changes would I make to bake the frozen batter?
Most recipes do not need to be altered to be frozen. You'll just need to decide if yours is a recipe that is best frozen before baking or being frozen after baking.
Can brownies be frozen successfully?
Yes! Brownies freeze extremely well when they are frozen after baking. Just bake and cool your brownies and cut them as usual. Wrap each piece in plastic wrap and freeze in a single layer. Once they are frozen, place them in a freezer-safe container or a zip lock bag.
Can I freeze cookies with jam?
Cookies with jam should be frozen before they are baked and before the jam is added.
Should baked goods cool before freezing?
All baked goods should be completely cooked after baking before you begin wrapping them for the freezer.
Want to learn more about freezing baked goods?
Check out these blog articles for even more info. Check out this helpful list of baked good freezing articles to pick up even more tips.
Bon Appetit Freezing Baked Goods
Food Network How to Freeze Baked Goods
Freezing baked goods can save you time and help you be more organized in the kitchen
We've covered how to freeze almost every type of baked good. Some baked goods are best frozen before baking and some are better frozen after baking. Remember that it's all about preserving the quality of the finished product.
Take the time to carefully double wrap your items and label them so that you can save time and stay organized.
Use a deep freezer for storing baked goods longer than two months, and keep the items you use frequently in your upright freezer.
Allow time to defrost your baked goods. Leave them in the freezer packaging to help absorb extra moisture.
Now that you know these freezer tricks, you can stock your freezer and save time by always having what you need on hand.
Looking for more tips to save time in the kitchen? Check out this blog post full of my favorite kitchen organization items!
Are you feeling overwhelmed by your messy fridge? Do you feel like it's impossible to keep your overstuffed pantry tidy and clean? Well, don't throw in the towel just yet – there are plenty of creative pantry and fridge organization hacks that will make for an insta-worthy kitchen.
The truth is, there isn't a right way to stay organized in your space. It's about finding and creating systems that work for you. We've reached out to professionals all over the nation for their best advice on cleaning out and tidying up your fridge and pantry, including creative ways to solve some of the top kitchen storage problems. So whether you're in an apartment in Boston, a home in Dallas, or just need some great tips, click here to see what they had to say.