This Iced Lemon Loaf is easy and moist and better than Starbucks! No box mixes or artificial colors here, just real ingredients that let the great flavor shine through.
Are you tired of searching for a Lemon Loaf recipe that has enough lemon tang, lots of softness and is simple and quick? This is the recipe you want.
To join my mailing list and get updates when I release new freebies, click here. I encourage my email community to ask me anything and I read and reply to every email I get. You may even get featured in my "Subscriber Spotlight" Click here to join my email community.
Here's what you'll learn from this blog post. Read through my step by step process, or if you're ready to bake, jump to the recipe and get started.
Why this recipe is better than Starbucks Lemon Loaf
A side-by-side comparison with a Starbucks Lemon Loaf slice
Full-size Lemon Loaf
Mini Lemon Loaves
Lemon Cake Bites
My recipe for Lemon Loaf
Why this Lemon Loaf is better than Starbucks
My Lemon Loaf recipe has lemon zest and fresh lemon juice in the batter, and again in the glaze for a full-blown lemon flavor.
Technically this Lemon Loaf isn't a pound cake because it has cream cheese in the recipe. Don't let that stop you from thinking of it as a pound cake though. It has that moist and cakey texture that is almost like a store-bought Sara Lee Pound Cake.
It's lemony and soft, but is it really better than Starbucks Lemon Loaf?
Is this recipe really better than Starbucks Lemon Loaf? Lots of recipes claim that they are, but I wanted to put this one to the test.
Here is a link to the Starbucks Pastry Menu for a list of their Lemon Loaf ingredients, nutritional information, and product description.
I did a side by side comparison
I wanted to make sure I could back up my "Better Than Starbucks Lemon Loaf" claim so I tasted a slice of theirs alongside a slice of mine.
The results might surprise you
Starbucks Lemon Loaf–
Appearance– Their lemon loaf slice is a light natural yellow color. It has some browning around all the sides and the glaze is a solid white color.
Flavor- The flavor is mildly lemon, with most of that coming from the icing. Tasting the cake alone, you don't get a strong lemon flavor.
Moisture-The slice I had was slightly dry, but also buttery.
Texture- The Starbucks slice has a dense crumb with a cakey texture.
My Lemon Loaf– I know that Starbucks receives their pastries in frozen, so I started out by pre slicing my loaf and then freezing the individually wrapped slices. I defrosted it for about 6 hours before doing my comparison.
Appearance– My lemon loaf slice also has a light natural yellow color. It has a less noticeable browning. The glaze is slightly more translucent.
Flavor- The lemon flavor is fresher tasting, with the icing and the cake both having a predominant lemon flavor.
Moisture-This Lemon Loaf has a very noticeable moistness and softness.
Texture- My slice has a firm texture that is not too crumbly and very tender.
My conclusion of the lemon loaf tasting
I tried to be as unbiased as I could be. Here's what I found:
Starbucks loaf has a really nice appearance. Its tall and I like that the icing is not translucent. ( I may adjust my recipe to be more like that)
My loaf has a much fresher lemon taste. I attribute this to the fact that mine is baked fresh. I'm sure Starbucks Lemon Loaves are baked in a factory, frozen, shipped and stored for months before they are consumed.
The texture of my loaf is fluffier and softer.
Sorry Starbucks, but I think I'll make the Better Baker Club Lemon Loaf from now on.
Full Size Lemon Loaf
Starbucks sells slices of a full size loaf. Loaf slices are great single serving treats to make for your family or to sell in your bakery. They can be individually wrapped and frozen, and defrosted as needed.
Here is what you need to know to make a full size loaf
The recipe makes 4 cups of batter, which will fill an 8 1/2×4 1/2×2 1/2 loaf pan.
Not all loaf pans are created equal. Use the correct size loaf pan to get the best results.
Generously grease or line loaf pan with parchment.
Bake at 350° for 55-60 minutes. Insert a toothpick into the center of the loaf to check for doneness.
Lemon Cake Bites
Baked as mini muffins and inverted so the bottoms become the tops, these Lemon Cake Bites are just perfect for entertaining and catering. They are so easy to serve and look great as part of a dessert tray of mixes bite-sized treats.
Check out my Better than a Box Mix Brownies for a great dessert tray pairing.
Here is what you need to know to make Lemon Bites:
Use a mini muffin pan. The recipe makes about 48 Lemon Cake Bites.
Generously spray your mini muffin pan with non-stick spray. I fill the wells about 2/3 full.
Bake at 350° for 13 minutes. ( your oven may vary, so check after 10 minutes.) They are done when the edges just begin to brown.
Allow the muffins to cool in their pans for 10 minutes. ( I always set a timer for cooling. Exactly 10 minutes. It works every time!)
Glaze the "top"s by spooning a teaspoon of icing on the flat part of the cakes.
How to bake this recipe as Mini Lemon Loaves
Mini loaves are great for selling whole ( hello, all my Farmer's Market Sellers and Home-Based Bakeries!) They also make great individually wrapped gifts. Who wouldn't love a whole mini loaf to eat themselves?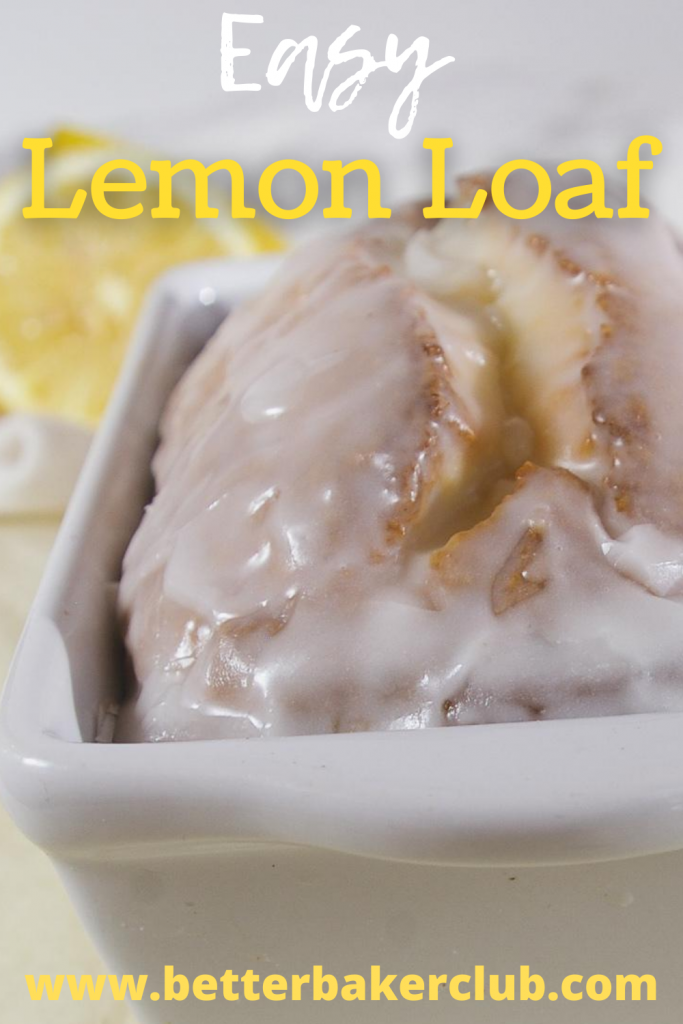 To bake these as mini loaves here's what you need to know:
The full recipe makes 4 cups of batter.
Most mini loaf pans hold 1/2 cup of batter, so this will yield 3-4 mini loaves. Whichever size loaf pan you use, fill it about 2/3 full.
Bake at 350° for about 45 minutes.
Allow to cool for 10 minutes.
Glaze while still in pans.
Wrap in cellophane and tie with a cute tag, ribbon or bow.
[lt_recipe name="Perfect Lemon Loaf" servings="8″ prep_time="15M" cook_time="55M" total_time="1H10M" difficulty="Easy" summary="This recipe for Perfect Lemon Loaf is even better than Starbucks!" print="yes" image="https://betterbakerclub.com/wp-content/uploads/2020/07/IMGP5377-300×200.jpg" ingredients="Batter;1 1/2 cups All-Purpose Flour ( 9 oz, 270g);1/4 tsp. Salt (1.25g) ;3/4 Cup Unsalted Butter- room temp. ( 6 oz, 170g);4 Oz. Cream Cheese- room temp. ( 113 g);1 1/2 Cups Granulated Sugar (10 oz, 320g);3 Eggs;1 Fresh Lemon (zest and juice);;Glaze;2 Cups Powdered Sugar (9 oz, 224g);1 Fresh Lemon (zest and juice);1-2 Tbsp Milk (0.5-1 oz, 15-30g);;;" ]In a medium bowl, measure flour and salt. Add the zest of one lemon. Set aside. ;In the bowl of a mixer with your paddle attachment, cream the butter and cream cheese until smooth. ;Scrape sides and add sugar. Mix until light and well blended. ;Add one egg at a time, mixing well after each addition. Scrape bowl, reaching the bottom of the bowl each time. ;Add lemon juice and mix until incorporated. ;Add flour mixture in 3 additions, scraping well. ;Prepare appropriate pan by spraying with pan spray. ;Fill and bake at 350°;Lg. Loaf- 55-60 minutes;Sm. Loaf 40-45 minutes;Mini BItes 13 minutes;Allow to cool in pan for 10 minutes. ;Tip loaves/bites out of pan and place on a cooling rack. ;Spoon glaze over the top. ;Store in an airtight container at room temperature for up to 2 days, or slice, wrap and freeze for up to 4 months. ;;[/lt_recipe]
These Perfect Lemon Loaves will not disappoint!
As you can see this Perfect Lemon Loaf is a super versatile recipe that can work for many different needs. It is moist and fresh tasting with a wonderful lemon flavor that only fresh lemons can deliver.
Let me know in the comments which way you want to try this recipe: Mini Loaves to wrap up and give as gifts or sell? Large loaves to slice? Or mini cake bites to serve at your next party or catering?