As someone who successfully started a home bakery business 18 years ago and now coaches others to start their own home bakery, I'm fascinated with the facts and statistics about the home baking industry.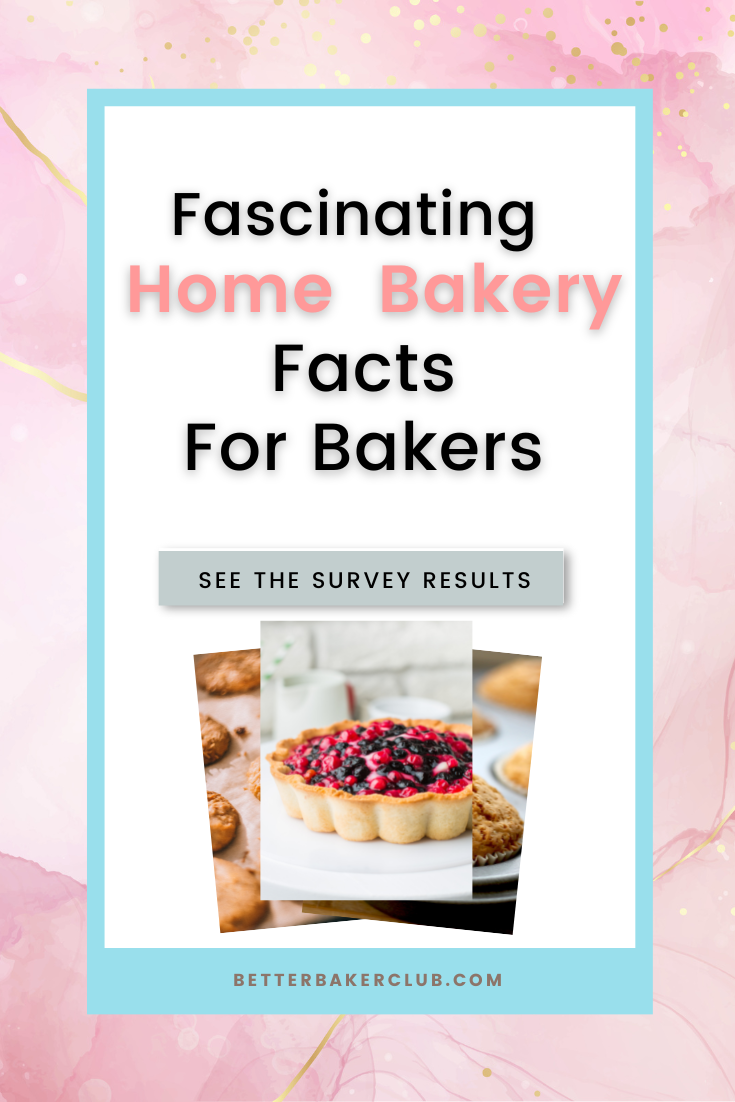 I surveyed over 600 baking enthusiasts to better understand the current home bakery business standings. In this report, you'll learn:
Whether home bakers are working in licensed kitchens

The most popular method for selling baked goods

If the average home-based baker is making a profit

Which items home bakers sell most frequently

Where most bakers are finding their customers
…and lots more!
Let's dive right into the findings.
If you are a blogger or a reporter and wish to share these results, feel free to use any of the charts and graphics in this post. In return, I request that you please link back to this article.
Who participated in my home bakery survey?
To conduct this survey reached out to baking enthusiasts from my email list and Facebook community. While some were hobby bakers only, or in the process of planning a home bakery, the majority of those surveyed are selling baked goods occasionally or selling baked goods regularly.
34.9% of the bakers surveyed are selling baked goods occasionally

34.1% of bakers surveyed are already selling baked good regularly

27% of the bakers in this survey are in the process of planning their baking business

Less than 15% of bakers in the survey group identified themselves as hobby bakers only.
Which tasty treats sell best in a home-based bakery?
Here is a breakdown of how bakers answered the question of what they sell the most on their menu.
37% of cottage foods bakers report that cookies, brownies, and bars are the items that they sell the most.

32% of bakers surveyed are selling more cakes (especially carrot cake) and cupcakes than any other menu item.

Yeasted baked goods like cinnamon rolls, soft pretzels, and bread are the top seller for 10% of bakers surveyed.

8.5% of the bakers reported that breakfast pastries like scones and muffins are their top sellers.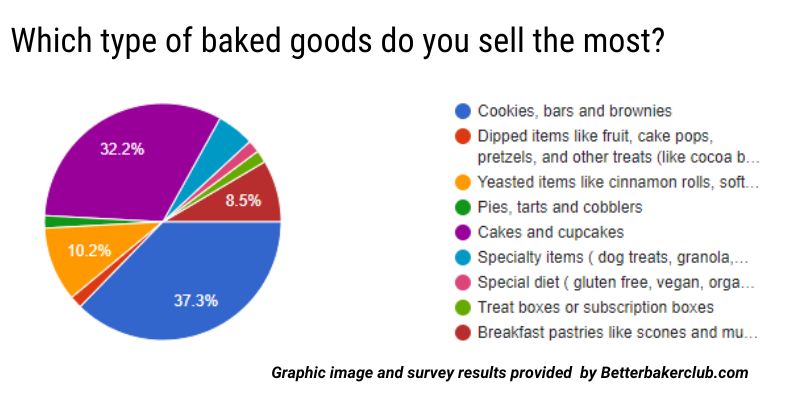 In addition to menu questions, I asked if home bakers are making money
I asked bakers to choose which answer best describes their business profits. The results were fairly evenly divided between the three options.
34.9% of bakers surveyed were

sure

that they were making money

39.5% of home bakers surveyed were

not sure

if they were making money

25.6 % of bakers who answered this question were

sure that they were not

making money in their baking business.
Are home bakeries a profitable business?
I get asked a lot about how much money you can make with your own home bakery. There is potential to create a reliable income from selling baked goods as long as you pay attention to your costs and charge the right price for your baked goods.
The survey results show that more than half of the bakers questioned do not pay themselves for their baking.
51.9% of the bakers who participated in this survey stated that they do not pay themselves for their baking.

17.1% of home bakers wait till the end of the month and pay themselves if there is money left.

16.3% of home bakers are only paying themselves when they need money.

14.7 % of bakers are in the habit of paying themselves monthly as a percentage of their baking income.
To further understand this question, I asked the bakers why they chose the answer that they did. Some answered that their businesses are unprofitable, while others are re-investing profits back into their business.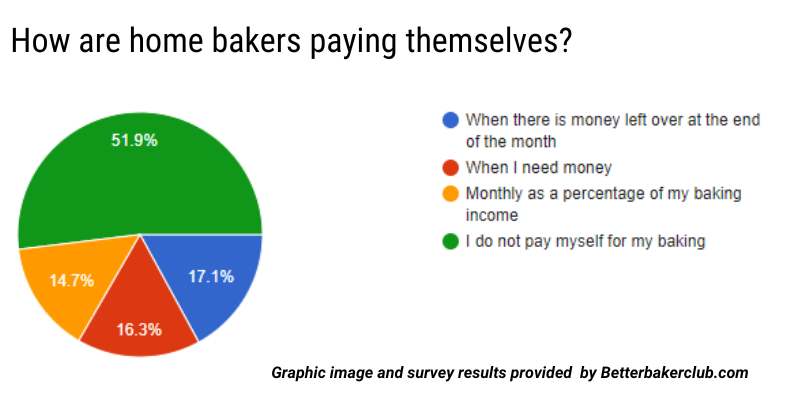 Is social media a good idea for finding potential customers?
Scroll through Instagram and you'll probably see home bakers showing off their cake and cookie decorating skills, but does social media actually produce customers who are ready to buy, or is it just for entertainment?
Home bakers are finding their customers in many different ways. In this question I allowed home bakers to select all of the categories that apply and here's what I learned:
The majority of home bakers get their orders from friends and family and repeat customers.

Social media followers and neighbors make up a smaller percentage of those who order

Coffee shops and restaurants make up the smallest portion of home bakery customers
Do home bakers have a set menu for their cottage food products?
Most home bakers have a clear idea of what they want to sell. They often have so many creative ideas that it becomes hard to decide what to put on their menu. Here's how home bakers answered the question about their menu offerings:
53.5% of bakers are occasionally adding new menu items.

24.8% of the bakers surveyed will bake anything their customers ask for.

A mere 6% of the home bakers surveyed reported that their menu does not change.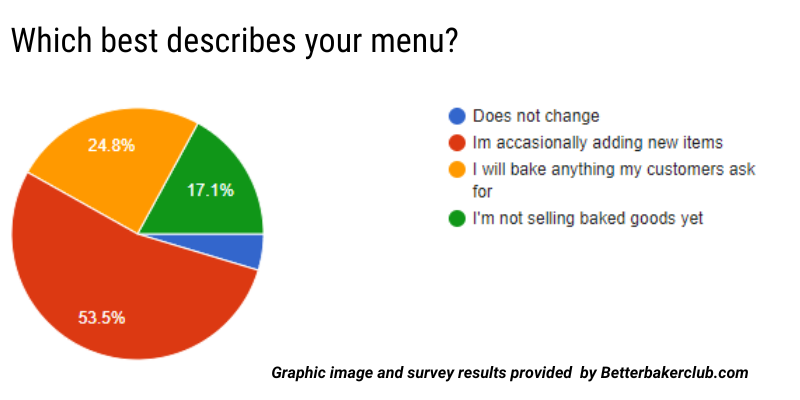 How many home bakers are selling at the farmer's markets?
There are several ways for home bakers to sell to their customer base. This question was asked to help understand which method of selling is the most popular.
51.2% of bakers report that pre-orders with delivery are their primary method of selling baked goods.

21.7% of the bakers surveyed say that farmer's markets are their main method of selling

18% of the bakers who took the survey reported that they are not selling baked goods yet.
There are many great reasons to have home-based bakeries. One of them is that you can choose how you want to sell to your customer base. In-person at farmers markets or online sales. Both work well!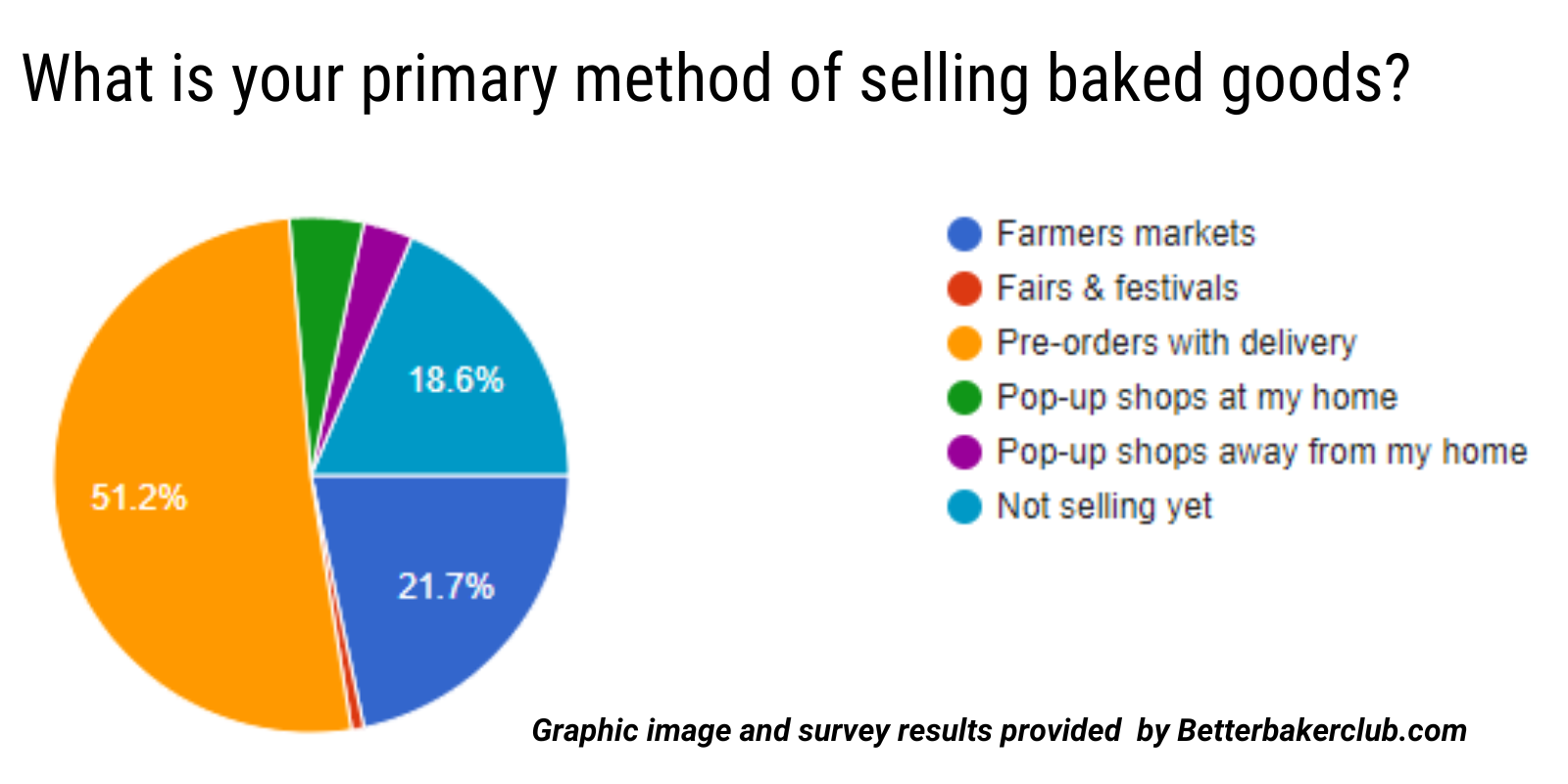 Do all cottage food businesses bake in a licensed home kitchen?
Home bakers should pay close attention to the cottage food laws for their state. Some of the requirements may include a kitchen inspection and food safety certification. When I asked home bakers if they were baking in licensed kitchens, the answers were surprising!
An alarming 69% of bakers surveyed claimed to be baking in unlicensed kitchens.

22.5% of bakers are baking in fully licensed kitchens

Only 2.3% of bakers surveyed are baking in a commercial kitchen.
Why did such a large percentage of bakers report they bake in unlicensed kitchens? It's possible that some of the bakers are in a state that does not require kitchens to be licensed. If I were to ask this question in a survey again, I would include an option that focused more on health inspections in home kitchens. That would give a more clear picture of cottage food operations that are not required to be licensed.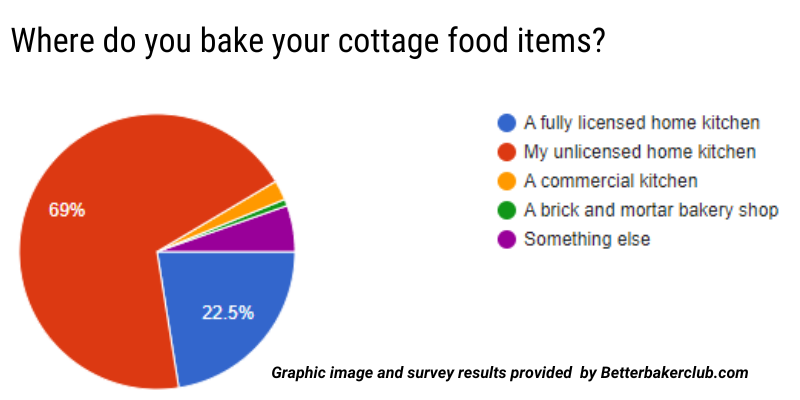 For help with learning the legal requirements of your home baking business check out my Home Bakery Regulations Course. It's a great way to learn about state regulations, and local and state laws. Get familiar with the best things to include as you plan your home-based baking business.
What is the next step for home bakers?
Above all, the home bakers who participated in this survey have big plans for their future! When asked what their next step is for their baking business, here is how they answered:
57.7% of bakers want to create a predictable part-time income from their baking

21% of bakers would like to leave their full-time job and bake from home full-time.

14.4% of the bakers responded that their next step is to transition into a commercial kitchen.

7% of the bakers surveyed are interested in opening a retail store and no longer baking in a private residence.
In addition to this survey-style post, here are other popular posts on the blog
The Completely legal way to sell baked goods online.

https://betterbakerclub.com/selling-home-baked-goods-online-using-facebook/

Top 10 places to sell your handmade items.

https://betterbakerclub.com/top-10-places-to-sell-your-handmade-items/

Starting a home baking business: A step-by-step guide.

https://betterbakerclub.com/home-based-baking-business/

The complete list of Instagram captions for your bakery. https://betterbakerclub.com/complete-list-of-instagram-captions-for-your-bakery/