An email list in your home bakery business is the best way to connect with past customers and get repeat sales! This post will answer all of your questions about why you need an email list for your home baking business and how to get started collecting emails from your customers.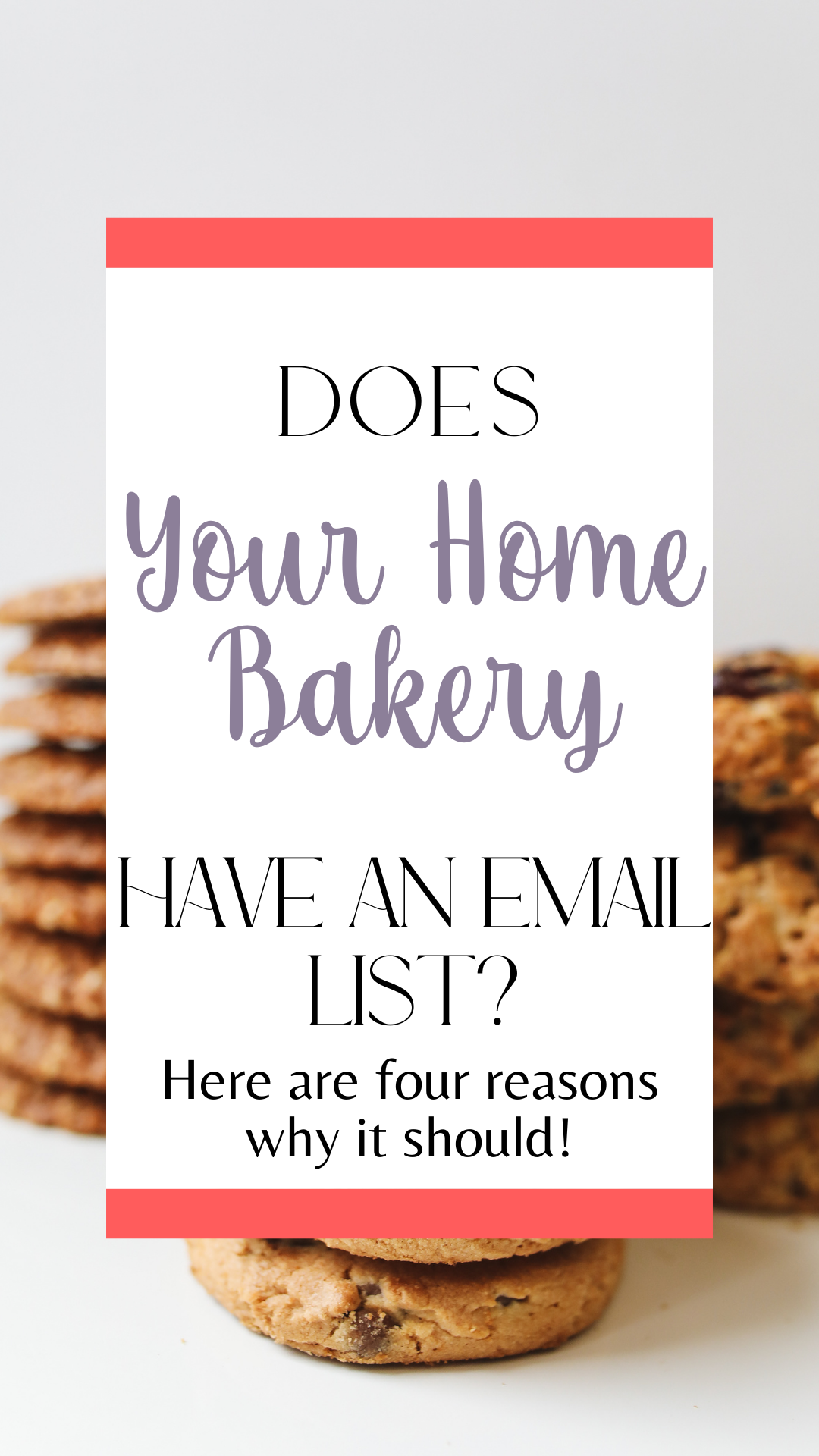 The benefits of having an email list in your home baking business
An email list is the best way to get repeat customers. Building an email list of people who know, like, and trust you can help you grow your baking business.
Here are four reasons why an email list can help you:
Send out regular newsletters to your customers
Re-engage with customers who haven't ordered in a while
Announce your seasonal specials
Send thank-you notes to your amazing customers
Use your email list to reach out to past home bakery customers
Have you ever heard the old saying … it's easier to keep an existing client than it is to gain a new one?
It still rings true today, and the best way to keep existing clients is to regularly stay in touch with them and remind them of why they became a customer in the first place.
So let me ask you, what are you doing in your baking business to retain your current customers? If your answer is " I don't know" then an email might be the answer.
An email list can help you stay engaged with your customers and remind them of why they became a customer of yours in the first place.
An email list is a great way to stay "top of mind" with your customers.
There are several ways to build an email list. Here are the basic rules of email marketing:
Your customers need to opt-in and give permission for you to send them marking material via email.
There are several email service providers that can help you manage this process. A few examples are MailChimp and Convertkit.
Keep in mind that email service providers often charge for their services but the free version is usually enough for you to get started.
How to build an email list in your home bakery business
If you're ready to set up an email list in your home baking business here are some tips to help you get started.
You will need a way to collect email addresses with an opt-in feature.
You will need to ask for consent to collect your customer's email addresses and add them to your list.
Ask your customers if they would like to get notified of upcoming events and specials. This will legally allow you to add them to your email list.
If you have a website you can offer a popup or an opt-in button for your customers to subscribe to your email newsletter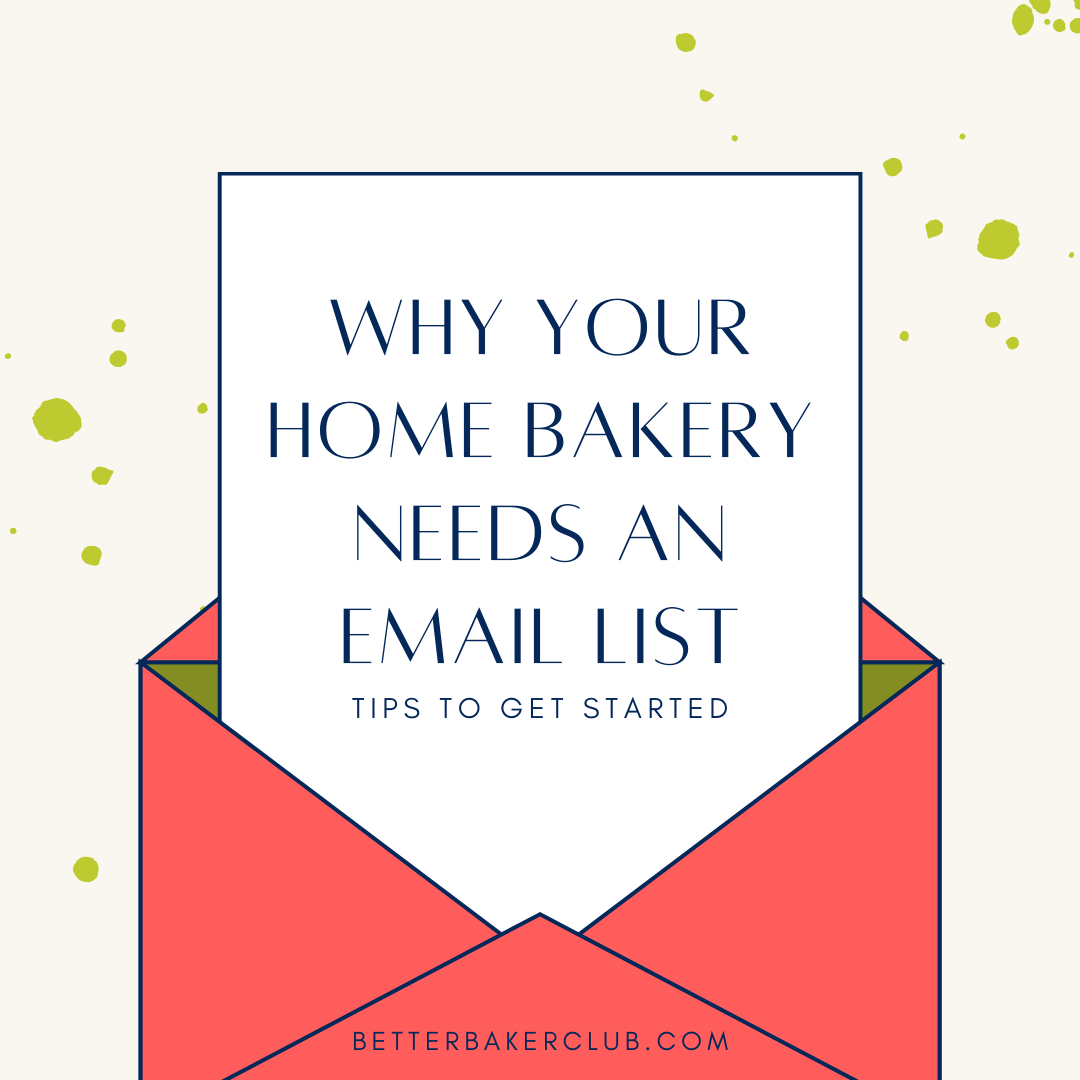 How to use your email list to market yourself and get returning customers
Getting your past customers to reengage with you is one of the biggest goals that you will have when you begin to create an email list of customers. Here are a few ideas to help you when you want to reach out to the customers that have signed up for your email list.
Send out a weekly or a monthly newsletter with a list of specials that you are offering
Tell your customers about your pop up events and in-person events for the month ahead
Include a link to place an order
Let your customers know how to pre-order any of your specials
How to get your bakery customers onto your email list
As you are beginning to build your email list you may need to have an incentive for your customers to sign up. Here are a few ideas for how to get your customers to ask to be on your email list.
Offer a VIP club where you send your customers a list of specials before anyone else. This way, they can have access to the premium spots on your availability calendar.
Create a simple lead magnet that will entice your customers to order from you. Some ideas for this are:

Kid-friendly areas to host a birthday party in your town
List of gluten-free ingredients that are easy to bake with
My five favorite food bloggers to follow
The best places to dine out with kids and this area
Tips to serve and use the most popular items on your menu
If you are frequently booked, the VIP club offers the opportunity to get a spot on your calendar, then this can be the incentive that your customers need to opt into your email list.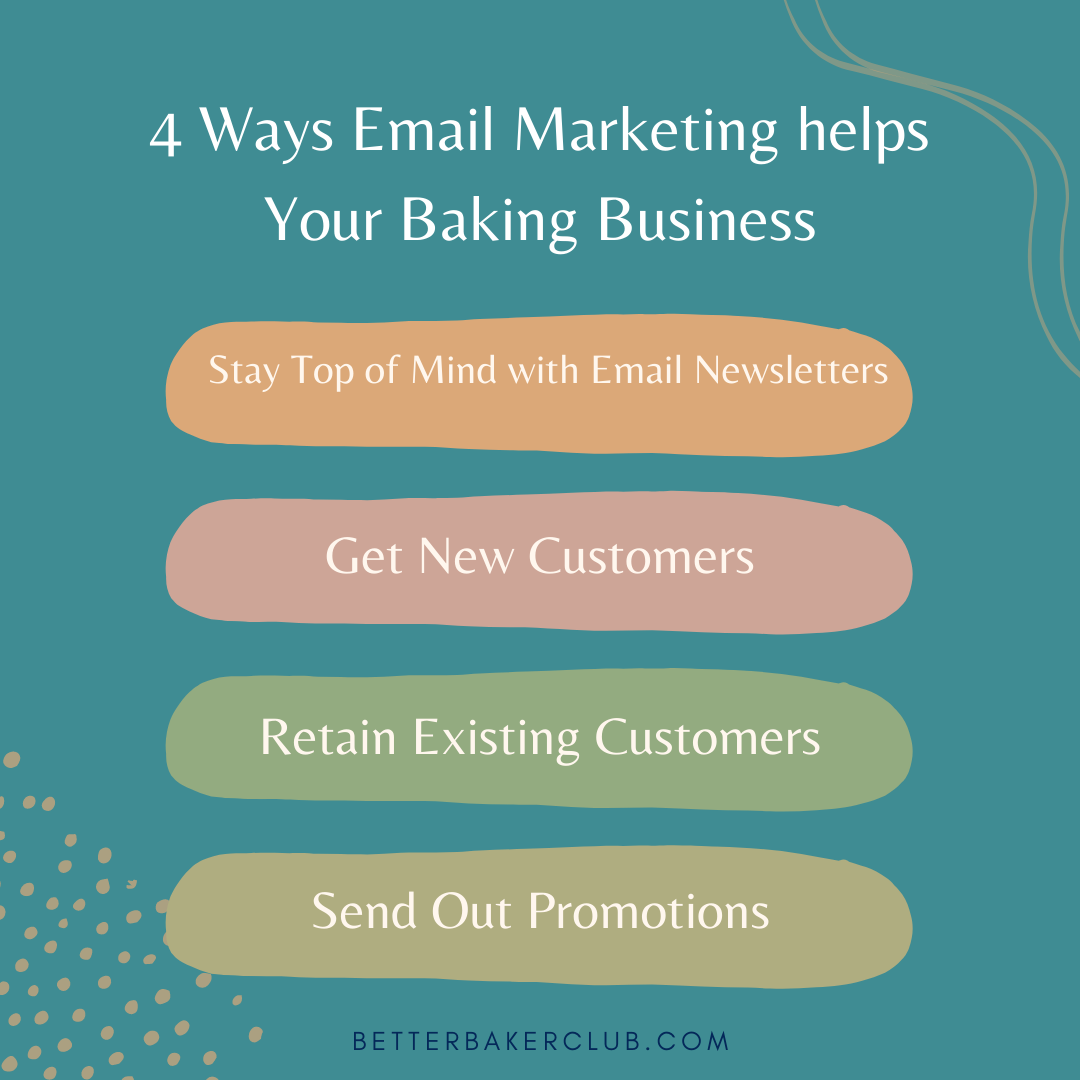 Your home bakery business will thrive with an email list
I hope that you have gained some new ideas about getting return customers in your business. Reaching out to customers who have ordered from you in the past is the best way to re-engage and create new orders.
Be sure to use your email list regularly to send out weekly or monthly newsletters that include your basic menu as well as your specials.
Tell your customers about when you will be hosting in-person events like pop-up shops and farmers' markets.
Include a link for your customers to order from you right from your email.
Be sure and let your customers know how they can preorder any of your special items. I
It always helps to have an incentive for them to join your email list so think about creating a VIP club or a special freebie that your customers can download when they join that is a benefit to them.
I'm excited to hear from you about what you plan to do with your email list. Let me know in the comments if you have an email list for your baking business and what your best tip is for creating repeat customers.
My favorite email marketing platform is Convertkit!
If you're ready to get started with building your email list then you will need to choose an email marketing service. There are many email marketing services available but my favorite, and the one I used to email all of my clients, customers, and blog readers is Convertkit.
Convertkit makes it so easy to send email broadcasts to your entire email list and segment your list based on your customers' preferences. You can create tags for different types of customers and send emails that are specific to that tag.
If, for example, you have a number of customers who are wedding cake clients, you can send them newsletters that are specific to anniversary cakes. baby shower cakes, 1st birthday cakes, and all of the things that a wedding client would be interested in.
I love Convertkit because I can customize my emails to each type of customer I have.
Click here to get started with Convertkit today.
If you liked this article, you might also enjoy How To Take Payments in Your Home Bakery, and How to Transition to a Commercial Kitchen.