Planning the perfect menu for your home bakery is no easy task. Before you add your favorite dessert or pastry to your menu, you need to decide how your new bakeshop will profit, and stay organized as you design your menu.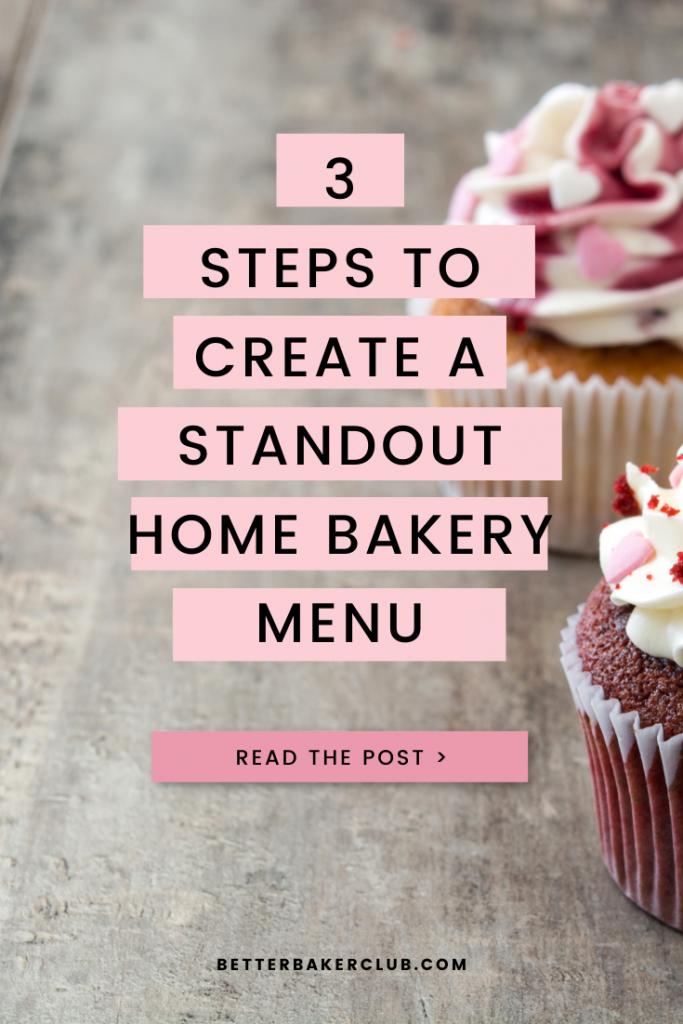 Let's get started with your dream bakery menu planning!
Are you ready to learn some tips for how to decide what to put on your home bakery menu? Let's take a look at the process of planning a bakery menu step-by-step.
The first step for planning your bakery menu is to think like a business owner
When you first start planning a bakery, you are probably thinking of all the delicious desserts and pastries that you enjoy baking and eating. As a new business person, however, you're going to want to shift your thinking to focus on what's best for your business instead. Some of the things you'll want to start to consider are cost, labor, and customer preferences.
How much does your dessert cost to make?
Do you have a favorite recipe that you have perfected? You can start with something you already bake and add up the cost of ingredients and packaging. Save your receipts when you buy ingredients for baking and make a list of what you paid for them.
How much labor is involved in your bakery menu?
Another thing to think about is how long it takes you to make your desserts. If you are spending all day in the kitchen preparing your cakes, cookies, or other treats, then you'll need to charge for that.
Choose high-profit items for your bakery menu
The best items for your menu are going to be things that you can charge enough for that you will be able to cover the cost of ingredients, pay yourself for your time, and also have some money left over for profit.
How do you know what to charge for your desserts?
Knowing what to charge for your desserts is the million-dollar question! Here are a few things to keep in mind when choosing prices for your home-baked goods.
Charge what your market will allow
The price you choose will affect the perception of quality
Be sure to cover your cost and profit needs
Different geographic areas will pay different amounts for similar products. A loaf of banana bread can sell $15 in one state and $7 in another. You'll need to do some research about the going rates in your own area.
If you price your products low, in hopes of capturing more customers you may run the risk of appearing low quality. Perception is important when it comes to pricing, so choose your price carefully.
You can always start in the mid-price range and raise your prices when you feel ready. You'll know you are ready to raise prices when you have a fully booked bakery and your customers will happily pay your current price.
The second step in bakery menu planning is to think about what your customers want
Now that we've looked at the profitability of your desserts and pastries, let's learn how to know what your customers want to buy from you.
Which things make them happy?
Have you ever noticed yourself making an impulse purchase? You walk into a store and buy something you weren't planning on buying but you just couldn't resist? The idea of owning it….just makes you happy!
It's no different with your home bakery customers. If you want to capture impulse purchases that make your customers happy, then you need to put items on your menu that are irresistible! The good news is that lots of people find baked goods irresistible! A delicious slice of ultra-moist chocolate cake, a perfectly buttery fruit-filled scone, or an adorable sugar cookie iced to perfection.
Finding the treats your customers can't resist means that you'll need to do some research. You can do this by scrolling through social media, looking at other local bakery accounts, talking directly to your past or future customers, or sending out a survey.
You're looking for the items that they get excited about, just like you would when you make that impulse purchase when you're shopping for yourself.
Which services do your ideal clients need?
Aside from impulse purchases, you also want to learn about what your clients need. How can you solve a problem for them? What problems do your products solve?
Do you offer cakes for different occasions?
Do your baked goods save your customer time in the kitchen?
Do you offer giftable treats that clients can order online and have delivered?
Positioning yourself and your bakery menu as a solution to a problem will make you stand out from the crowd. It doesn't need to be complicated or expensive to pull off, just identify the need and focus on how you can make your client's life easier and better!
The Third Step to Creating a Bakery Menu is to use apps
Now that you have strategically chosen your menu items based on profitability, labor, and your client's wants and needs you can begin to assemble your bakery menu items.
How many bakery menu items should you include?
As bakers, we love to show off our talents and gather recipes to try online and in books. Chances are, your list of ideas is much longer than your ability to bake them all in a week!
My best advice is to start simply and include the items that your customers ask for most. Consistency is the key, so choose a menu to start with that you can maintain for a while. Your goal is to produce a great menu week after week. You can always (and should!) add seasonal specials into your menu to keep it interesting.
Bakery Menu Planning Tools
With so many online options for menu design, you can have a print-ready bakery menu in no time. Use templates that include places for photographs, easy to update options, and engaging customer features like links to reviews and recommendations.
Use online tools like Menutech
Menutech is a menu planning website that allows you to write and print your list of products with all dietary and allergen information included. Keep your guests satisfied, safe and hungry for more treats. Here is a link to get started with Menutech's menu planning website.
Use a free menu template PDF
Vistaprint offers a free menu template PDF download that you can use to help you format your home bakery menu.
Restaurant menu design software
Here is a list of websites that offer professionally designed menu templates for your bakery menu layout, and printing needs.
Scroll stopping photographs
Product descriptions
Up-to-date prices
Remember that as home-based bakers, we lack the storefront with all its sights, sounds, and aromas to entice customers. Your digital or printed menu should offer a similar experience by way of photos, product descriptions, customer quotes, and reviews.
More tips for bakery menu planning
Here are a few more things you can include on your bakery menu
Expand your customer reach by offering catering on your bakery menu
Consider adding platters, trays, and assortment boxes to your menu. You can group items and offer a bundle price to encourage clients to use your services for catered events.
Are your products wedding reception friendly? Try listing them on your menu as wedding reception dessert ideas for increased sales possibilities. Here are some ideas for desserts that can be used as wedding reception treats:
Mini pies
Donuts
Cookies
Tarts
Cupcakes
Macarons
Popcorn
Churros
Fresh and dipped pretzels
Dipped fruit
You can offer these desserts as wedding reception sweets ideas as part of your catering menu. You may want to offer pricing by the dozen to accommodate large and bulk orders.
Assessing Past, Present, and Future Ingredient Use
You may find that as you grow the menu offerings that your inventory grows as well. For each new item you decide to add to your menu, you have new ingredients and packaging to consider.
One rule of thumb is to rotate your inventory 4 times per month. That means that you are using most of your products weekly and some monthly. If you find that you have ingredients that are not being used monthly you'll want to find a way to put them on your future menu quickly. Try to avoid hanging onto products and waiting for an entire year until you can use that product again.
Tracking Social Media and Sales
Take a look at how your social media reach is related to your home bakery sales. Are your sales coming from your social media customers or your in-person farmer's market and pop-up sales? You should consider how you can measure your social media reach performance. If you can measure your social media effectiveness you can see what items your social media followers are asking for.
Your cafe bakery menu
Do you have a retail bakery shop that needs a more expansive menu? Start by writing a menu that meets the needs of your in-person customers.
Retail bakery menu planning help
Focus on your core menu of profitable items and eventually expand into drinks and savory items as you see the demand from your customers growing.
Highlight your scratch bakery menu items
We know that the biggest profit and highest customer satisfaction comes from unique made-from-scratch items. However, sometimes you need to combine convenience items with scratch-baked treats for practical reasons.
Since scratch-baked goods generally have a lower food cost, try to focus your promotions and sales on your scratch-baked items for maximum profitability.
Start your business off right with these bakery menu ideas and menu planning tips
In this article, we've seen how you can plan a bakery menu that creates maximum profit for your home bakery. As long as you take into consideration your profitability along with your customer wants and needs you'll be able to have a menu that both you and your customers can't get enough of! When you're ready to print your menu or make it available to your online customers, you can use any number of online templates to help you show off your beautiful creations. Remember to bundle your items so that they are available for catering and wedding reception events.
What's your current bakery menu challenge? Let me know in the comments your questions about bakery menus.