If you like a homemade pumpkin pie with your Thanksgiving dinner then you need to try this easy copycat recipe for Costco pumpkin pie. It's got a creamy texture and a homemade pie crust that is perfect for feeding a large crowd. Pumpkin pie this good isn't just for Costco members anymore!
Why is Costco's pumpkin pie so famous?
Costco is known for its pumpkin pie because of how amazing it tastes! It has inspired many copycat recipes for people wanting to bake their own version of their pumpkin pie.
Costco pumpkin pie is so popular, it even has a social media account! You can find them on Facebook @Costco Pumpkin Pie
According to The Costco Connection, Sue McConnaha, Costco's VP of bakery operations developed the recipe in 1987. The same recipe has been used for over 30 years.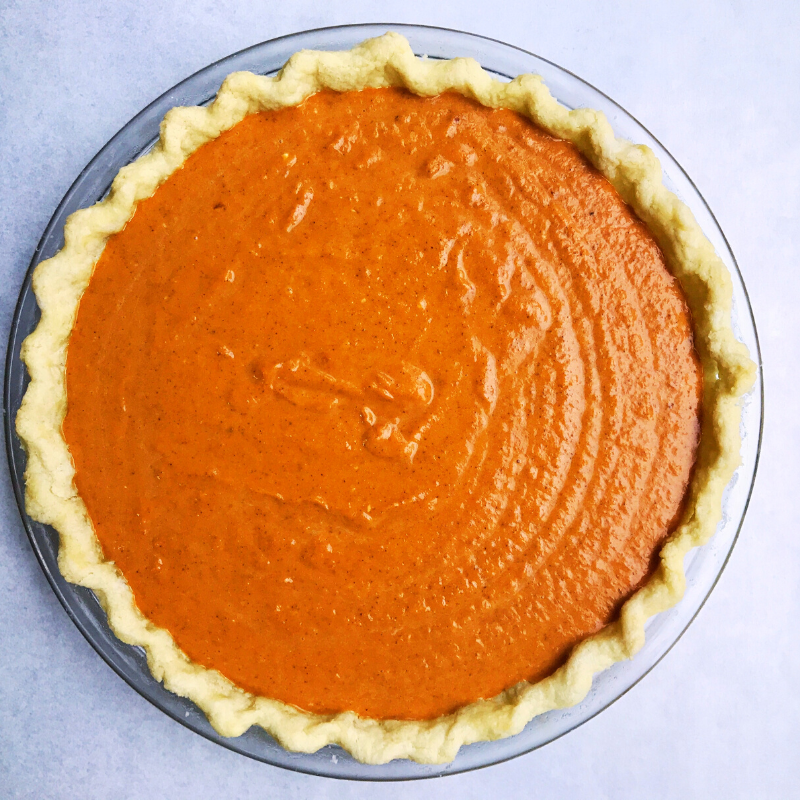 Ingredients in Costco's pumpkin pie
My copycat Costco pumpkin pie recipe uses the same basic ingredients that Costco's version does. Although we can't be sure of the exact recipe, trust me when I say…this next level recipe makes the best pumpkin pie!
Dickinson's pumpkin is best for pumpkin pies
Costco pumpkin pie starts with Dickinson pumpkins. Dickinson pumpkins are a variety of pumpkins that are grown specifically for making canned pumpkins. Costco reportedly bakes their own Dickinson's pumpkins that go into their pumpkin pies!
Libby's pumpkin puree is pure canned pumpkin
If you don't want to bake your own pumpkin for the pie filling, you can use a canned pumpkin. Libby's uses Dickinson pumpkin variety in their pumpkin puree and has the right consistency for my copycat Costco pumpkin pie recipe.
Pumpkin pie is technically a custard pie
Arguably, the best part of any pumpkin pie is the spiced pumpkin-based custard filling. My Costco copycat pumpkin pie recipe is made from a base of brown sugar-sweetened heavy cream, whole eggs, and extra egg yolks to thicken it.
How to make your own pumpkin pie spice
Before I start my holiday baking, I always mix up a batch of homemade pumpkin pie spice. I use it in so many recipes this time of year.
To make your own pumpkin pie spice, whisk together:
3 Tbsp. ground cinnamon

2 tsp. ground ginger

2 tsp. nutmeg

1 ½ tsp ground allspice

1 ½ tsp ground cloves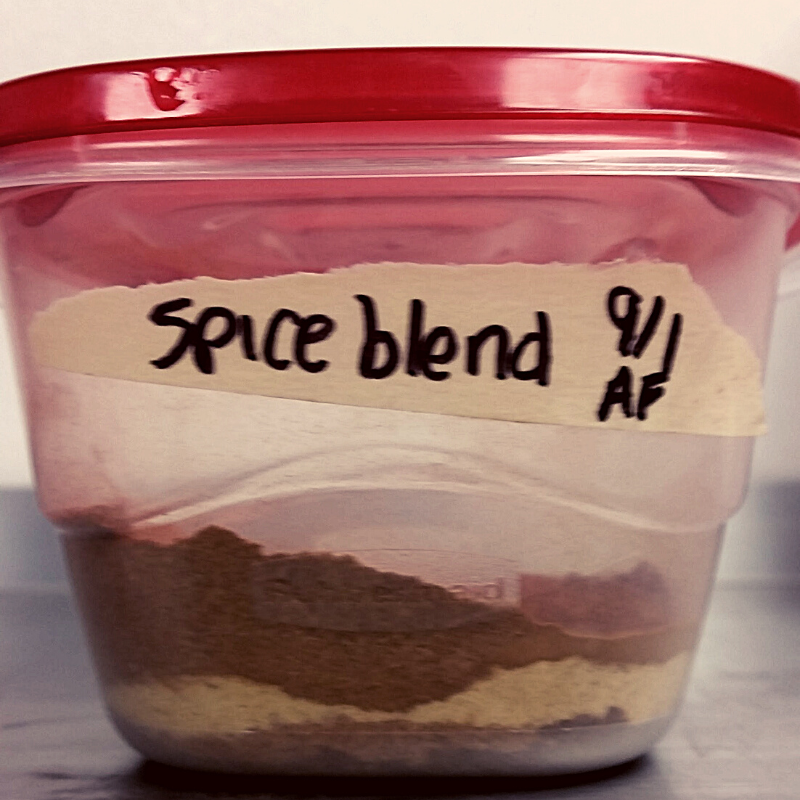 Secrets to a flaky pumpkin pie crust
The secret to a flaky pumpkin pie crust is a pre-baked pie crust. Anytime you bake a custard-style pie like this you should blind bake the pie crust. Custard filling has a lot of moisture. If the filling and crust get baked together all that moisture will make the crust soggy. Click here for a step-by-step tutorial on how to pre-bake pie crust.
Homemade (mostly) butter pie crust recipe
I've tried a lot of pie crust recipes and this one is my all-time favorite pie crust recipe. The combination of mostly butter with a little shortening for texture creates a pie that is both flavorful and flaky.
It's simple to make in a food processor and makes enough dough to fill a deep dish pie plate and have a little left over for crust decorations.
Recipe notes and tips for success
Baking the pumpkin-If you're using a pie pumpkin, split it in half, scoop out seeds and bake at 350

° for 1 hour. Scoop the flesh out and puree in a high-speed blender. Add a little water if needed.

Making pie crust from scratch– start the dough 1 hour early. Give the dough at least 30 minutes to chill before rolling out the crust. Roll out the dough into a 9-inch pie dish and crimp the edges. Allow the rolled dough to chill again for another 30 minutes
Blind bake- Pre-bake the pie shell to prevent a soggy pie crust. Line the pie shell with aluminum foil and weigh it down with 2 cups of dried beans. Bake for 20 minutes @ 350°. Remove the beans and foil.
Pumpkin mixture- While the pie crust is baking, mix the ingredients for the pumpkin mixture following the recipe below.
Crust decorations- Decorate your pumpkin pie however you like! Lattice tops and small leaf cookie cutters are perfect for decorating the top of the pie this time of year. For an extra polished look, brush the decoration with egg wash and sprinkle with sugar.
Use parchment paper– Place the pre-baked pie crust on a sheet pan lined with parchment. Fill with the pumpkin mixture and bake at 350°
Homemade Flaky Pie Dough
This is my all-time favorite pie crust recipe. It combines butter and shortening for the best flavor and texture. Plus, its easy to make in a food processor!
Ingredients
1 1/4

cups

unbleached all-purpose flour

1

tbsp

sugar

1/2

tsp

salt

6

Tbsp

unsalted butter

cut into 1-inch pieces and chilled

1/4

cup

vegetable shortening

measured and chilled

3

Tbsp

water

very cold

1

Tbsp

white vinegar
Instructions
In the bowl of a food processor fitted with the blade attachment, place flour, salt, and sugar. Pulse until combined, approx 30 seconds.

Add the chilled butter and shortening. Pulse for about 8-10 quick pulses until the mixture resembles cottage cheese. Fat pieces should be well coated in flour and approx pea-sized.

Pour the mixture into a medium mixing bowl and lightly sprinkle water and vinegar measurements over the top of the fat and flour mix. Using a rubber spatula, gently fold in liquids.

Need very briefly until mixture comes together. Cover in plastic and chill for 30 minutes before rolling out.

Remove the dough from the refrigerator and allow it to come to room temperature for 15 minutes before rolling. Place the dough on a floured surface and roll into a circle about 10 inches in diameter.

Gently lift the dough into a pie plate and lightly press it into place. Trim any overhanging dough, and crimp or flute the edges.

Place the pie crust back in the refrigerator for 30 minutes before baking.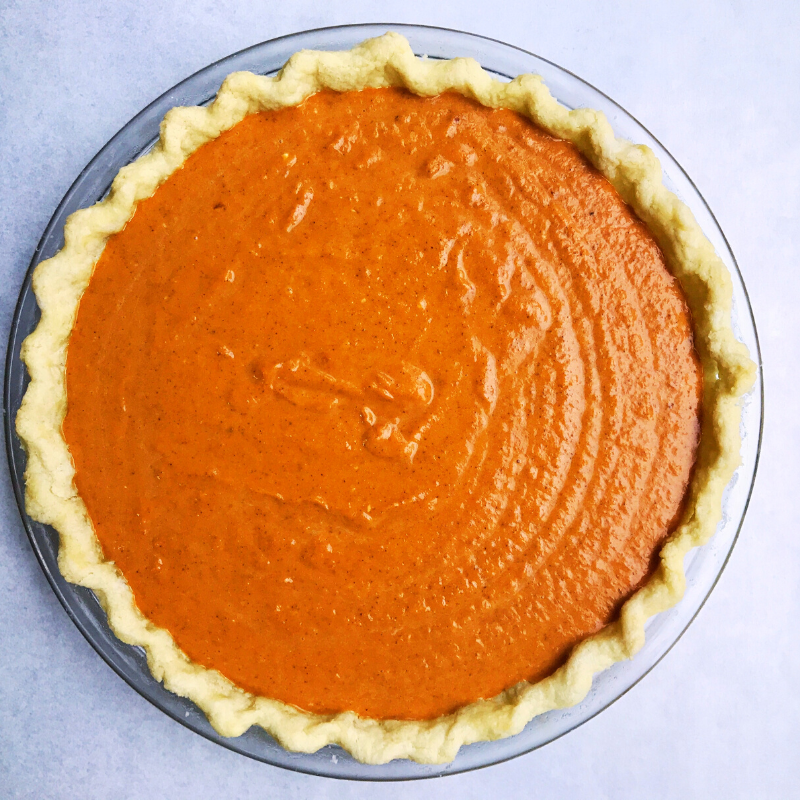 Costco Copycat Pumpkin Pie Recipe
This easy copycat recipe for Costco pumpkin pie has a creamy texture and a homemade pie crust that is perfect for the holiday season!
Ingredients
2

cups

Cooked Dickensen pumpkin, or Libby's Pumpkin Puree

1 1/2

cups

Heavy cream

2

Whole eggs

2

Egg yolks

3/4

cup

Brown sugar

1 1/2

tsp

Pumpkin pie spice blend

1/2

tsp

salt
Instructions
Preheat the oven to 325 degrees

Whisk pumpkin puree, heavy cream, whole eggs, egg yolks, brown sugar, pumpkin pie spice, and salt together until smooth. Pour into partially baked pie crust.

Bake in the preheated oven for 90 minutes, or until edges are set and the center is firm but jiggly.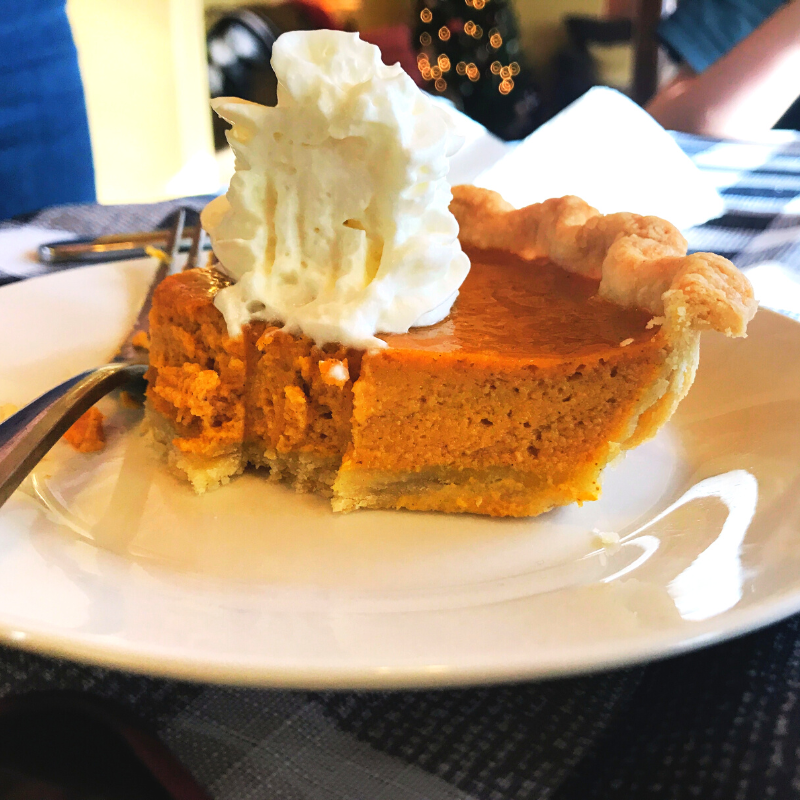 The best pie for the holiday season
If this is your first time baking a Costco-style pumpkin pie, get ready for rave reviews from family and friends. Last year I made this pie for a large family gathering and got so many compliments! My family said it had the most creamy texture and was the best homemade pumpkin pie they had ever tasted! Who knows, this year I may make one just for myself and eat the whole pie!
Let me know how yours turns out in the comments below!