A cupcake decorating party is such a fun birthday party activity for kids and kids at heart! Check out these easy recipes and tips to help you make your event a huge success.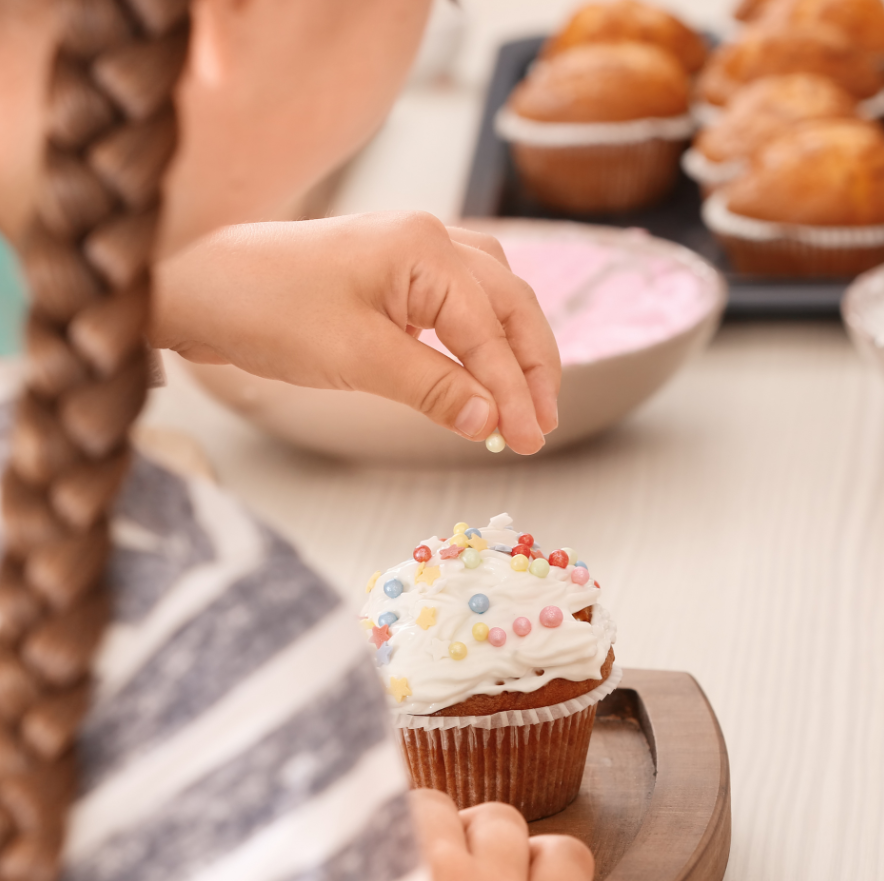 Back when I owned a cupcake shop, we offered a variety of activities like a DIY cupcake party, cookie decorating classes, and baking lessons. But let me tell you, the most popular was always the DIY Cupcake Decorating Parties.
Ready to get started? Here's How to Fill and Bake the Perfect Cupcake and this is my favorite Peanut Butter Icing Recipe.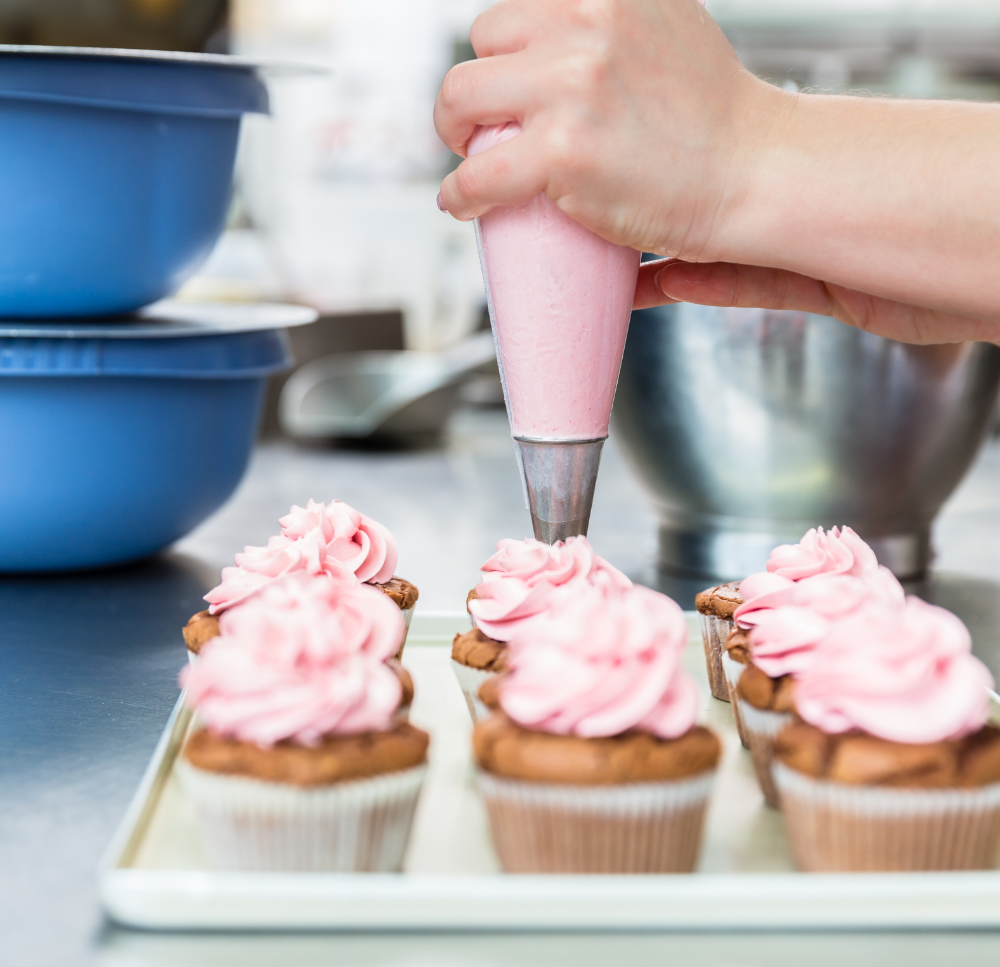 What do you need for a DIY cupcake party?
Here are the basics for hosting a successful DIY cupcake decorating party:
Start with unfrosted cupcakes: Offer a variety of flavors like vanilla, carrot cake, chocolate, and red velvet.
Set-up the toppings: Pre-fill piping bags for easy decorating and make sure you have an array of toppings on hand.
Create little work-stations: Lay down a disposable tablecloth and use a cookie sheet to make a workstation.
Place the colored frosting bags and a selection of toppings in the center of the table for easy access, allowing the kids to let their creativity soar.
At what age you can start baking with kids?
Don't worry about making a mess! Baking with kids develops lots of skills, all while building great memories together.
Here how to customize your party for different ages
Preschool aged kids enjoy:
Holding something
Counting with you while you add ingredients
Mixing and stirring
Younger kids like:
Planning the activity
Finding the ingredients
Scooping batter into pans
Teens like more of a challenge:
Choosing a more complicated decoration style or theme (Cupcake decorating kits are a big hit with this age group)
Cupcake Wars style party themes are fun
Interesting and different toppings
Tips for an easy and fun cupcake decorating party
Pre-Planning Your Cupcake Decorating Party
The first step in throwing the best cupcake decorating party ever is pre-planning. Decide on the party theme you'd like to offer. Get disposable table cloths, paper plates, and even disposable icing bags ready.
Setting Up for Your Party
Prepare the decorating station with pre-made cupcakes, or let your birthday guests bake their own. A few boxes of cake mix and a variety of cupcake liners will provide an hour or so of fun. Also, set out bakery boxes for guests to take their cupcake creations home as a party favor. This also reduces the additional cost for separate favors!
The Party Guests Arrive
Now comes the fun time. Hand out the piping bags and let the kids decorate their own cupcakes. For younger kids, have a few adults available to help. One thing we did was tie knots in the top of the pastry bags to keep frosting from squeezing out. For older kids, turn it into a 'Cupcake Wars' scenario, where they can compete on different cupcake designs.
Recipe Notes
See the recipe card below for my easy homemade buttercream frosting recipe. One batch makes enough to frost 24 cupcakes, which is enough for a party with 8-12 kids.
Feel free to use store-bought frosting to save time. It's all about making sure the party guests have a great time. They won't care if the frosting is store-bought or homemade.
Storage Tips
Cupcakes are best stored in cupcake boxes to keep them fresh. I like these boxes because they show off the works of art inside.
Recommended Supplies for a Great Cupcake Decorating Party
Piping Bags: Squeezing the bags and swirling the frosting is the best part!
Variety of Sprinkles: I love using sprinkle sets to get that texture and color pop!
Cupcake Liners: Choose from different types of cupcake liners to suit your party theme.
Related Recipes from My Blog
Here are a few of my favorite cupcake recipes you can use to offer variety at your next cupcake decorating party.
Customers always rave about this Red Velvet Cupcake, and these Carrot Cake Cupcakes are a classic.
A cupcake decorating party is not just a fun way to celebrate a birthday; it's also a wonderful opportunity for kids to express themselves in the comfort of your own home. So the next time you're thinking of birthday parties, remember, cupcakes are always a delicious treat and decorating them is a special kind of fun.
If you found this guide helpful, I'd love it if you could leave a 5-star review. Happy cupcake decorating!
Chocolate Cupcakes
Super moist and chocolaty
Ingredients
1

cup

All purpose flour

1

cup

Granulated sugar

1/2

cup

Unsweetened cocoa powder

extra dark

1

tsp

Baking powder

1/2

tsp

Baking soda

1/2

tsp

Salt

1

Egg

1/2

cup

Buttermilk

1/2

cup

Vegetable oil

1

TSP

Vanilla

1/2

cup

Hot water
Instructions
In the bowl of a stand mixer fitted with a whip attachment combine flour, baking soda, baking powder,salt ,cocoa powder and sugar.

Combine the eggs, buttermilk and vanilla. Set aside.

Combine water and oil in a large measuring cup and add to the mixer with the dry ingredients. Mix on low speed for 1-2 minutes. Scrape sides and bottom of bowl.

Add the egg and buttermilk mixture to the chocolate batter. Mix on low for 2-3 minutes until batter is free of lumps.

Pour batter into a container and use for up to 6 days.

To bake, line cupcake pan with paper liners. Portion batter into pan by using a 2 oz. scoop.

Bake cupcakes in a 325° oven for 25-28 minutes.

Allow to cool approximately 5 minutes before taking cupcakes out of pans.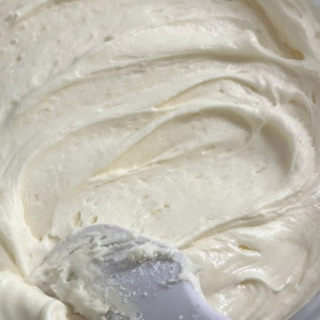 Ultimate Buttercream Frosting
Ingredients
1

lb

Butter

Unsalted, softened

2

lb

Powdered Sugar

1/2

tsp

Vanilla

1/2

tsp

Salt

1/3

cup

Milk

2-4

drops

Cheesecake Oil

Optional
Instructions
Using an electric or stand mixer fitted with a paddle attachment, beat softened butter until it is soft and smooth. Approx 5-10 minutes depending on how soft the butter was to start with. You may need to scrape the sides to fully incorporate the butter.

Change to whip attachment and add powdered sugar, salt, vanilla, cheesecake oil, and milk. Begin mixing on low speed then slowly increase to medium. Continue mixing until the buttercream is light and fluffy. The key to this buttercream is whipping it. It transforms into a silky, melt-in-your-mouth frosting.