Are you looking for a great birthday party idea to do with kids? Look no further than a DIY cupcake decorating party. Hosting a cupcake decorating party can be easier than you think. Baking and decorating cupcakes with kids is a fun and educational activity. You can spend quality time together and make memories for life. Baking and decorating projects offer many different age-appropriate tasks for kids, from toddlers to teens. I'm going to show you how much fun it can be to host a decorating party. I'm even including my easiest buttercream frosting recipe.
Affiliate Disclosure– If you click on a link in this post then I get paid. This is called an affiliate commission. It does not cost you anything and you do not pay more for the product. This is how I make money from my blog and am able to continue to provide valuable content for my readers.
In this post you'll learn:
What types of baking and decorating skills kids learn by age

Suggestions for easy ways to keep it simple and fun

Supplies and decorating kit suggestions to get you started
The Ultimate baking activity is decorating cupcakes
When I had my cupcake store I offered lots of different baking activities for kids. There is something about having kids in the kitchen with you that makes work feel like play!
At the bakery, we offered baking lessons, summer camps, and birthday parties. Of all those activities, the most popular was a Decorate Your Own Cupcake Party. Kids as young as 3 and as old as 13 enjoyed this activity. We set out a tray of fun sprinkles, pastry bags of colored frosting, and un-frosted cupcakes in a choice of flavors. One of the things the parents appreciated was that we got all the supplies set up ahead of time. The kids had so much fun squeezing the frosting out of the pastry bags, spooning the sprinkles on to the cupcake, and even decorating the bag that they took the cupcakes home in. I often heard back from the parents and guests about how much fun the kids had!
What age you can start baking with kids
Don't let the fear of a mess hold you back from getting in the kitchen with your kids. You can bake and decorate together, or just decorate if you want to do some of the prep work and keep the activity simpler. Time in the kitchen with children develops lots of skills while building great memories together.
Here is an age-by-age breakdown of different baking and decorating skills :
Preschool ( age 2-5) – holding something, counting with you while you add ingredients, mixing and stirring, tasting an ingredient, or experimenting with an ingredient in a sensory way. ( a bowl of water and some measuring spoons.) Playing with some supplies ( my youngest used to love looking at all the cookie-cutter shapes). Frosting with a spatula or small butter knife. Decorating with colored sugars, sprinkles, and candies.
Elementary school- Planning the activity, finding the ingredients, whisking, sifting, and stirring. Scooping batter into pans, using an oven with assistance. Using a pastry bag filled with frosting. Decorating with a theme. (Cupcake decorating kits are a big hit with this age group)
Tweens- Older kids will enjoy more of a challenge. Choosing a more complicated decoration style or theme, or allowing them more independence in the kitchen while still making it an activity to do together.
Any age– explore their senses, learn responsibility, develop creativity.
Tips for keeping kitchen activities with kids easy and fun
Get supplies ready ahead of time – Decide on the theme or style of decorating you are going to do. The sky is the limit when it comes to options. You can keep it simple and fun with a smaller variety for younger kids, or select colors and a theme for older ones.

Pre-bake the cupcakes -Depending on the project, you may decide to focus more on decorating. In that case, having the cupcakes baked already allows more time for decorating fun!

Use a mix or a kit– the main idea is that you get into the kitchen and bake together. They won't care if its a cake mix, a canned frosting, or a kit.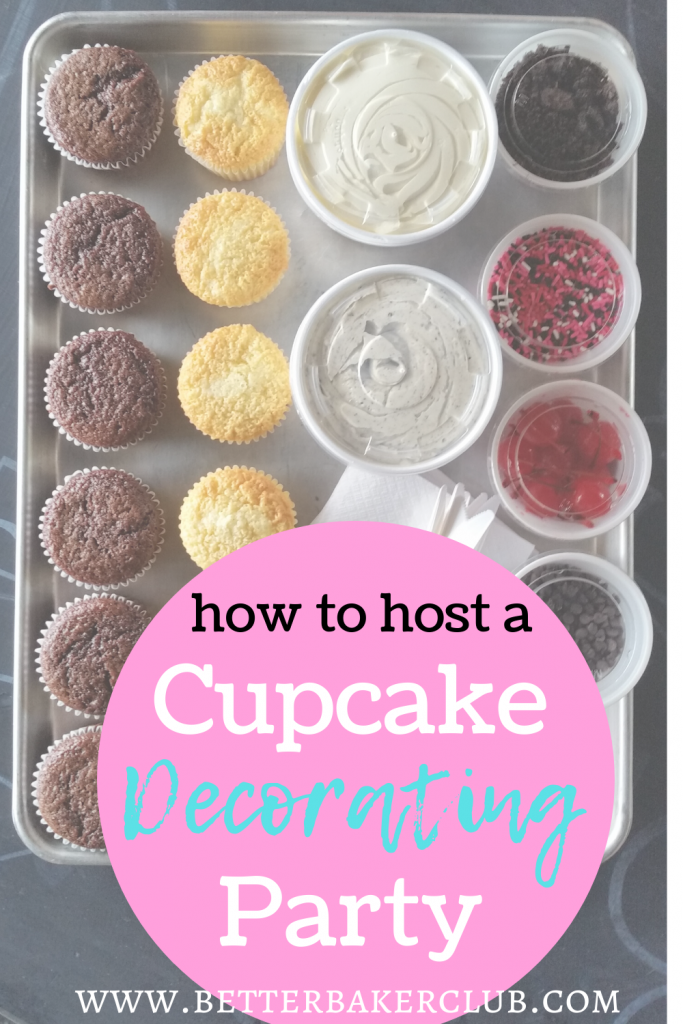 Here are some fun suggestions to get you started.
If you want the complete baking and decorating experience without recipes, shopping, or measuring try one of these fun kits from Baketivity. An all in one Baketivity baking kit for Kids, you get a complete baking experience without finding recipes, shopping, or measuring! Each kit includes clear recipes, pre-measured ingredients, plus extra learning and fun. Now you can keep 1 child or an entire group entertained; without the extra hassle!

Click here to see more of the Baketivity Cupcake Kits

Wilton DIY Licious Mermaid Cupcake Decorating Kit
Decorate 12 Mermaid cupcakes with this easy-to-use kit

Includes light blue and pink candy melts candies, mermaid sprinkles, 24 baking cups, 4 decorating bags, 2 decorating tips, plastic mold and project card

Candy colors: light blue and pink; sprinkles colors: Assorted
Click here to see the Wilton DIY Licious Mermaid Cupcake Kit

My First Cupcake Decorating Book

This book is full of cupcake decorating ideas for kids.( It even has some fun cake pops kids can make) Its got simple to follow instructions and cute illustrations. If you're looking for a baking project to do with kids, this book has lots of great ideas.

Click here to see get Mt First Cupcake Decorating Book.

ROSANNA PANSINO by Wilton Unicorn Cupcake Decorating Kit
Includes 12 cupcake liners, 12 Unicorn horn candles, rainbow sprinkles, 24 Unicorn candy ears
One kit contains enough supplies to decorate 12 cupcakes
Ultimate Buttercream Frosting
Ingredients
1

lb

Butter

Unsalted, softened

2

lb

Powdered Sugar

1/2

tsp

Vanilla

1/2

tsp

Salt

1/3

cup

Milk

2-4

drops

Cheesecake Oil

Optional
Instructions
Using an electric or stand mixer fitted with a paddle attachment, beat softened butter until it is soft and smooth. Approx 5-10 minutes depending on how soft butter was to start with. You may need to scrape sides to fully incorporate butter.

Change to whip attachment and add powdered sugar, salt, vanilla, cheesecake oil and milk. Begin mixing on low speed then slowly increase to medium. Continue mixing until buttercream is light and fluffy. The key to this buttercream is whipping it. It transforms into a silky, melt in your mouth frosting.
If you're looking for a great chocolate cake recipe to use for cupcakes, check out my favorite easy chocolate cake recipe. It bakes perfect cupcakes everytime!