If you're a fan of easy cakes and adore strawberry-filled cake recipes then you'll love these moist little chiffon cakes filled with homemade strawberry filling.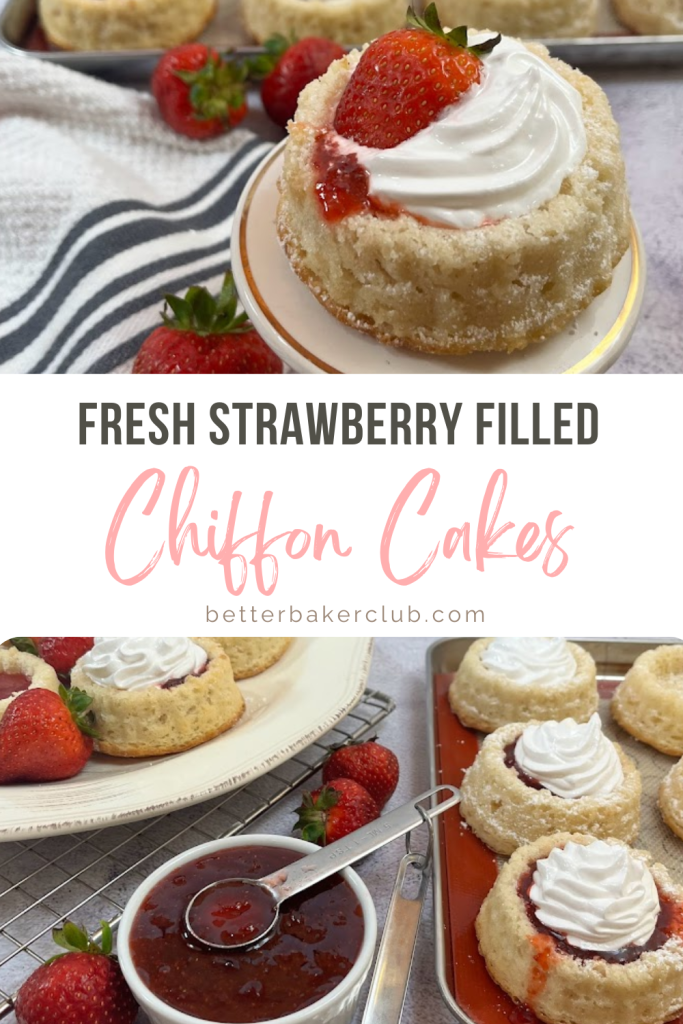 Affiliate Disclosure: I may earn a small commission through affiliate links in this post, but I only recommend products that I have tested and used myself.
How to make fresh strawberry filling
There's no need to wait for strawberry season to make this fresh strawberry filling. You can whip up a batch on your stove top using fresh or frozen berries in just a few minutes.
If you've ever made jam then you already know that strawberries are low in pectin. (That's the fiber found in fruits that helps them thicken into jam when cooked.) That's why I like to add plenty of fresh lemon juice when I make strawberry jam. The acid in the juice helps bring out the pectin from the berries and creates a nice jammy thickness.
I love this recipe because it calls for ingredients that I usually have on hand.
Fresh strawberries– fresh berries are best but frozen will do in a pinch. If you use frozen berries, just add 5 minutes to the cooking time for the extra moisture from freezing.
Lemons– Lemon juice adds a nice bright taste to the jam, while the acid helps with the thickening.
Sugar– granulated white sugar helps thicken the strawberries.
So the next time fresh strawberries are in season, grab a few extra and whip up this delicious homemade strawberry filling. It tastes great with ice cream or even slathered on freshly baked bread.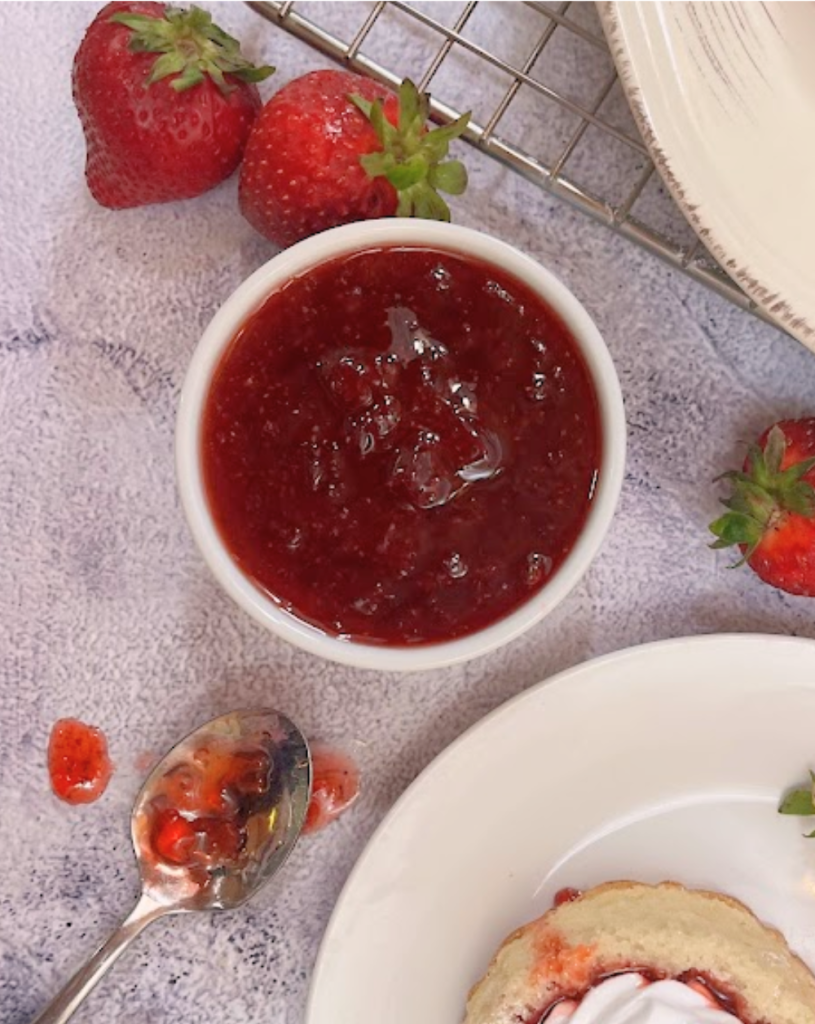 The best cake to serve with homemade strawberry filling
A chiffon cake is the perfect cake to pair with this delicious fresh strawberry filling because it is light and airy and allows the sweet and tart filling to be the star of the show!
A chiffon cake is like a sponge cake, crossed with a traditional cake. It's a white cake that is made with cake flour, baking powder, and baking soda like a conventional cake. But like a sponge cake, the egg whites are whipped and folded in with vegetable oil and whole milk. The result is a light, spongy cake that is delicate enough for all types of fruit filling.
Remember those shortcakes from the produce section?
For this recipe, I wanted to recreate those spongy little shortcakes that are sold in the produce department. As a kid, I remember begging my mom to buy some. I was so disappointed with how they tasted when we got them home. These taste a million times better!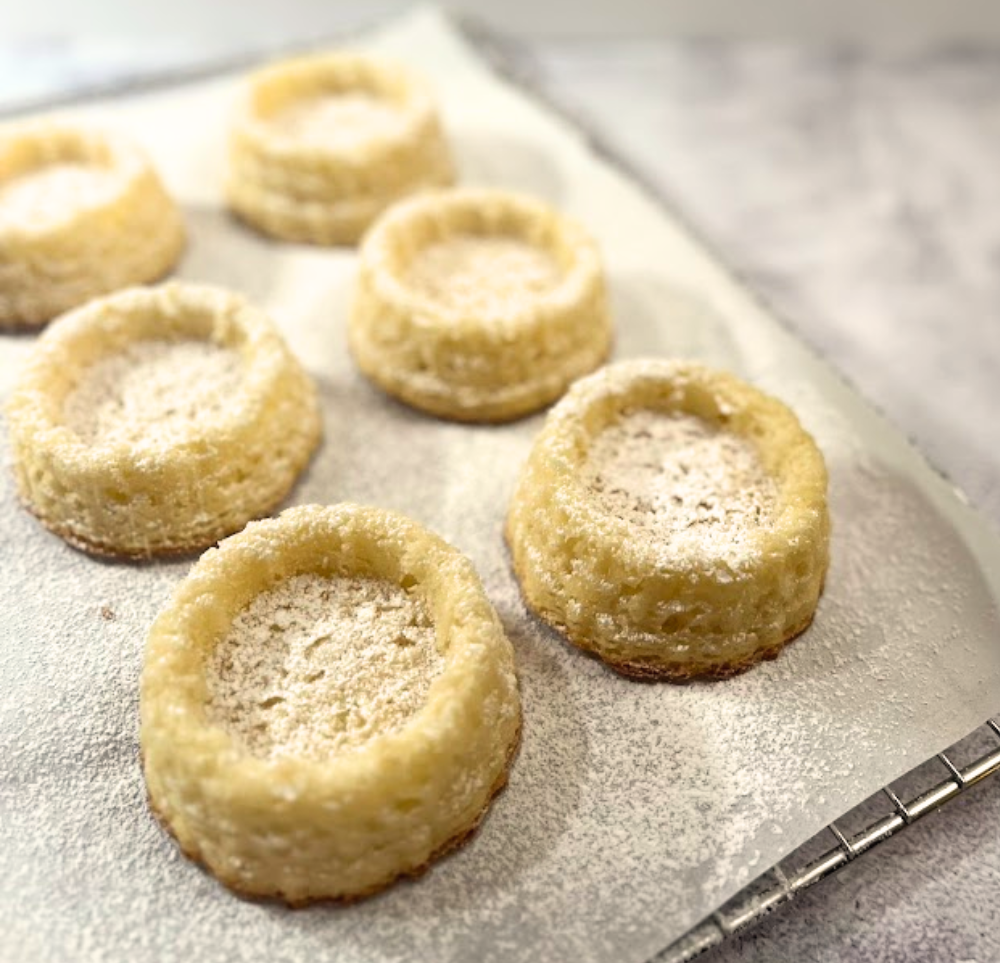 Tips for making perfect mini chiffon cakes
These adorable mini chiffon cakes are so easy to make when you follow these tips:
Prevent your cakes from sticking by brushing the silicone molds with this pan release.
To get all your cakes to be the same size, use a 2.7 oz scoop to portion the batter.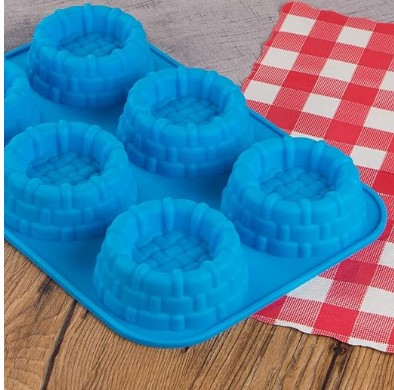 The Perfect Silicone Pan for Mini Chiffon Cakes
I love using this silicone mold to make mini chiffon cakes. They are just the right size and bake up so evenly and golden brown.
Scoop Your Batter for Easy Portioning
This is my favorite way to get uniform-size cupcakes, cookies, and mini cakes. Plus, it keeps your pans drip-free for easy cleanup!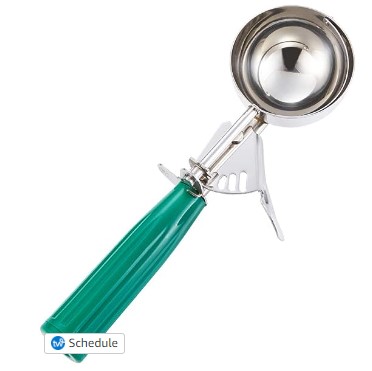 Easy cream cheese frosting recipe
I couldn't make this cake without pairing it with this delicious cream cheese frosting. Although a 7-minute frosting tastes delicious too, I just like the way this cream cheese frosting firms up after a few hours.
Here's what you'll need to make this easy cream cheese frosting:
Cream cheese- I like Philadelphia full-fat original cream cheese because it works so well.
Milk- Whole milk makes the creamiest frosting.
Powdered sugar- Aka confectioners' sugar. Avoid the off-brands because they can have a soapy taste.
Vanilla- I like Tahitian vanilla because it has a more floral, aromatic flavor than Madagascar or Mexican vanilla.
Salt- Just a pinch to bring out all the flavors.
Want to take your cream cheese frosting to the next level? Try this Strawberry cream cheese frosting variation made with fresh strawberries: Just add 1 cup of chopped fresh strawberries and ¼ cup of additional powdered sugar and follow the mixing instructions on the recipe card below.
The full recipe can be found at the bottom of the post.
How to assemble these strawberry filled mini cakes
The day before, prepare the Strawberry Jam recipe. Allow the jam to cool overnight in the refrigerator so that it sets up

Prepare the chiffon cake as directed in the recipe below. Allow them to cool for 5 minutes in the pan and an additional 30 minutes on a wire cooling rack.

While the cake layers are cooling, make the cream cheese frosting recipe.

Place the mini cakes on a sheet pan or a flat bottom plate. Spoon about 1 Tbsp. of jam into the well of the cake.

( I like to portion the jam with this scoop)

Use a piping bag fitted with a star tip to

add a swirl of frosting on top of the jam

.

Decorate the tops of the mini cakes with fresh strawberries.
Strawberry Chiffon Cake with Homemade Strawberry Filling
Ingredients
Easy Strawberry Cake Filling
2

cups

Fresh strawberries

1 1/2

cups

Granulated sugar

4

Tbsp

Fresh lemon juice
Chiffon Cake Recipe
2

Eggs

seperated, room temperature

1 1/2

cups

granulated sugar

2 3/4

cups

Cake flour

sifted

1

Tbsp

Baking powder

1

tsp

Salt

1/3

cup

Vegetable oil

1

cup

Whole milk

1 1/2

Tbsp

Vanilla
Cream Cheese Frosting
8

oz

Cream cheese

1 package

1

Tbsp

Milk

5 1/2

cups

Confectioners' sugar

1

tsp

Vanilla

dash

Salt
Instructions
To make the strawberry filling
Chop or mash berries. Add to a medium saucepan and stir to combine ingredients. Cook on medium heat until the mixture comes to a full boil. Reduce the heat to a low simmer and cook for 15-20 minutes

Remove from the heat and transfer to a glass container. Allow the jam to cool overnight before using.
To make the chiffon cake
Heat oven to 350 F. Lightly oil and dust with flour two round 8 or 9-inch cake pans.

In a medium bowl, with an electric mixer, beat the egg whites until frothy. Gradually beat in 1/4 cup of sugar. Continue beating until you have stiff peaks. Set aside.

Into a large bowl, sift the remaining dry ingredients: sugar flour baking powder, and salt. Add the oil, half the milk, and vanilla. Beat for one minute at medium speed. Scrape the sides and bottom of the bowl. Add the remaining milk, and egg yolks, then beat one more minute, scraping the sides of the bowl constantly. Gently fold in the meringue and mix until incorporated.

Pour the cake batter into the prepared pans. Bake for 30 to 35 minutes. Allow the cakes to cool and frost or wrap in plastic wrap and freeze.
To Make the cream cheese frosting
In a medium bowl, blend the softened cream cheese, milk, vanilla, and salt. Add the powdered sugar, one cup at a time, mixing well after each addition. Makes enough to fill and frost 9-inch cake layers.
Looking for more than strawberry filled cakes recipes?
Be sure to check out this blog post: How to Cool and Frost a Cake A Beginning Baker's Guide. You'll learn the steps to successfully cooling and frosting cakes so that you can improve your cake decorating skills and feel confident baking and frosting cakes.